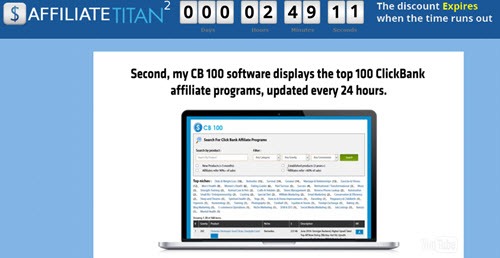 Affiliate Titan 2 promises to give you an edge over other affiliates in order to make mind-blowing commissions.
In this Affiliate Titan 2 Review, I am going to walk you through the key features of this software and give you my honest opinion about it.
Affiliate Titan 2 Review
---
Product Name: Affiliate Titan 2
Website: theaffiliatetitan.com
Price: $7
Strategy: Affiliate Marketing
Score:

4/10
What's Affiliate Titan 2?
---
Affiliate Titan 2 is a set of tools and training for those who want to make money with affiliate marketing.
Pros and Cons
---
Pros
You can learn the basics of affiliate marketing within the training
Cheap – You get what you pay for
Cons
The software just copy and paste data from the official platforms. Something that you can get for free!
The landing pages contain rehearsed sales pitch that won't convert well
Overhyped.
The Hype
---
There is a lot of hype on the sales page. Take for example the following statements:

Don't take seriously someone who says something like that. I have reviewed Internet Marketing products for almost over one year, and I am very familiar with such claims.
Be aware because no product has a magic button for success. 
You can't expect to make millions with a click. It takes a lot of time and consistent effort to achieve a full-time income online. Note that I am not even tapping into 6-figures here…
With that being said, let's leave the prejudice behind for now and talk about the tools and training that you will get.
The 3 Step Formula 
---
Affiliate Titan 2 is suggesting 3 steps that I would like to discuss one by one.
Step 1 – Choose the affiliate program to promote
You will have 3 software to find profitable affiliate programs.
Here is a brief overview of each one of them:
Launch Pulse
This software supposedly flags promising launches happening in the next 30 days in JVZoo, Clickbank, and W+.
It will give you the date, price, owner, commission percentage, prizes, and Youtube/Google competition (for the exact match keyword).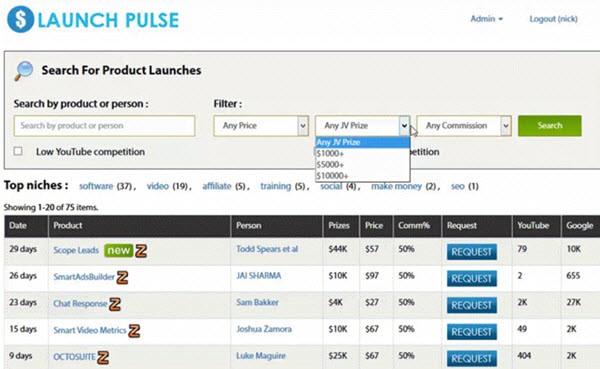 But hang on a second. How does the software predict which product will get the most sales before it's even launched?
By the way, all the information you get is provided for free on the official platforms. Take a look at JVZoo.com: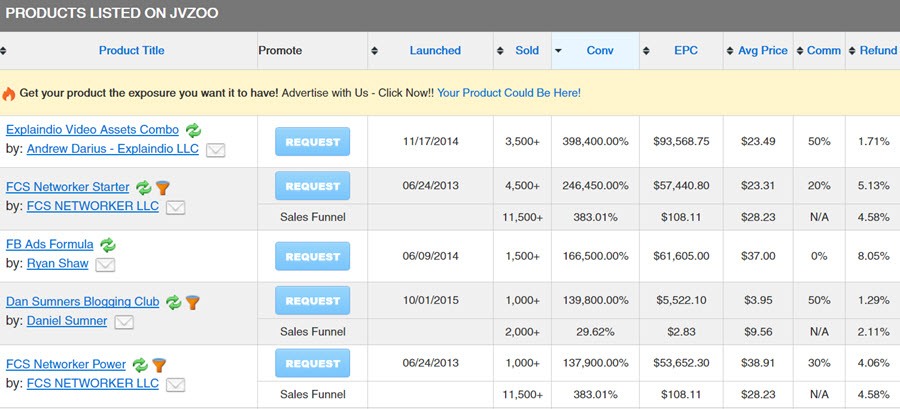 CB 100
This one will help you find potentially lucrative programs already for sale on ClickBank. You will be able to filter the list by niche, commission, gravity, new vs. old, and more.
Again, you can find all the data and also filter the information using the official website. It's free and easy!
King of the Zoo
The same as CB 100, but in this case, they will use the data provided by JVZoo, such as EPC, conversion, and units sold.

Step 2 – Create a Campaign in 1 minute
Now you are encouraged to create a campaign with another software called 1 Click Affiliate. This software will automatically generate web pages with paragraphs and headlines related to your niche (audience) and keywords that you choose.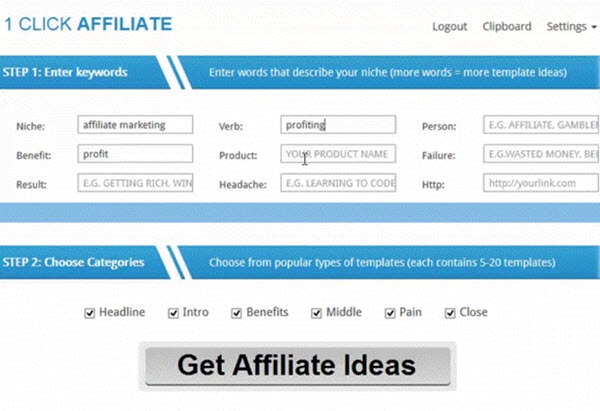 This is the type of sales copy that will result from the software: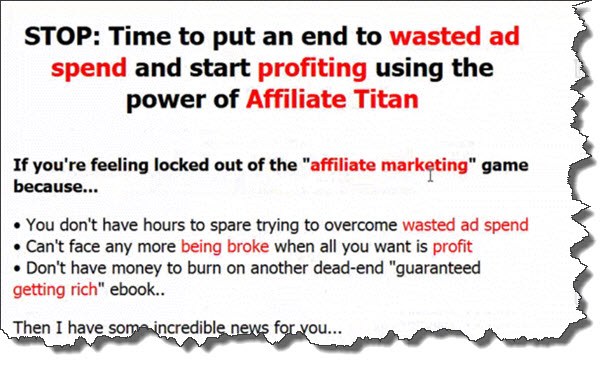 In my opinion, it won't convert well because it's a rehearsed sales pitch that everyone is sick and tired of reading. Besides, the layouts are not that attractive!
Step 3 – Explode Your Affiliate Profits
Here you will be taught how to attract an audience (traffic) for your promotional pages. You will learn through a series of video lessons how to tap into traffic sources such as Google, Youtube, and Facebook.
Final Thoughts
---
I didn't like Affiliate Titan 2. The software package is unnecessary, and the training is not in-depth. 
The 3 steps provided are not in the most sensible order to help you build an online business.
Simple landing pages will not help you get the free traffic you need to make significant sales. You need to rank well on Google, and this can only be accomplished by providing helpful content to your audience. Otherwise, you will have to spend on advertising, which is risky and can convert poorly.
If you want to learn the right way to do affiliate marketing, try out my recommended step by step program.
The first 10 lessons are completely free and will help you set up the foundation for a long-term and profitable business. There is also a community of over 700,000 online entrepreneurs ready to give you a hand at any stage through live chat and forums. That can make a big difference!

So, what do you think about Affiliate Titan 2? Leave me a comment below and feel free to ask any questions you might have.
Your friend
Stefan