Greg, the author of Affiliate Rebirth, is going to show you how to build affiliate sites that generate $3,000 – $5,000 per month in passive income. Is Affiliate Rebirth a scam or legit?
Check out my review below and understand what this is all about.
If you want to discover the most cost-effective platform to learn affiliate marketing and build a thriving online business, check out my #1 recommendation. There are free lessons available!
Affiliate Rebirth Review
---
Product: Affiliate Rebirth
Website: affiliaterebirth.com
Price: $27 + Upsells
Owner: Greg Kononenko
Overall Rating: 3.6/5
What is Affiliate Rebirth?
---
Affiliate Rebirth is a step by step video training on how to create niche sites, get free traffic from Google and make money as an affiliate marketer.
The course was developed by an experienced internet marketer called Greg Kononenko, which is also the author of Info Profits Academy.
Among other things, you will learn how to…
Choose a profitable niche market.
Set up a WordPress site.
Perform keyword research.
Get backlinks to improve rankings.
Is Affiliate Rebirth a Scam?
---
No. Affiliate Rebirth is decent training in affiliate marketing.
The method that you will learn takes more time and effort compared to paid traffic methods, but still, that is something I highly recommend for both beginners and more experienced marketers.
Unrealistic Claims
I didn't like Affiliate Rebirth makes some bold claims. For example, the sales page states that you have to spend only $10 to make this work and that the site requires little maintenance after the initial setup (no blogging required).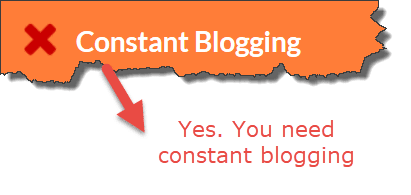 You also need quality hosting for your site, which can cost more than $20/month.
Regarding maintenance… Well, you do need lots of content before you start getting significant traffic. Yes, you can pay a freelancer, but honestly, you don't want to build a whole website with $5 articles from Fiverr.
The fact of the matter is that you will need hundreds of high-quality articles, which usually cost more than $50 each!
That's why I encourage you to craft your own content, at least in the beginning while you are still not making significant commissions.
Pros and Cons
---
Pros
100% free traffic method.
The course offers a reliable approach to your affiliate marketing business.
Cons
No community to provide 24/7 support and motivation.
There are misleading claims on the sale's page.
No social media and email marketing training. Both methods can make a big difference to your marketing efforts.
3 Upsells
The Training
---
Affiliate Rebirth consists of 4 modules. Here is a breakdown of what you will learn in each module:

Module 1: Niche Selection
The first module will teach you not only how to pick a profitable niche, but also how to find products to promote and how to do proper keyword research.
Module 2: Content Creation
Content is king! This module is critical because you will learn how to create quality content and how to structure your site in silos to build a strong online presence.
The information in this module will certainly give you a competitive edge over other affiliate sites.
Module 3: Site Setup
Learn how to set up a WordPress site, which can be done within 1 or 2 hours. It's not difficult at all!
This module will also show you how to apply for the Amazon Affiliate program (Amazon Associates).
Module 4: Traffic
Learn how to get backlinks to your site to boost rankings and get more traffic. The strategies you will learn here are a bit controversial, tough.
Personally, I don't like using any strategy to get backlinks. I believe you can get natural links over time as a result of quality content.
Upsells
---
After you purchase the front end product, you will discover there are other three upsells. I am going to give you a brief overview of what you can expect from them.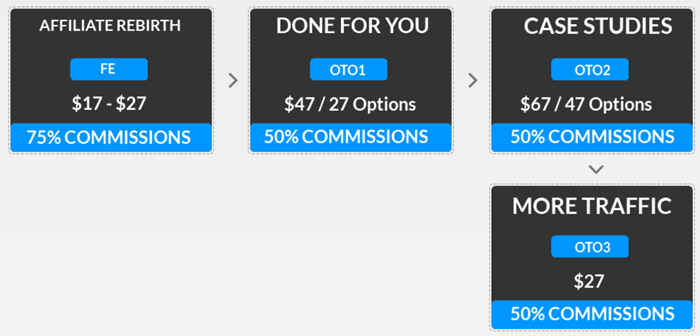 OTO1: Affiliate Rebirth Done-for-You Pack – $47.25
This is a list of 10 profitable niches along with competition research, best-converting affiliate products, and keyword research.
OYO2: Affiliate Rebirth 60K Case Studies Bundle – $47
Here, Greg is going to show you 4 of their most successful sites in the Tech, Furniture, Personal Hygiene and Family Niche.

You will be able to see the exact products, articles, and keywords that they used to build these sites and get massive traffic and affiliate sales.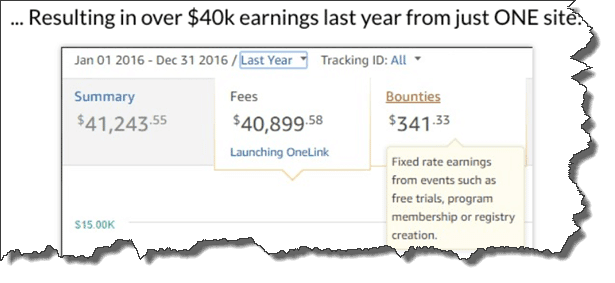 A word of caution here. Even though this is an excellent opportunity to learn what really works, copying the content of these sites is completely useless. The reason being that Google will identify your articles as duplicate content and won't rank them.
So, you should always write unique and quality content! There are no shortcuts here.
OTO3: Affiliate Rebirth – ADVANCED LINK BUILDING UPGRADE
This upsell is said to give you an unfair advantage over your competition. Greg claims that you will learn some advanced concepts to get high-authority backlinks to your sites.

This reward platform is going viral! Cash out via PayPal, Visa, Gift Cards, and in-game currencies - Click here to find out how to generate an extra $10+ per day! 
Sure you can benefit from these upsells. However, be careful with backlinks because you don't want to get penalized by Google's constant updates.

Final Thoughts
---
Affiliate Rebirth is not a scam! The strategy is the same one that I personally use to make money online, so you are in good hands if you decide to take this training.
However, be prepared to invest in quality hosting and work hard to achieve your financial goals.
Verdict: Legit
My #1 Rated Training Platform

---
If you want to build successful affiliate websites, you should check out Wealthy Affiliate.
As I said, you will need quality hosting for your site, and you can expect to pay more than $20 per month for an excellent service.
Wealthy Affiliate is an awesome choice for affiliate marketers because it not only gives you top-notch training in affiliate marketing but also:
High-quality hosting for up to 25 websites.
In-depth step by step training in affiliate marketing – You will learn not only SEO and content marketing, but also social media marketing, email marketing, ppc, and all the effective strategies to grow your business.
Weekly live webinars every week!
Access to a community of thousands of active members. You will be able to ask for help through live chat and forums 24/7.
Handy keyword research tool.
And much more!
I have been a member for over 2 years and I have reviewed hundreds of info products. In my opinion, no other platform gives you a better value for money than Wealthy Affiliate.
If you want to learn more about it and discover how much money I was able to make, check out my full Wealthy Affiliate review!
Thanks for reading my Affiliate Rebirth review. I hope this helps you make an informed decision. If you have any thoughts or questions about it, feel free to drop me a message below.
See you next time!