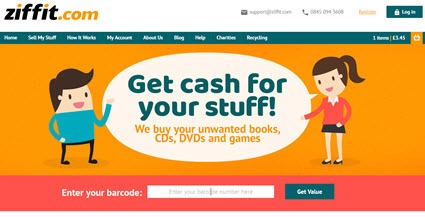 If you need quick cash, one of the easiest things you can do right now is to sell stuff that you no longer use. Ziffit is an interesting platform and app you can use for this purpose.
In this review, I would like to explain how Ziffit works and warn you about possible pitfalls.
You may also want to check out the step-by-step training that helped me reach $1,000 per month from my laptop (no special skills required).
Ziffit Review
---
Name: Ziffit
Website: https://www.ziffit.com/
Price: Free to join
Countries: Only available for UK residents
Overall Rating: 4.4/5
What is Ziffi

t

?
---
Ziffit is a free platform where you can easily sell your old books, CDs, DVDs, and games. It's similar to another great platform called musicMagpie.
The platform is not like eBay where you sell directly to consumers. Instead, Ziffit will buy individual items or in bulk and resell them on their other website called World of Books.
Therefore, there are no auctions or competition with other vendors. Moreover, it's possible to sell as many items as you want and all at once, which is excellent for those who want to get rid of large quantities quickly.
Pros and Cons
---
Pros
Efficient service.
Good prices.
Free drop-off and courier collection service (for packs over 15 Kg).
Payments are usually fast.
Excellent support.
Sell as many items as you want.
Cons
If an item is rejected by your fault, they won't pay you and neither return the item. So, it's essential that you read all the terms carefully and don't make any mistakes.
Prices fluctuate.
They can reject titles that are overstocked or that they find difficult to resell.
Joining Ziffit
---
You can join Ziffit either by signing up through their website or by installing the app on your mobile device.
The app is available on Google Play for Android and on Apple Store for iOS devices.
How Does it Work
?
---
Before I dive into the nitty gritties, it's important to mention that Ziffit will only purchase a minimum of 10 items or any quantity worth at least £5. The good news is that there is no maximum.
The process of selling your items for Ziffit works in 4 simple steps:
Step 1 – Value and rules
The first step is to provide de barcode of your product. If you are using a PC, you should manually enter the barcode through Ziffit's homepage and click on get Value.

If you are using the app on your mobile device, you should only point your camera to the barcode for identification. Then, Ziffit will automatically come up with a price that it's willing to pay as well as all the trading rules.
For example, if it's a book, they only accept those that have an ISBN number, all pages intact, and a few more requirements.
IMPORTANT: There are some rules you need to follow that are explained in the Terms of Use. So, read that page in its entirety before packing your items.
Step 2 – Pack
After you complete the online trade, you will receive a label that you must print. Pack your items securely, seal, and stick the label on the pack.
Step 3 – Send
The next step is to drop your items for free in a nearby registered shop. If your package weighs over 15 kg, their free courier service will make the collection for you.

Step 4 – Cash
Now the best part! Once they receive your items and confirm all the rules are met, you will get paid via PayPal, bank transfer or cheque.
The entire process is incredibly fast and reliable!
What Can Possibly Go Wrong

?
---
Well, Ziffit accepts a wide range of books, CDs, DVDs, and games. However, there is no guarantee they will take your title. That is because they may have too many in stock, in which case you will have to wait until the backlog is depleted.
WARNING!
Another issue that I mentioned is the fact that they have the right to dispose of your item if it gets rejected due to any reason outlined in their terms of use.
Many people don't read the terms of use and thus, are not aware of this. So, to avoid losing your items, read that important page carefully to make sure you comply with all the rules.
Excellent User Reviews!
---
Ziffit receives an incredible number of positive reviews on Trustpilot. Some users are unhappy for having lost items, but overall, the service is rated excellent by most people (4 stars out of 5).
Conclusion
---
In my opinion, Ziffit is an excellent platform for those who want to sell unused titles of books, CDs, DVDs, and games.
The main advantage is the possibility of selling large quantities in a short period of time, without having to worry about shipping individual items and possible returns.
The downside is the risk of losing the item that doesn't comply with the terms and conditions. So, be wary!
Thanks for checking out my Ziffit review, guys! If you have any question regarding this platform, let me know in the comment section below.
PS. If you are searching for a legit way to generate an online income from home, you may want to check out my TOP recommendation. It's a beginner-friendly training and helpful community that will guide you in every step of the way.