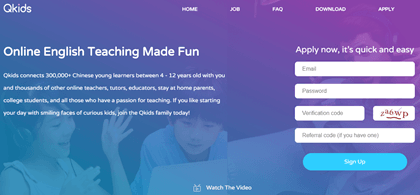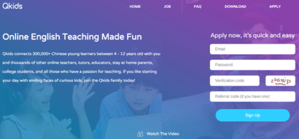 In today's review, I will be talking about QKids, a platform that allows you to earn money by teaching English to Chinese kids.
The site claims you will work remotely as an independent contractor and earn $16 – $20 per hour. It`s a very attractive remuneration for a remote job!
So, is Qkids a scam or legit? Let's find out!
You may also want to check out the step-by-step training that helped me reach $1,000 per month working from my laptop (no special skills required).
Qkids Review
---
Name: Qkids
Website:  https://www.qkids.com/
Price: Free to join
Overall Rating: 

4.8/5
What is Qkids?
---
Qkids is an educational platform that connects English teachers in the US and Canada with over 300,000 Chinese kids. It's similar to DadaABC, and VIPKID.
If you want the flexibility to work from the comfort of your home and you enjoy educating children from ages 4 to 12 years old, Qkids can be the ideal place for you.
Is Qkids a Scam?
---
Absolutely not. Qkids is considered a leading online teaching platform in China with thousands of North American teachers.
A good place to know what teachers think about Qkids can be found at Glassfoor.co.uk. In this review site, Qkids received an excellent 4.3 out of 5 rating, and 83% of workers recommend it to a friend.
Therefore, you can rest assured Qkids is a legit business.
Who is it For?
---
You can join Qkids if you:
Live in the U.S or Canada, and you can legally work in both countries.
Have a bachelor's degree.
Can work at least 6 hours per week.
Have previous teaching experience.
Have a computer with a stable internet connection, a webcam, and a microphone.
Although it's not mandatory, you will have more chances to be accepted if you have a teaching certificate such as TSOL, CELTA, and TEFL.
Pros and Cons
---
Pros
Work from home.
Flexibility.
It`s a fulfilling job for most teachers.
Great pay rate ($15 – $20/ hour).
The staff is friendly and supportive.
Training available.
Cons
Classes are not always available in your schedule.
The company can't guarantee any fixed number of hours. So, that`s why many teachers work for Qkids as a side hustle (part-time).
Classes are usually very early in the morning.
It's only available for residents in the US and Canada.
The Hiring Process
---
The hiring process is divided into 4 phases:
Phase 1 – Application and preliminary screening
The first step is to provide your resume, availability, computer specs, and 1-2 minutes of introduction video. If you pass the initial phase, they will contact you within 3 business days and guide you to the next stage.
Phase 2 – Demo Interview 1 and 2
In the demo interview 1, you will have to demonstrate you can handle all the technical aspects of the platform such as tools, sound, and video quality, etc. There are also some questions about teaching and interactions.
Demo interview 2 comprises a 25-minute quiz section as well as a demonstration of your teaching abilities and personality. Here, you will be asked to record a video of you reading a children's book.
Trial Classes
You will be assigned a mentor and teach a lesson to this person as if he/she was a student.

Afterward, you will do 2 – 6 lessons with actual students and receive feedback on your performance.
You will earn $8 for each trial lesson, and considering each lesson takes 30 minutes, you will make the equivalent of $16/hour.
If you do well in this phase, you can consider yourself a new Qkids teacher! The contract is valid for 6 months, but it can be extended after re-evaluation.
Qkids lessons
---
Qkids provides excellent resources so you can make your classes interactive and fun for your students.
The teaching material comes with original characters, animated stories, and absorbing games.
Lesson planning is not needed, but you should familiarize yourself with the materials and prepare before each lesson.
As I already mentioned, each lesson takes half an hour and there can be up to 4 students per lesson.
Schedule
---
You will have to pick at least 6 hours per week from the available time slots:
7 days a week – (AM – EST): 6:40-7:10, 7:20-7:50, 8:00-8:30, 8:40-9:10
Friday/Saturday – (PM – EST): 8:40-9:10, 9:20-9:50, 10:00-10:30, 10:40-11:10, 11:20-11:50
Your schedule for the following week is always set on Sundays evenings. And if you need to cancel any class, you must do so with at least 24 hours in advance.
How Much Money Will You Make?
---
You will make $8 for full lessons and $4 for standby lessons. Also,  there is $1 bonus per lesson for a positive family review (performance) and $1 bonus per lesson once you teach a minimum of 15 lessons in a week.

Payments
---
All payments are processed via bank transfer and no later than the 15th of each month.
It`s important to mention that you will be working as an independent contractor, and as such, you are responsible for paying your taxes.
Conclusion
---
Qkids is not only legit but one of the best platforms for English teachers who want to work remotely.
The company receives excellent feedback from most teachers, who find the job very fulfilling. Not to mention the great pay rate and the flexibility to set your own schedule.

This reward platform is going viral! Cash out via PayPal, Visa, Gift Cards, and in-game currencies - Click here to find out how to generate an extra $10+ per day! 
Unfortunately, the number of hours is not guaranteed, and most teachers can't get a full-time schedule.
Verdict: Legit

My No.1 Strategy Make Money Online
---
A great opportunity to make money online is called affiliate marketing, which in my opinion, is better than any other online "job".
In 2015, I discovered that this business model could eventually earn me enough money to quit my job and live life on my own terms.
Thanks to this excellent training program, I learned how to set up a WordPress site, attract a significant audience, and make money by promoting other people`s products.
As I earn commissions for each sale that I bring to a merchant, there are no limits to how much money I can make. The more people I attract to my site, the more commissions I make.
The best thing about owning a website is that I am can work whenever and wherever I want. Besides, as the site is online 24/7, it allows me to make commissions even while I am on holidays.
For example, in August 2018 made $1,000 even though I didn't touch my site as I was traveling for 1 month around Europe.
I started as a complete newbie, so regardless of your background, you can become a successful online entrepreneur too by following this step by step program and taking consistent action.
The potential is huge, but it only works if you consistently apply the strategies and give your business enough time to grow.
Thanks for checking out my Qkids review, and I hope the information you found here was helpful to you. If you have any question, please let me know in the comment section below.
All the best
Stefan