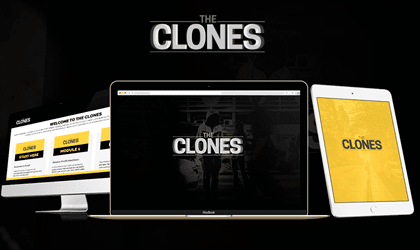 Brendan Mace has recently released another digital product that has been selling like hotcakes on Warriorplus.com.
His brand-new product, The Clones, gives you the expectation of making $1,671 in an average campaign.
Is the clones an opportunity to finally achieve financial freedom? Or is it another scam?
Check out my honest, non-affiliated review, where I explain its main features and the method used to generate online commissions.
Highly recommended: Learn step by step how to build an affiliate business that allows you to achieve time and location freedom. Free and newbie-friendly training available.
The Clones Review
---
Name: The Clones
Price: Free to join
Website: www.buytheclones.com/the-clones-fe
Strategy Affiliate Marketing
LEGITIMATE
Overall Rating: 3.5/5
The Sales Page
---
The Clone's Sales Page claims, among other things, that everything is done for you and that you will make money as soon as this week.
In Brandan's words:
"All you have to do is 'copy and paste,' and you're on your way to money in your PayPal."
With this statement, he clearly gives us the impression that we will just have to press "play" and the money will start flowing.
One thing that worries me is that there is no disclaimer, no terms and conditions, and no privacy policy on the sales page.
What is The Clones?
---
The Clones is a digital product that gives you 6 copies of Brendan's top-performing affiliate marketing campaigns.
With each campaign comes a case study that will show you how Brendan promote these products.
It's insane how much money he makes with each new product launch.
Here is one example:

Is The Clones A Scam?
---
Many people that have never been involved with "make money online" products before may doubt that this is a legitimate opportunity. But Why? Because of all the bold earning claims and the idea of easy money.
The Clones is not a scam because it gives you the tools and training that was promised to you. But the question is: Can it help you succeed?
Before I answer this question, you need to understand what exactly you will get and how the method works.
What Will You Get?
---
You will get all the marketing resources that Brendan used to promote 6 digital products. That includes sales pages, email swipes, video reviews and bonuses that he used to generate thousands of dollars in affiliate commissions.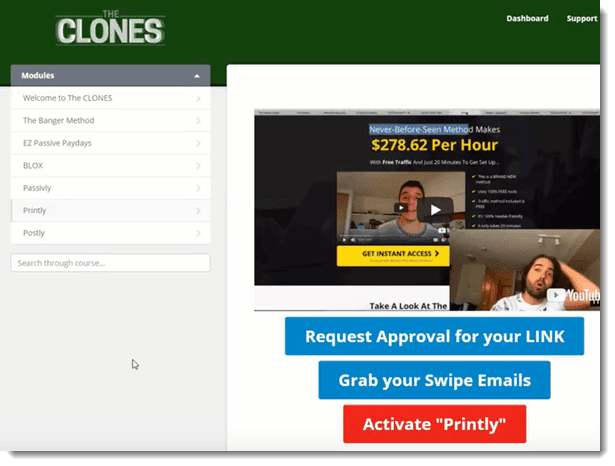 Here is the list of the products that you will be promoting:
EX Passive Paydays
BLOX
Printly
Postly
They are for sale on Warriorplus, which is the same marketplace where Brendan sells his digital products.
In fact, three of them are Brendan's creations, namely The Banger Method, Passively and Printly. The other ones are products that he promotes as an affiliate.
Also, you will get useful video training  – case-studies – explaining the strategies you can apply for each product.
In my opinion, the training is valuable because you will need to know how to get traffic (visitors) to your sales pages.
However, it doesn't provide a complete course on traffic.  Therefore, you may want to purchase the first upsell, which goes deep into 3 different traffic sources.
The email swipes are also very useful. Not only because you will be able to copy and paste them, but also because you can learn how Brendan promotes his affiliate offers.
As a result, you can apply the marketing strategy to other products in the same niche.
How Does The Method Work?
---
In short, you will be promoting these products as an affiliate marketer.
The first step is to request approval for your affiliate links. Then, you will have to set up the sales funnel, integrate it with an autoresponder, and finally get traffic.
Traffic is probably the biggest challenge for marketers because if you rely on free methods, it takes time and effort to get these offers in front of a large audience.
Research how many subscribers Brendan has on one his YouTube channel or how many followers he has on social media.
It's not a quick process! Look at how many free tutorials he provided to grow his audience. Not to mention all the partnerships he made with other marketers along his journey.

Can You Really Succeed With The Clones?
---
Yes, you can!
It is true that many people won't achieve meaningful results, but that is also the case with any other method of making money online.
So, it's possible to replicate Brendan's success, but that requires hard work. You just can't purchase The Clones with the false expectation of making lots of money only by "copy and paste."
Upsells
---
The Clones has 4 upsells that are worth mentioning:

This reward platform is going viral! Cash out via PayPal, Visa, Gift Cards, and in-game currencies - Click here to find out how to generate an extra $10+ per day! 
OTO 1 ($37) Training: If you are a newbie and you don't know how to create your own campaigns, this upsell is a must. You will learn how to build a capture page, set up retargeting, and learn three important traffic sources.
OTO 2 ($37/month) Lifetime Campaigns: Every month you will get new bonus pages and email swipes for your future campaigns.

OTO 3 ($47) Reseller's rights: Promote The Clones and earn 100% commissions.
OTO 4 ($1997) Brendan's personal 1-on-1 coaching: It's important to mention that this is another video training by Branden, and you will not get direct access to him.
Conclusion
---
The Clones is a legitimate product that will undoubtedly save you time and help you understand how successful marketers make money in the "money" niche.
It's a quality product developed by a highly experienced marketer.
Whether it's going to work for you or not will depend on how much time and effort you put into it. Making a serious income online is never easy.
Verdict: Legit
If you are not a fan of making money by telling people how to make money online, I believe this is not the best program for you.
For in-depth training on how to build lucrative sites in any niche, check out my #1 recommendation.
The method they teach is excellent to make consistent affiliate sales, scale your business, and finally live the laptop lifestyle. And it has a free membership to try!
So, what is your opinion about Brendan's Clones? Let me know in the comment section below!