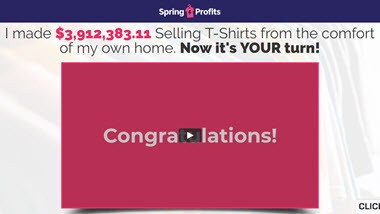 The creator of Spring Profits is trying to convince you that his system is helping ordinary people make $25,000/ week working just 10 minutes/day.
I have reviewed hundreds of internet marketing products that make it seem very easy, but none of them live up to the hype.
So, you are probably wondering is Spring Profits a scam or legit? How is it like to grow a successful eCommerce business? Can Spring Profits really make a difference?
Let's find out!
By the way, if you want to learn the same method that earns me $1,300+/mo from my laptop, check out my #1 recommendation! It's 100% newbie-friendly and free to get started!
Spring Profits Review
---
Product: Spring Profits
Website: http://www.springprofits.com/
Price: $37
LEGITIMATE
Overall rating:

2.4/5
The Hype
---
The sales page of Spring Profits entices you to buy a $37 product in hopes that you can make money fast and easy.
It gives unrealistic expectations and the wrong mindset, which can hurt your business in the short and even long term.
Some sentences induce people to think that it can be much easier if they buy the product.
For example, when they say:
Spring Profits will fast track your success.
You'll be up and running in 20 minutes, and you can start making money on the very first day.
It requires no more than 10 minutes of work per day.
You can make $1000s with just one word on the T-shirt.
Well, "you can" doesn't mean you will, and I need to be honest with you, it's not that easy.

This reward platform is going viral! Cash out via PayPal, Visa, Gift Cards, and in-game currencies - Click here to find out how to generate an extra $10+ per day! 
Regardless of the business strategy, you choose to make money online, it will always require significant time and effort. With Spring Profits, it's no different!
In my opinion, 10 minutes per day is not enough to grow a successful online business, let alone become a millionaire!
Fake Testimonials
---
Another issue is that the owner uses fake testimonials to convince more people that Spring Profits is the real deal!
I found this guy selling his spokesperson service on Fiverr.com. Take a look!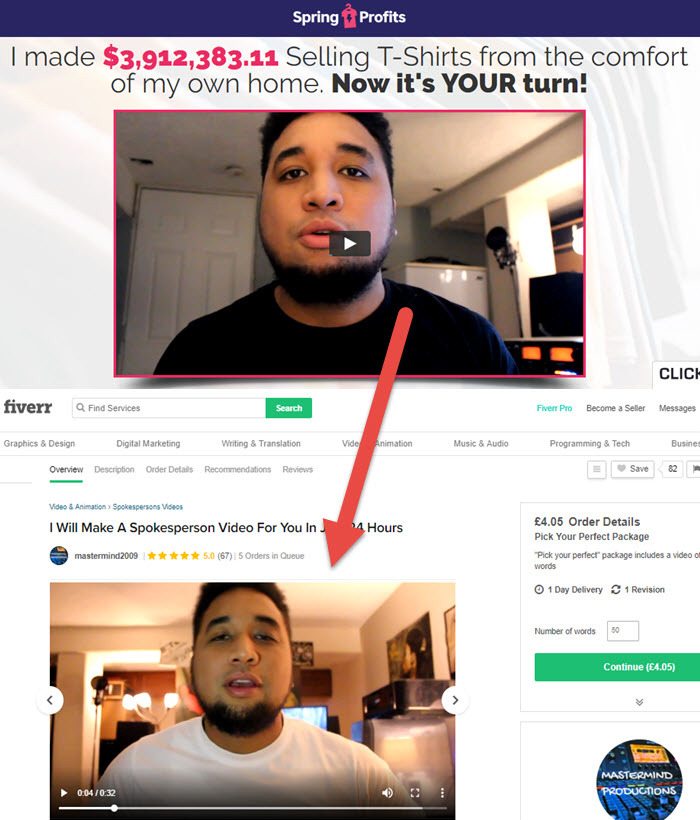 He was hired by Spring Profits to say he made over $430,000 in just 4 months.
If he made so much money, why would he still be working as a freelancer making £4.05 per 50 words?
What is Spring Profits?
---
Spring Profits is a course that will show you how to sell T-shirts online using a platform called Teespring.

You will learn how to take advantage of Teespring, which offers print on demand service,  acting as the middleman between you and the customer.
Teespring will be responsible for manufacturing and shipping the T-shirts directly to the customer.
On the surface, this business model looks very attractive due to the seemingly low startup costs. When you use a print on demand service, you don't need to keep stock.
However, the big challenge lies in marketing your T-shirts to the public, which can be expensive if you decide to use paid traffic methods.
RECOMMENDED: Click here to see my no.1 recommendation for making money online
Pros and Cons
---
Pros
The ebooks provide valuable information.
You can make money, but don't expect fast results.
60-Day money back guarantee.
Cons
There are no video tutorials.
The sales page gives people unrealistic expectations.
The use of fake testimonials.
What Will You Find in the Member's Area?
---
Spring Profits consists of 3 eBooks that will give you plenty of valuable information.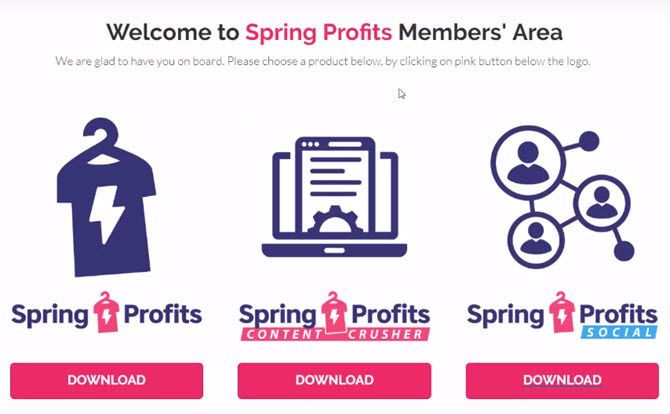 Here is the summary of each eBook.
Spring Profits (51 pages)
Introduction to Building a T-shirt business.
Market research.
Keyword research.
Trademark and Copyright Research.
Where to find T-shirt Designs.
Listing T-shirts on Teespring.
Marketing and Branding.
Spring profits Content Crusher (25 pages)
Content Marketing for Teespring.
Developing a Content Strategy.
Scheduling and Publishing your Content.
Other Platforms and Sales Channels.
Email Marketing.
Spring Profits Social (28 pages)
Facebook Marketing Strategies.
Instagram Marketing Strategies.
Pinterest Marketing Strategies.
Creating a Mock up ad.
Facebook Paid Promotions.
The downside is that there are no video tutorials, which would be very helpful as most people absorb more what they see and listen.
Another downside of Spring Profits is there isn't a community that can give you the support and motivation which.

In my opinion, a community can make all the difference when growing an internet business.
You can ask questions to the support team, but you won't meet other entrepreneurs to exchange information.
Can You Make $25,000 per Week?
---
Earning $25,000/month is possible with this type of business, but you should first take one step at a time.
My intention here is not to discourage you from building a business with Teespring.
Many successful entrepreneurs make a lot of money by leveraging this print-on-demand platform.
However, the way Spring Profits was advertised makes people believe they can work less than 1 hour per day and achieve fast results. Sorry, but this is unlikely to happen.
As I mentioned earlier, the challenge lies in marketing your T-shirts to a large audience.
Spring Profits will teach you free and paid traffic strategies.
Free traffic methods involve promoting your T-shirts on social media for free, which takes time because you need to build trust and grow your followers.
You can reach results faster with paid traffic methods, but be prepared to invest a lot of money on Ads to generate the level of income you want.

Also, be prepared to lose money as there is always a risk that your design won't attract enough buyers.
If you want to dive into this business model, you must accept the risks and learn from testing your marketing campaigns. 
Conclusion – Is Spring Profits a Scam?
---
I don't consider Spring Profits a scam because it provides some valuable training in the form of eBooks.
So, you can learn a lot and implement all the strategies to start your business.
The sales page is the main problem because it claims you can work just 10 minutes per day and reach $25,000 per week.
This is not realistic, and you can even lose money with Ads that don't convert well.
Verdict: Legit
How I Make Money Online
---
In 2015, I discovered an excellent training program that showed me step by step how to build a website, get free traffic, and make big affiliate commissions.
Thanks to my internet business, I am close to quitting my job and buying a one-way ticket to South East Asia.
I am not rich, but I can work whenever and wherever I want, which is the kind of freedom I was dreaming of for such a long time.
The first 10 lessons are completely free, and with the starter membership you will also get:
2 Free websites
Support from me, the owners and the entire community.
It's a great place to build affiliate sites! But of course, there are no shortcuts so you will need to put in the work.
Click on the link below to learn more about this platform and my success story.
>> Check Out My TOP Recommended Program HERE
I hope my Spring Profits review was helpful to you. If you have any questions, feel free to leave me a comment below.
Stay safe and peace out!