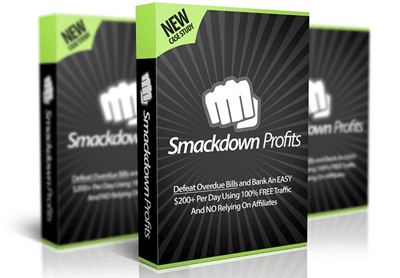 Wait! Did I hear $100+ within the next 24hrs? Yes, that's what the author of Smackdown Profits is claiming you can make if you apply his super easy method! Is Smackdown profits a scam?
I'm just about to uncover everything you need to know about this course and give you my honest opinion about it. So, let's get started!
By the way, if you want to follow the same strategy I use to make $900/mo from my laptop (the proper way to build a long-term online business), check out my #1 recommendation. It's 100% free to get started!
Smackdown Profits Review
---
Product: Smackdown Profits
Website: smackdownprofits.com
Price: $8.27 + upsells
Owner: Saul Maraney, Manny Hanif and SimpleSpencer (?)

The Hype!
---
As I search for new "make money online" products almost every single day, I am pretty familiar with the hype! It seems like everyone has discovered a different strategy and everyone is earning easy money online except YOU!
The sales page try to convince you that this is the easiest way to get $100 paydays. It only takes 20 minutes of setup, and you will be living the good life in just a short period.
NO experience, tech skills, list building or paid traffic needed!

The problem with most these courses is that they will never expose what is inside. So, the only way you can make an informed decision is to look for reviews, which are not always trustworthy.
What Exactly is Smackdown Profits?
---
Smackdown Profits a quick training on how to promote affiliate offers on Facebook and earn commissions. It was developed by Saul Maraney, an experienced internet marketer, and author of many other info products for sale on WarriorPlus.
Is Smackdown Profits Scam?
---
No, it's not a scam, but the sale's page is extremely overhyped.
The first thing they do is promise $50+ to 100+ within the next 24 hours. BUT, if you read disclaimer you will see that you should not use these statements as an indicator of what you can expect to earn. 
Another important thing to take note of the Disclaimer is this:
My success, and the successes of other clients are not considered to be average – but atypical and exceptional.
So, it's possible to make money with Smackdown profits, but it's tough, and there are no guarantees!
How Does it Work?
---
The course consists of a case study PDF report and 5 step by step video lessons. Here is the breakdown:
Overview of the $100+/day Smackdown method.
The Core Foundation + "The Happy to Help" method.
How to Create Your Profitable Smackdown Tribe.
Simple Steath  Hack that Pulls in Easy $100+ Paydays.
A Surefire Way to Hit $100/day + Conclusion.
As I said, you will use Facebook groups to promote products as an affiliate. So, the first thing is to decide on what niche and what product you are going to promote.
In short, you have to go after people on Facebook that need help and may benefit from your affiliate offer. You should approach Facebook groups to offer help and encourage people to click on your affiliate links.
If they click on your link and purchase the product, you earn a commission.
You will also learn how to set up a Facebook group and get more visibility.
There are many tips you will learn with Smackdown Profits and I am sure you can benefit from them.
The problem is that many Facebook group owners don't allow the promotion of affiliate links. Therefore it's hard to keep so many links active in order to reach the $100/day. Posts with links are frequently deleted and you risk being banned from the group.

Upsells
---
After you purchase the front end product, you will see another 3 upsells.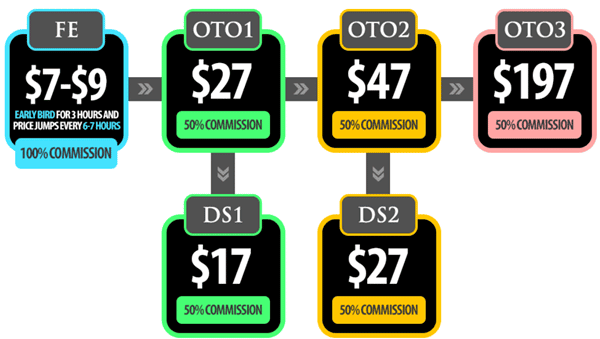 OTO1 – The Smackdown Supplex ($27)
Additional step by step that will teach you how to use Instagram to get the same results. You can use both social media platforms to boost profits. However, you will have to work double because as the method is not scalable.
OTO2 – The 5k Smackdown ($47)
Another training revealing a case study where Manny closed a quick and easy $5k deal. You will learn how to replicate his success.
Oto3 – 1-on-1 Coaching With Manny Hanif ($197)
Manny will personally help you get the results with this method. But again, there are no guarantees here!
Pros and Cons
---
Pros
Free traffic method.
Easy to follow lessons.
The strategy is easy to implement.
Cons
Overhyped. The sale's try to convince you that it's easy to make money with this method, but it's not!
It's hard to find good Facebook groups that allow you to post affiliate links.
It's not scalable.
Final Thoughts
---
Personally, I think it's very difficult to reach $100/day without a website and a list of email subscribers.
Yes, It's possible, but surely it won't happen overnight.
Just to give you an idea. I have a website with over 1,000 visitors per day, and I am far from making $100/day. Trust me it's not easy as they advertise.
I am not a big fan of this strategy because it's not scalable and doesn't allow you to earn passive income online. You have to spend a lot of time approaching people and linking to your offers. So, it's difficult to make more money unless you hire people to do this job for you.

Besides, many Facebook groups don't allow affiliate links, so you are stuck with their rules.
What I Recommend
---
If you want a more reliable and effective approach to building an online business, you should check out my #1 recommendation.
This platform will help you build an authority affiliate site that ranks high in Google search results and get you lots of free visitors. In my opinion, this is the best way to build a long-term affiliate business.
Trust me. Building a website is not difficult at all these days, and it takes less than 1 hour to set up everything.
With a blog-style website, you can start for very cheap, and once you get high rankings in Google, it's common to stay there for many years.

This reward platform is going viral! Cash out via PayPal, Visa, Gift Cards, and in-game currencies - Click here to find out how to generate an extra $10+ per day! 
This means thousands of people will read your articles, click through your affiliate links and generate commissions while you sleep.
This is truly passive income, and you have total control of your online business!

Of course, you need to work hard in the beginning, but a great lifestyle can be achieved through this method. It just takes time and a lot of upfront work.
Thanks for reading my honest Smackdown Profits review. I hope this helps you make an informed decision. If you have any thoughts or questions about it, feel free to drop me a message below.
You friend
Stefan