Welcome to my Quiz Money review! 
You have probably stumbled upon this mobile trivia game through an eye-catching advertisement making an audacious claim:
"You won't have to worry about money in the future." Wow!
It's undoubtedly enticing, especially when the PayPal logo is used to convey trust!
The pitch seems almost too good to be true – earning cash by merely answering straightforward questions like, "What is the capital of the UK?"
And then, this woman boasts she's making around $1000 a day by playing less than an hour! 
That's quite the attention-grabber that makes you dream of better days. 
But hang on, with over 100k people already hooked and hoping for that big payday, the skeptic in me can't help but wonder:
Is this an elaborate ploy to keep us endlessly answering questions without any real reward?
Or does Quiz Money indeed hold the key to financial freedom for those who dare to play?
So, let's dig deep and uncover the truth. 
Ready to trade in your 9-5 for a laptop lifestyle? This excellent step-by-step program helped me generate $2,000+ per month and can help you do the same. Click here to find out!
Money Quiz Review
Name:

  Money Quiz

Eligibility:

 Worldwide

Price:

 Free

Payout Threshold: 

£1000

Overall Rating: 0
What is Money Quiz?
Money Quiz is an Android trivia game that challenges your knowledge and tests your brain.
With an extensive range of topics, it boasts an impressive selection of quiz questions to keep you entertained. It's very similar to Star Quiz! 
One of the most intriguing aspects of Money Quiz is its claim to offer substantial cash rewards. Yes, you heard it right – cash!
You can win real money without spending a dime by answering trivia questions correctly.
It's like having a quiz show in your pocket or a digital money-printing machine of sorts! It's unbelievable! 
Money Quiz's approach is particularly appealing since no in-app purchases are involved.
Therefore, anyone can participate without risking their hard-earned money on wrong answers. 
How Does Money Quiz Work? 

Money Quiz can be downloaded on the Play Store and played without requisition. 
It claims it'll turn your trivia knowledge into real cash if you reach the payout threshold of £1000. Sweet! 
However, there is something alarming I need to discuss – the app doesn't encrypt your data.
This is concerning for privacy and security as it leaves you vulnerable to potential threats like identity theft.
Playing Money Quiz
Once you launch Money Quiz, it instantly entices you to press a button that reads, "Start Making Money"!
The premise is straightforward: answer trivia questions and collect virtual cash you supposedly cash out through PayPal. 
Each question gives you two answer choices, effectively granting you a 50% shot at being right. 
Answer multiple questions consecutively and get excellent combo bonuses!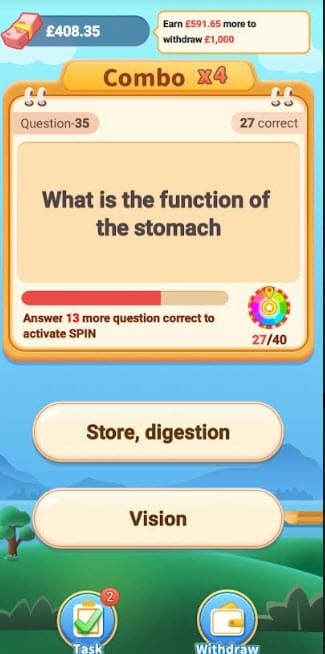 If you get it wrong, don't worry! You can skip to the next question or watch a video to restore the combo. 
At the top of the screen, you'll find your cash balance, showing how much you've earned and how far you still have to go to reach the £1000 payout threshold.
Initially, the questions can reward you with a modest sum ranging from £2 to £5.
After answering questions, the game offers you the option to claim 3x to 5x the cash reward by watching an advert.

It's a tempting proposition, especially for those eager to quickly reach that £1000 goal.
However, many might not realize that this is precisely how the developer makes profits. 
Each time you watch these videos, Money Quiz generates advertising revenue. 
Answering 20 questions correctly unlocks the lucky spin feature, allowing you to win even more cash.
Moreover, the task section provides additional opportunities to claim cash by meeting specific milestones, such as correctly answering a few questions.
Once you reach the payout threshold of £1000, enter your wallet and tap the "withdraw now" button. 

This reward platform is going viral! Cash out via PayPal, Visa, Gift Cards, and in-game currencies - Click here to find out how to generate an extra $10+ per day! 
Become a Digital Hero! Understand the process of reporting harmful apps with this guide.

Is Money Quiz Legit? Does it Pay? 
Money Quiz is nothing more than a clever deception! The reality is far from what the developer advertises, as this game won't pay you a single dime.
Firstly, reaching the £1000 payout threshold is arduous and time-consuming.
With each correct answer only earning you a few pounds, you'll watch frequent advertisements to multiply your earnings.
It will likely take over 5 hours of continuous gameplay to reach that £1000 goal.
While the thought of earning such a significant sum might seem appealing, the payoff is nothing short of a mirage.
Why? Because the cash prize is entirely fake! Money Quiz was cleverly designed to give you a sense of progress and potential earnings, only to shatter those dreams when you attempt to cash out.
They might even introduce additional requirements that offer more opportunities to earn.
But in reality, they only make you watch more videos for nothing in return! 
As you persistently play the game, you'll eventually realize it's all smoke and mirrors.
The developer has no intention of transferring any money to your account, no matter what you do or how far you go in the game. 
Indeed, there are a handful, but it's crucial to maintain realistic expectations regarding them!
I invite you to explore my detailed review of Swagbucks Trivia for Money, also known as Swag IQ!
Conclusion 
Quiz Money was designed to exploit your time and effort without providing any real rewards.
The dream of making money effortlessly by answering trivia questions is shattered when you attempt to cash out, only to discover that the cash prize is entirely fake.
Instead, I urge you to consider a more promising path toward real online income and personal fulfillment – building your own online business.
Imagine the laptop lifestyle, where you can work remotely, enjoy flexibility, and scale your income based!
Say goodbye to bosses and embrace a life where you make money on your own terms.
I personally experienced the transformational power thanks to an excellent step-by-step program that guided me to grow a successful affiliate site.
This program provided a clear action plan to achieve my goals, enabling me to generate over $2,000 per month.
Click here to discover how you can embark on this journey too! 
Final Words
Thank you for taking the time to read my Money Quiz review!

If you have any thoughts you'd like to share, please don't hesitate to comment below.
Peace!