Welcome to my Perfect Link review!
The developers of Perfect Link are promoting their game as the next big cash cow in the Android scene.
I discovered this app though an advertisement showcasing a girl stacking piles of cash into a drawer.
She was boasting about raking in thousands of dollars every day of the week – $10,000 just on Wednesday!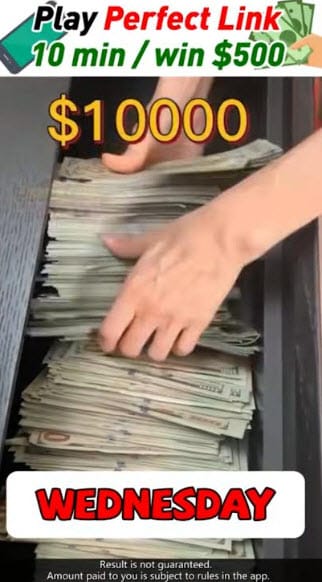 If that isn't tempting enough, they say you can make $500 every 10 minutes of gameplay.
According to the advert, there is also no withdrawal threshold.
That means you can supposedly cash out anytime without the usual hoops.
Sounds almost too magical, right?
But here's where your sharp instincts kick in.
As a savvy gamer, you don't just buy into tales without digging a bit deeper.
Is Perfect Link really the gold mine it claims to be? Will those virtual dollars actually find their way to your bank account?
Stick around as we expose the truth behind this unrealistic cash game.
Ready to trade in your 9-5 for a laptop lifestyle? This excellent step-by-step program helped me generate $2,000+ per month and can help you do the same. Click here to find out!
Perfect Link Review
Name:

Perfect Link

Developer:

HENDRY WAHYUDIN

Eligibility:

 Worldwide

Price:

 Free

Payout Threshold:

$200

Overall Rating: 0
Stand up to deceit! Report dubious apps now.
What is Perfect  Link?
Perfect Link is a free Android game whose primary goal is to link three or more blocks of the same color.
The more you connect and clear, the higher your score!
But I am pretty sure you are not here to beat the game, right?
You want MONEY!
When connecting blocks near a cash icon, you'll collect virtual cash rewards!
But that's not all; as you're eliminating blocks, you'll also unlock diamonds.

These dazzling gems can supposedly be exchanged for real money, further fueling the allure of playing.
Created using the robust Unity engine, Perfect Link has already been installed over 100,000 times.
The captivating prospect of cashing out via PayPal and other methods is the magnetic pull that attracts games.
However, the Early Access classification prevents people from leaving reviews on the Play Store.
This is a big issue because new users have to download the app unsure of what to expect.
Want to outsmart deceitful games? Dive into my guide on spotting fake cash games!
How Does Perfect Link Work? 
Getting Started
Perfect Link is available for all users worldwide on the Play Store.
The allure starts right from the strt – it's free and you can dive into the game immediately without any registration.
But be aware Perfect Link does not encrypt your data. Why is this concerning?
If and when you decide to cash out, any information you feed into the form can be accessed by the developer.
This opens up a Pandora's box of questions about how this information is handled, stored, and used.

Moreover, once your data is in there, there's no turning back—you cannot opt-out and delete any of it.
A significant privacy concern indeed! So, tread cautiously before diving in and sharing any personal details.
Cash Rewards
Upon launching the game, a list of withdrawal methods immediately greets you: Paypal, Paytm, Cash app, Dana, and more.
There's a bold claim right in front of you: "Earn cash by playing games or completing tasks."
Hit "Go," and you're presented with a clickable box.

This reward platform is going viral! Cash out via PayPal, Visa, Gift Cards, and in-game currencies - Click here to find out how to generate an extra $10+ per day! 
A tap on the "Collect" button and voilà! A whopping $60 is yours. Or so it seems.
To cash this out, you're set on a path to play games and accumulate a minimum of $200.

Playing Perfect Link
Perfect Link is all about linking identical blocks to clear them out.
As you link blocks near cash icons, your virtual bank grows.
But here's the catch – while the game itself might be engaging, something really annoying comes with the 'Collect' button.
Every time you try to claim your earnings, an advertisement starts playing!
The clever design ensures you must watch them to the end to collect your reward.
It's clear as day that the developer's primary aim is to maximize video views, and subsequently, their profit.
There is also a "Home" section filled with mini-games, but playing them doesn't boost your earnings.
Instead, you must tap the cash icon on the right, leading you to—yes, you guessed it—more advertisements.
Win the iPhone 14 Prize
Perfect Link tempts users with the chance to win an iPhone 14.
The conditions? You need to collect 100 iPhone puzzles and watch a stagerring number of 200 videos.
You can get puzzles by completing levels and flipping the cards.
There's also the option to accumulate these puzzles by achieving certain milestones: watching 30 videos, conquering 10 new levels, and spinning the "lucky spin" at least 5 times.
Withdrawing Funds
Despite the ad's promise of no withdrawal threshold, you'll need to reach $200 to cash out.
Alternatively, save up 980k gems to redeem a $100 gift card, valid for Visa, Amazon, Steam, Google Play, Playstation, and Xbox.
Is Perfect Link Legit? Does it Pay? 
No, it doesn't! Unfortunately, Perfect Link turns out to be another game that mesleads players with fake dollars.
The game gives an initial impression that reaching the $200 threshold will be a breeze.
However, this is a masterfully crafted illusion.
The beginning is designed to be a windfall, where rewards drop seamlessly into your virtual account.
However, as you progress, those generous cash rewards shrink dramatically, dwindling down to mere pennies.

Once a player has invested a significant amount of time and effort into a game, there's a powerful psychological trigger called the "sunk cost fallacy."
This makes players feel that since they've come so far, abandoning the game would waste all that invested time.
Thus, they keep playing, continually watching more videos in the hope of reaching that elusive $200 target.
The trap is meticulously set, with players clinging to the hope that they're just a few more videos away from cashing out.
But the harsh reality? Even if you do manage to meet the conditions, the payday you've been waiting for remains a distant dream.
There's always a catch. The developer might suddenly introduce a new condition.
Prhaps you need to watch 'X' number of additional videos to "activate" your order or some other nonsense.
These tactics are nothing but manipulative strategies to ensure your exposed to more adverts, which in turn drives their revenue.
Conclusion 
Avoid Perfect Link. It's not a real money-making game by any stretch.
Instead of wasting your time with fake cash games and useless reward apps, here is my top recommendation.
Build an online business and pursue the laptop lifestyle! 
I have achieved great success by creating this affiliate site, which has been profitable since 2016!
It allowed me to enjoy life like never before while saving money for my future.
Being an online entrepreneur let me explore South East Asia, choose my work hours, and enjoy life fully.
And guess what? You can too! Click here and discover the same program that paved the way for me.
Final Words
Thanks for reading my Perfect Link review! Kindly share your thoughts and experiences in the comments below.
Your insights will certainly benefit others looking into this game.
Peace!