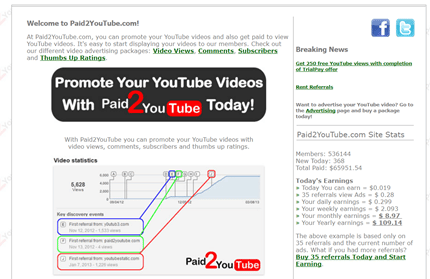 Do you want to get lots of views on your YouTube channel and make money watching other people's videos? Paid2YouTube seems to be the answer.
There are a few things you should know about this platform before you join. Is Paid2YouTube a scam or legit?
Let's find out!
Looking for time and location freedom? Build an affiliate business and achieve your dream of working 100% from your laptop.
Paid2YouTube Review
---
Name: Paid2YouTube
Website: paid2youtube.com
Owner: ?
Price: Free to join
Overall rating:

2.3/5
What is Paid2YouTube?
---
Paid2YouTube is a platform that allows you to get paid to watch Youtube videos as well as get views, subscribers, comments and thumbs up to your own videos.
Another way to make money with Paid2Youtube is by getting referrals. You can either get people to join the website under your affiliate link or buy/rent referrals.
The website was created in 2009, and it's still attracting hundreds of new members every single day.
How Does it Work? 
---
The registration is free, but you have to connect your youtube channel to be able to view the videos.
Making money
As I mentioned, you can make money by watching videos, commenting, leaving a thumbs up and subscribing. This is how much you can expect to earn for each activity:
Watch Videos: Get Paid $0.001 or $0.005 per video you watch. You don't need to watch the entire video, only a few seconds.
Subscribe: Get paid $0.15 per subscriber.
Comment: Get paid $0.10 for each comment you leave.
Ratings: Get paid $0.01 for every thumbs up you leave.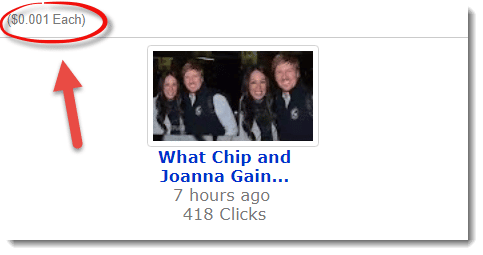 Not exciting, right? And to make matters worse, you won't find many opportunities.
I signed up today, and there were only three videos available.
There was no commenting, no subscribing, and no rating opportunities. It makes me wonder how long people should stick with Paid2YouTube to reach the minimum cashout requirement of $10.
Referral System – Stay away! 
With such low pay, many people will certainly be enticed to purchase or rent referrals in hopes to make a profit.
For example, you can rent five referrals for $3.25 (30 days) or purchase five referrals for $8.76. Each referral earns you:
$0.001 per video view
$0.01 per comment
$0.005 per rating
$0.05 per subscription
Do the math, and you will see that your referrals will have to be extremely active so that you can break even. Each one of them has to earn at least $0.021 per day, which seems nothing…
But remember: most referrals quit after the first day, and there are very few opportunities available.
Promoting Your Videos – Be careful
If you are on the other side of the spectrum and want to use Paid2Youtube to boost your Youtube channel, you can do that. There are different prices according to the number of views, comments, subscriptions, and rating you purchase.

The cheapest package starts at $2 for 100 views and goes up to $900 for 100,000 views. 

Subscribers cost more. For example, 100 subscribers cost $35, and the question is: Why would you invest in subscribers that are not interested in your content?
There is nothing wrong with buying views, subscribers, etc., and Youtube will not penalize you for that. However, you need to make sure the views are not generated by automated techniques (bots), which is something against Youtube's TOS.

As there are no guarantees that Paid2YouTube will not use an automated system, I think it's a bit risky.
Complaints About Paid2Youtube
---
I have searched on blogs and forums but I couldn't find any serious allegations against Paid2YouTube. People complain most about the slow earnings, so, the vast majority will quit before reaching the cashout requirement.
There are some bloggers claiming Paid2YouTube might have banned accounts and missed payments. To be honest, I just found one guy who didn't get paid – here is the link to his testimonial.
On the other hand, I found 4or 5 people who had no problems cashing out.


Payment Proofs – Fake Or Real?
---
At the bottom of the page, there is a link called Payment Proofs where some people attach a screenshot of their Paypal payment. It doesn't look fake to me, but I advise you to take it with a grain of salt.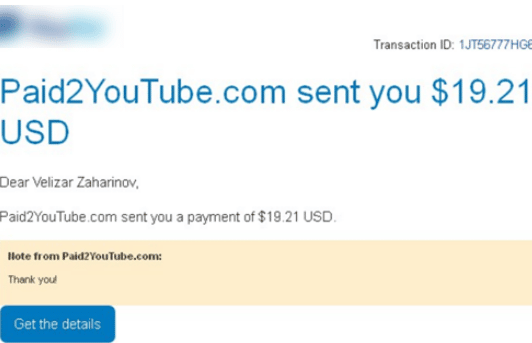 Pros and Cons
---
Pros
Free to join.
You can cash out via Paypal.
Easy tasks.
It works worldwide.
Cons
Very slow earnings.
It may take too long to earn reach $10 and cash out.
Usually, you won't find many opportunities.
The owner is anonymous.
You can easily lose money on buying/renting referrals.
No "About us" and "Earning disclaimer" page.
Conclusion – Is Paid2YouTube a Scam? 
---
I don't think Paid2YouTube is a scam. This website has been running since 2009, and there are not many negative reviews from real users on the internet.
You can probably lose money if you decide to invest in referrals, so I highly discourage you from buying or rent them. This doesn't mean the site is a scam, but they should clarify that there are no guarantees and there are significant risks involved.
Verdict: Legit but it's not for me, guys! 

This reward platform is going viral! Cash out via PayPal, Visa, Gift Cards, and in-game currencies - Click here to find out how to generate an extra $10+ per day! 
How I Prefer to Make Money Online
There are many great ways to make money online, and I think you should try as many strategies as you can to see what works for you.

Just bear in mind there are no shortcuts in whatever you decide to do. It's always going to take a lot of time and effort, so stick with it for at least one year to see some results.
Well, I decided to build a website, write reviews and promote products as an affiliate. That's how I make close to a full-time income online!
If you want to try the same route, you can get started with a free step-by-step course provided by Wealthy Affiliate. It's a great community-based platform to learn, build your site and network with thousands of other online entrepreneurs. I am a member for over 2 years now and it only gets better!
Thanks for checking out my honest Paid2YouTube review. If you have any questions, feel free to ask in the comment section below. I'd love to help you out! 🙂