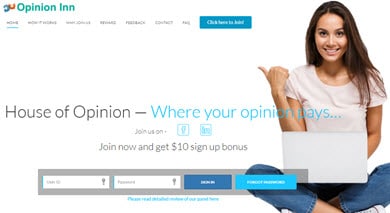 Welcome to my Opinion Inn Review!
I stumbled across Opinion Inn panel while browsing an offer wall in a GPT platform called Prizat.
The company claims you can earn money by sharing your valuable opinions on different products and services. Well, nothing new so far!
What caught my attention about this survey panel was the generous signup bonus of $10 as well as the possibility of earning up to $100 per project.
The website looks professional and has lots of information but there is still not many reviews on the internet despite existing since 2014.
So, can you really make money with Opinion Inn? Is it a scam or legit survey platform?
Read my review below before joining!
Before you leave my blog, discover the step-by-step program that helped me reach $1,600+ per month working from my laptop. No special skills required! 
Opinion Inn Review
Name: Opinion Inn
Website: https://opinioninn.com/
Company: Orchid Online Research, Pvt Ltd
Type: Online surveys
Eligibility: Worldwide
Minimum Redemption: $25
Similar panels: Forthright, Power of Opinions, Quick Thoughts
LEGITIMATE
Overall Rating:

2/5
What is Opinion Inn? 
Opinion Inn is a survey panel operated by Orchid Online Research Ltd., a data processing company headquartered in Delhi, India.
As a member, you can share your feedback with leading brands and earn cash rewards for your contribution.
According to the website, Opinion Inn has paid out its members almost $4 million in cash rewards for completing surveys.
Pros and Cons
Pros 
Earn $10 just for signing up.
Excellent rate of pay ($3 – $6).
Cons
Most surveys are designed for managers, director and decision-makers.
The minimum payout threshold if a bit too high.
It can be very hard to qualify.
You can be rejected at any stage while answering the survey.
It takes 4 – 6 weeks for your survey to be approved.
Is Opinion Inn Legit? Will You Get Paid?
Despite being registered over 6 years ago, Opinion Inn has very few reviews on the internet, which is a bit strange!
I would expect the site to be a lot more popular considering the company is offering a $10 signup bonus. But it's the opposite! If you search on Google, you won't find many blogs or Youtube videos recommending it. 
After some research, I found one post on Reddit where the person reported been rejected 30 times. That's not good!
In a review published on Paidfromsurveys.com, the person advised readers to avoid Opinion Inn because she was screened out at the of the survey 3 times.
I tried once and was disqualified too!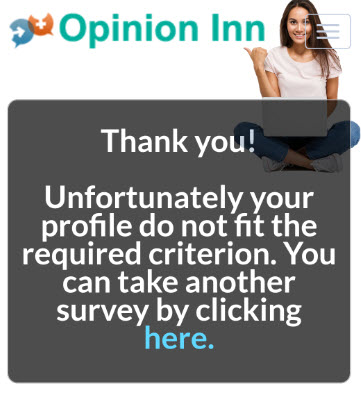 Another reviewer reported that he earned $4 after finishing the survey, but his reward was pending. Sadly, I couldn't find anyone who managed to reach $25 and get paid.

I need more reviews to give you a definitive answer, but I don't think Opinion Inn is a scam. However, I suggest joining other survey sites where you can cash out less $5 or less. This is an excellent choice. 
How Does Opinion Inn Work? 
How to Join
The first step to becoming a member is to create a free account.
Simply click on register and fill up the form with some basic details such as your name, email, address, and a few other profiling questions.
Next, open the email and click on the verification link to activate your account. Then, choose your password and log in.
Complete Your Profile
Once you create your account, answer all the profiling questions separated into different categories.
Hopefully, that will help Opinion Inn send you only surveys that match your profile to avoid wasting your time.
Complete Surveys 
Opinion Inn will start sending survey invitations via email from time to time.
You can also find a list of all the survey opportunities via the dashboard. As of writing this review, there were 16 marketing research studies in need of respondents.
I like the fact that surveys pay in the range of $3 – $6. However, most of them are targeted to company directors and managers in specific industries.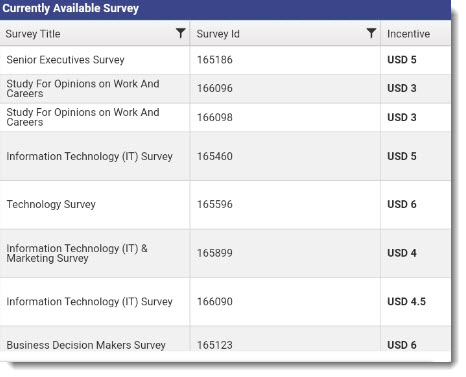 For example, one survey was looking for directors or higher titles who take care of subscription payment within their organization.
I don't think Opinion Inn can find enough company directors who are willing to complete these surveys to supplement their income. Besides, people can lie just to qualify for these surveys.
The other surveys were targeted to the following group of people:
Refrigerator owners.
Travellers who intend to travel overseas within 2 years.
Samsung phone owners.
Hardware/software decision-makers.
Respondents working in Information technology.
According to the website, it takes 4 – 6 weeks for your survey status change from pending to approved.
How Do You Get Paid? 
You can withdraw the money to your PayPal account once you reach $25. It's a bit high, but that's because the company is offering a higher incentive compared to other survey panels.

This reward platform is going viral! Cash out via PayPal, Visa, Gift Cards, and in-game currencies - Click here to find out how to generate an extra $10+ per day! 
Conclusion 

Opinion Inn is a survey panel completely off the radar. It provides excellent cash incentives for respondents, but it's very difficult to qualify for surveys.
The reason is that most opportunities are targeted to high profile professionals who don't usually need to supplement their income. So, naturally, many people will try to qualify by pretending to be someone they are not.
Opinion Inn is a legit site and I don't think the $10 bonus is a trap. However, you can waste a lot of time due to frequent disqualifications.
Verdict: Legit
Earn a Full-Time Income Online
I can relate to the feeling of frustration when taking surveys because I was an active panellist 5 years ago.
Luckily, I discovered a much better way to make money online, which allows me to work remotely and cover all my living expenses.
The business model that I use is called affiliate marketing, which involves promoting other people's products in return for commissions.
So, I took massive action to build an affiliate site with the help of this excellent step-by-step program.
This well-structured program will help you follow a proven roadmap to achieve your goals. However, it's important to have realistic expectations and understand that success doesn't happen overnight.
If you are prepared pull up your sleeve and finally make it happen, click here to start the journey today!
Final Words
Thank you for taking the time to read my Opinion Inn review. If you have any questions or would like to share your experience using this survey panel, leave us a comment below.
Stay safe and peace out!