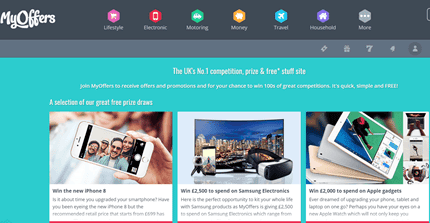 Today I will be talking about My Offers, which claims to be the entry point for one of the best prize draws on the internet. Is My Offers a scam or a legit opportunity?
Let's find out!
Highly recommended:  Learn step by step how to build an affiliate business that allows you to achieve time and location freedom. Free and newbie-friendly training available.
My Offers Review
---
Name: My Offers
Website: www.myoffers.co.uk
Price: Free to join

LEGITIMATE

Overall Rating:

3/5
What is My Offers?
---
My Offers is a very popular website in the UK that allows you to complete offers in exchange for prize draw entries.
Through Myoffers.co.uk, the company is practicing what is called 'permission marketing,' which is basically a technique to collect your personal information with your consent for marketing purposes.
So, when you agree to participate in a prize draw, you will answer a questionnaire and provide your contact details not only to My Offers, but also to its sponsors or clients. Why? So, these companies can try to sell you goods and services through phone calls and email advertising.
Is My Offers a Scam? 
---
No, isn't. My Offers is a legit website operated by a real registered company called MyOffers Limited since 2008.
However, many people are not happy because they receive daily calls from different companies and lots of spam emails.
At some point, people get so annoyed with them that they have no choice but to change all their contact details.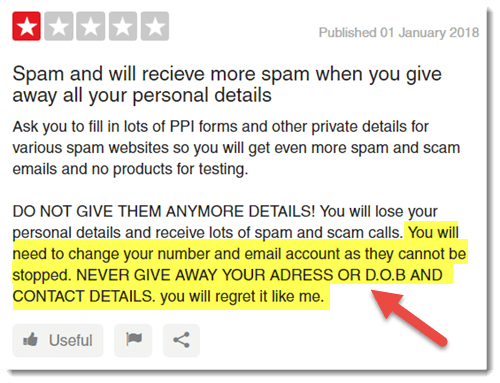 I understand the feeling, but at the same time, THEY allowed this situation to happen when they accepted the terms and conditions.

One thing people need to understand is that if a company is giving you a chance to win prizes is because they are interested in making a significant profit from it.
For you, it's just a prize draw. For them, it's a successful marketing campaign! So, of course, they want your contact details and, as a result, their staff will work hard to make sure a lot of people buy their products.
Again, My Offers is not a scam, but if you don't want to receive calls, then your only option is not to participate.
How Does it Work? 
---
On the homepage, you will see a wide variety of offers to complete.

For example, if you chose Travel, popular prize draws include a shopping weekend in Paris, and family holidays to different European destinations.


Other popular offers I have found today include:
£500 to spend on Petrol.
£2,000 in cash.
New iPhone 8.
£1,500 to spend at Selfridges.
You can also apply for a chance to become a product tester (test and keep), a Mystery Shopper or a Secret Diner.

Each offer has its specific rules in the terms and conditions, so you should always read that page carefully.
Most offers require you to complete a quick survey and provide your email and telephone number. Mobile phone numbers are usually not accepted.
How to Discover You Are a Winner and How to Claim the Prize? 
---
My Offers will select winners at random by computer unless a different process is stated in the terms and conditions for a specific prize draw.
If you are a winner, your brief information will show up in"Winners page," and they will also send you an email.
Then, just follow the instructions on the email within 7 days, and your prize will be sent within 28 days.
Note that winners will have to provide a photograph to claim the prize.
Pros and Cons
---
Pros
There are lots of different offers available.
Cons
The more offers you complete, the more marketing calls and emails you will get.
You will have to complete lots of questionnaires just for a chance to win a prize. In other words, there are no guarantees.
It's only available for UK residents.
Conclusion
---
My Offers is a legit platform, but the problem is that most people will not feel at ease with so many marketing calls.
Personally, I am not a fan of spending my time and giving my contact details just for a chance to win prizes.

Even if I eventually win, the prize will not change my life. Therefore, I prefer to work hard to achieve my ultimate goal, which is to earn a full-time income online and live life on my own terms. 
I know it's possible as I am now making over $900 per month in affiliate commissions through my website. Now, it's just a matter of rinse and repeat, and I will get to the point of where I want to be.
If you want to apply the same strategy that I use, I suggest you check out my #1 recommended step by step program. It will help you build a site and grow a profitable affiliate business from scratch.
You don't need any experience as the process is laid out in simple baby steps so that anyone can follow. And by the way, it's free to join!
Thanks for checking out this My Offers review, and I hope it was helpful to you. If you have any questions, feel free to ask in the comment section below. I'd love to help!