Welcome to my Money 2048 review!
You have probably stumbled across this 3D merge game on your Android through a rather eye-catching advert.
A woman is pulling silly faces and confidently pointing to a series of bold claims on the screen.
"Money 2048 has paid me $12k so far," it proudly declares.
"No ads, no purchase, no withdrawal limit, no inviting friends."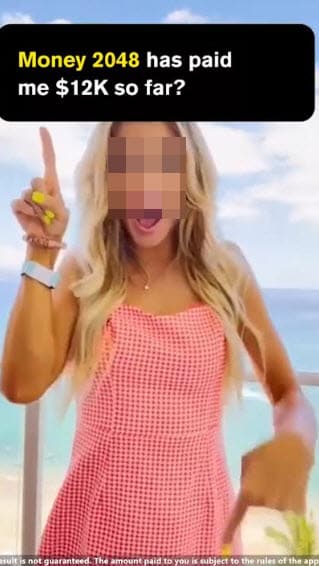 Over 100k people have been lured in by the prospect of hefty payouts and are now engaged in merging cubes for hours.
But, like most of us, you might be asking the same questions that popped into my mind.
Is this for real, or is it just another elaborate hoax? Can Money 2048 actually deliver on its claims?
In this review, we'll dive deep into Money 2048 to unveil whether the allure of easy money is genuine or just an illusion.
Ready to trade in your 9-5 for a laptop lifestyle? This excellent step-by-step program helped me generate $2,000+ per month and can help you do the same. Click here to find out!
Money 2048 Review
Name: 

Money 2048 – Cube Merge

Advertiser: 

Westside View Group

Eligibility:

 Worldwide

Price:

 Free (no in-app purchases)

Payout Threshold: 

$1000

Overall Rating: 0
What is Money 2048?
Money 2048 is an addictive Android game that combines the fun of block merging with the lure of cash prizes.
It resembles countless games I have reviewed, like Jewel Cube 2048 and Cube Winner 2048. 
In the game, players shoot numbered cubes onto the board. When two cubes of the same number collide, they merge into a higher-number cube.
The resulting number is double the previous one. Thus, 2 becomes 4, 4 becomes 8, and so on.
If you follow this pattern strategically, you will eventually reach 2048. 
As players shoot cubes, they can also hit special bubbles that trigger cash rewards.
The developer claims these virtual earnings can be cashed out via PayPal once a player accumulates $1000.
This might seem unattainable, but the game rewards players significantly, making it achievable in less than an hour of gameplay.
How Does Money 2048 Work? 

Money 2048 is a free-to-play game available worldwide on the Play Store.
Upon launching the game, it greets you with a $10 welcome bonus, enticing you to tap the button and kickstart your money-making journey.
A tempting $100 button appears next, with a tiny play icon. So, what does it mean? 
You guessed it – tapping on it triggers an advertisement, the first of many you will encounter on your quest to reach the payout threshold.
The gameplay itself is very straightforward! 
Players tap, aim, and shoot numbered cubes at other cubes with the same number on the game board.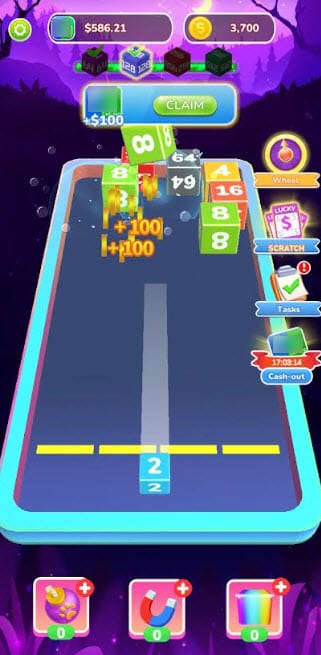 When two cubes with identical numbers collide, they merge into a higher-number cube.
For instance, two 16 cubes merge into a 32 cube. The newly formed block then bounces around, potentially merging with another cube of the same number. 
Money 2048 offers even more opportunities to collect cash rewards as you progress.
Upon reaching the highest number, you can open four cards. Each card unlocks cash prizes, but you must watch an advert before claiming each reward.
Then, bubbles bearing the PayPal and Cash App logos appear on the board.
Hitting these bubbles earns you more cash. However, as you might have guessed, you must tap the button and endure another video.
Yep, it's all about bombarding the player with those get-rich-quick offers! 

On the game's left side, a hand icon points to a $30 cash button.
Here, the developers would have you believe that a mere tap on this icon followed by watching another advert grants you $30.
At this point, it's hard not to believe how watching short clips magically translates to a hefty sum in your virtual account.
But there's even more to Money 2048! As you merge cubes, you also accumulate tokens.
These tokens can supposedly be traded for Amazon, Google Play, Visa, and other gift cards.

This reward platform is going viral! Cash out via PayPal, Visa, Gift Cards, and in-game currencies - Click here to find out how to generate an extra $10+ per day! 
Withdrawing Funds
To get your hands on that sweet cash via PayPal or Cash App, you must rack up $1000 in the game. 
But, as per the app instructions, you will have only 24 hours to receive this bonus. 

And as for those tokens, you'll need more patience because the minimum requirement is 980,000.
Once you've done that, you can trade tokens for a $100 gift card from major retailers like Amazon, Google Play, Steam, and more. 
Is Money 2048 Legit? Does it Pay? 
Here's the deal with Money 2048: It might look like a gold mine, but it's more like a clever ad factory.
You're practically tripping over an advert every few seconds with those annoying cash bubbles on your way.
It really messes with your gameplay, and it's very annoying! 
Now, if you're in it for the cash, I've got some bad news for you. That big $1000 reward? It's 100% FAKE! 
That's right, every time you think you've hit the jackpot and met all the requirements, the goalposts move.
You never get to take out that money.
Why is this happening? Well, it's because the game's creator is advertising unrealistic cash rewards that they can't afford to pay out.
It's a sneaky tactic since they're the ones raking in the real cash while you are watching those videos. 
Of course, it works because everyone loves the idea of getting something for nothing. 
Conclusion 
Money 2048 is far from the golden goose it's advertised. It's an entertaining game, but it won't pay off your mortgage.
It's a clever digital advertising machine, churning out profits for the creators while disappointing players with fake dollars. 
But here's the silver lining: there are other ways to make real money online.
Trust me; I've been there. In 2015, I started this website from scratch, which has entirely transformed my life.
It gave me the kind of freedom I never thought possible – I am talking about the possibility of earning a significant income from the comfort of my laptop anywhere in the world.
I joined a unique step-by-step program that helped me build this business from the ground up.
With it, I learned how to attract visitors to my site and convert it into a full-time income. It takes time and a lot of work, for sure, but it's real and totally worth it.
Building an online business could be your ticket if you're after that laptop lifestyle.
So, save time and energy from playing games like Money 2048 and invest them in building a real digital asset. 

Final Words
Thanks for taking the time to read my Money 2048 review! I hope it sheds some light on the true nature of this game. 
Peace!