Welcome to my Farm City review!
Like thousands of people, I stumbled upon an intriguing advertisement promoting the game Farm City as a real money-maker.
"Recruiting 20,000 game testers!" it declared, offering a whopping $10,000 per month.
Such a tempting offer was impossible to ignore!
And more! Even a casual gamer could rake in over $500 by playing just one or two hours daily.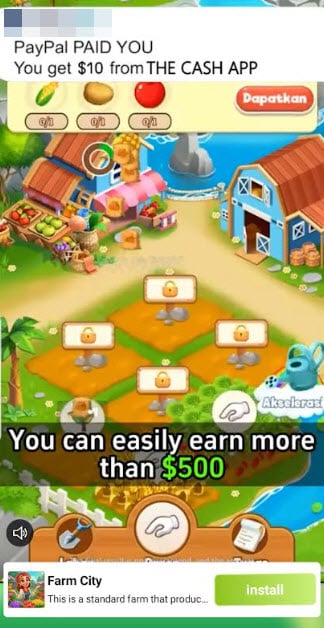 This game has attracted over 100,000 people with high hopes of earning easy money.
Yet, everyone is wondering: Does this digital farmland yield financial fruits? Is it legit or fake?
After all, harvesting real cash by playing a farming game sounds like a storyline straight out of a fairy tale!
To answer these pressing questions, I've dived headfirst into the verdant fields of Farm City and explored their bold claims.
Ready to trade in your 9-5 for a laptop lifestyle? This excellent step-by-step program helped me generate $2,000+ per month and can help you do the same. Click here to find out!
Farm City Review
Name: 

Farm City

Advertiser: 

Brilliantone

Eligibility:

 Worldwide

Price:

 Free (no in-app purchases)

Payout Threshold: 

$2

Overall Rating: 0
What is Farm City?
Farm City is an engaging Android game that invites players into the world of agriculture.
This game provides the opportunity to step into the boots of a digital farmer, planting, growing, and harvesting many crops, such as corn, vegetables, and fruits.
Bear in mind there's another popular game with the same name on the Play Store.
But what sets Farm City apart is the tantalizing prospect of earning real money. 
Brillianstone, the game developer, offers a farming experience and virtual dollars that can supposedly be cashed out via PayPal, Amazon, and Mastercard.
It's no wonder the game has already been installed over 100,000 times.
Despite that, Farm City is still classified as an "Early Access" application, meaning users cannot publish reviews and share their opinions.
How Does Farm City Work?
Farm City is available at your fingertips on your Android device.

It doesn't require registrations or in-app purchases – it's 100% free!
So, how do you navigate this farming adventure? Tap the plant icon at each plot of land and select your desired crop.
Next, you're not immediately granted a bountiful harvest. 
You need to be patient and let the seeds sprout, which could take a few seconds or even minutes.
Of course, you want your corn to grow faster, right? You can watch an advert to activate the acceleration feature represented by water or fertilizer.
However, you must watch an advert to speed up!
You can unlock different fruits and vegetables by – you guessed it! Watching another commercial.
Once your digital fields are brimming with ripe produce, it's harvest time.
Perfect! But how do we go about getting cash prizes? 
You will earn virtual dollars after completing levels achieved by growing specific numbers of various crops.
For example, level 4 requires growing 1 potato, 1 apple, and 2 carrots.
Keep in mind that your virtual cash balance isn't a direct reflection of the money you can withdraw.
Your real balance is subject to an exchange rate tied to your level.
For example, levels 1 to 49 have an exchange rate of only 1%. So if you're at level 1 and amassed $10 in virtual cash, it equals $0.10.

The good news is that the exchange rate steadily climbs at higher levels, hitting 100% at level 200.
Withdrawing Funds
You need a minimum balance of $2 before you can cash out via PayPal, Amazon, and Mastercard. 
Although it feels like an easy ride, reaching this amount will take a long time. 
The reason is that completing levels becomes more time-consuming as you need a wider variety and greater quantity of crops.

This reward platform is going viral! Cash out via PayPal, Visa, Gift Cards, and in-game currencies - Click here to find out how to generate an extra $10+ per day! 
Is Farm City Legit? Does it Pay? 
Farm City is not just a naive gaming app but a cleverly designed advertising mechanism that churns out income for the developer.

They've set up this tempting system where they hand out virtual dollars and tell you must reach $2 to be able to cash out. 
However, the game is very time-consuming, leading players to watch many adverts to speed up the harvesting time. 
A handful of lucky players might receive the $2! 
But there's a good chance no one is seeing a dime. And even if they did, I'd bet my bottom dollar it wouldn't exceed that $2 cap.
The main problem is that Farm City is being advertised as an opportunity to make $500 in just 2 hours, which is complete nonsense! 
You have to ask yourself, "How can the developers afford to pay that kind of money?" The answer is simple – they can't.
Sure, they're making money from advertisements, but that won't cover a $500 reward for everyone.
Unless they're running sweepstakes, which, spoiler alert, they aren't! 
Conclusion 
You may be among the few lucky ones to score $2 after hours of mind-numbing virtual farming and endless ad-watching.
But don't expect to quit your day job over it. 
I wouldn't waste my time playing Farm City for the unlikely event of earning $2! 
Earn a Full-Time Income Online 
Imagine owning a digital asset that generates passive income, allowing you to lead a laptop lifestyle, working remotely from anywhere in the world.
This can be your reality if you know the path and take consistent action! 
Motivation is the first step. You have to believe you can break away from the traditional work model and succeed on your own terms.
I'm living proof of this. I took the plunge and joined an exceptional step-by-step program that equipped me with the tools and know-how to create my online business.
They helped me set up a high-performing website that draws in a massive audience by ranking my articles on Google.
This isn't some fly-by-night strategy; it's a proven method that withstands the test of time. The best part? I get to make money on my terms, according to my schedule.
Final Words
Thanks for taking the time to read my Farm City review! I hope it answers your questions and gives you some valuable insight into the game.
Now, it's your turn – I'd love to hear your thoughts! So, jump into the comments below and share your experience. 

Peace!