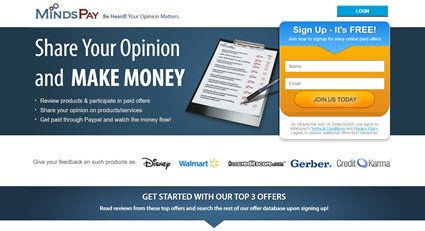 There are hundreds of GPT and survey sites for those who want to earn extra cash from home. One of them is called MindsPay, which has been online for almost a decade.
Although these sites can help a little bit in times of financial struggle, many people end up very frustrated with their results.
It's not uncommon to find those that worked for months and never got paid.
In this review, I am going to show you everything you need to know about MindsPay and give you my honest opinion. Is it a scam or legit?
Let's find out!
By the way, if you want to learn the exact strategy that earns me $1,000/mo from home, check out my #1 recommendation.
MindsPay Review
---
Name: MindsPay
Website: mindspay.com
Price: Free
Strategy: GPT (get paid to)
Overall Rating: 1.3/5
What is MindsPay?
---
MindsPay is a GPT (get paid to) site that supposedly rewards users for taking surveys completing offers, and referring people.
MindsPay is owned and operated by an American company called Mailbox Forwarding Inc.
Because of many similarities, I am confident this company also operates InboxPays, but I was not able to confirm that.
Looking at the instructions of an offer, they let it slip the "Inbox Pays account," instead of "MindsPay account". Just have a look:

This reward platform is going viral! Cash out via PayPal, Visa, Gift Cards, and in-game currencies - Click here to find out how to generate an extra $10+ per day! 

The platform is only available for US residents. If you live in another country, I recommend Prizerebel, which works worldwide and offers more opportunities.
How Does It Work?
---
Registration
MindsPay is completely free to join. Simply fill up the form, click the confirmation link in your email, and you will earn a registration bonus of $3.
What I don't like about this registration is that we have to provide our telephone number.
Unpaid Offers
Before you gain full access, MindsPay will ask you to accept or reject some offers.
Note that those are unpaid offers that you can accept OR reject.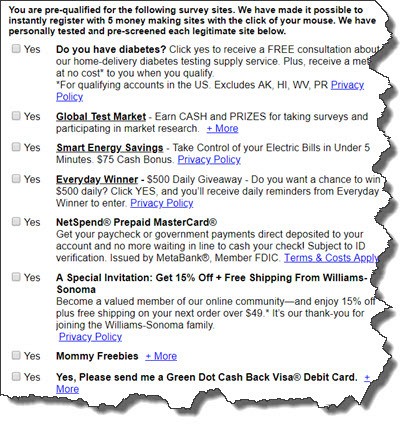 Many people will accept all these offers and therefore, give away their emails to many different companies.

What happens next is your inbox will probably be flooded with marketing emails. Unfortunately, you won't get paid for subscribing!
Paid Offers
Mindspay provides an extensive list of offers that can be divided into the following categories:
Online surveys – share your opinions with marketing research companies.
Free signups – sign up for other GPT and survey sites.
Price draws – fill up a form to get entries for prizes.
Free trial offers – subscribe and accept free trials.
Cashback – purchase a product or service and earn cashback.
Except for online surveys and free signups, you need to be very careful when completing those offers.
Read the instructions and ToS very carefully to make sure you don't miss any requirement. Otherwise, you won't get paid.
For example, some free trial offers require that you use the service until the end of the trial period.
In that case, you must pay for the first month of subscription to receive your reward.
Will You Make $50 Per Offer?
The homepage states that you can earn up to $50 per offer.
Yes, it's possible to find these high-paying offers. The problem is that you must purchase a product at a higher price. It's always like that!
At the end of the day, you are getting a discount and not earning any money.
For example, I found an offer called "automated daily income," which was worth $25.
After clicking on the link, they directed me to a suspicious website that looks like a get-reach-quick scheme.
The price? $47.


Trust me, many people will think that getting a Money-Making Website for $47 with a discount of $25 is a big deal. But it's not!
Referral Program
You can refer other people to join MindsPay and earn 10% of their earnings.
You can do that by sharing your affiliate link via social media, for example.
Complaints
---
Although MindsPay is not BBB (Better Business Bureau) accredited, 13 people filed a complaint against the company at BBB.com.
People complain mostly that MinsPay doesn't stop sending emails and don't pay users.
What's worse is that the company didn't reply to any of those complaints.
And there is more! If the company behind MindsPay also operates InboxPays, then we have an aggravation.
If you read my InboxPays review, you will see there is a warning against this company at BBB.com.

I will quote the same message here:
Since March 2015, the BBB of Houston & South Texas began receiving several complaints that exhibit the following pattern. According to consumer disputes, it has been alleged that Inbox Pays is not providing payments for completing trial offers, reading e-mails and playing online games.  The consumers are alleging they are not able to reach the company by phone or email to request their payments.  The consumers are also stating that their accounts are being blocked not allowing them to complete work and reach the $50 balance required to receive a payment.  The company has failed to respond to disputes that have been sent by the BBB. 
Source: https://www.bbb.org/us/tx/houston/profile/market-survey/inboxpays-0915-90022374/details#Pattern-of-Complaint
Conclusion – Is MindsPay a Scam?
---
 Without having any proof, I can't make such a claim.
However, the complaints that I found at BBB.com makes me very concerned and reluctant to recommend MindsPay to my readers.
I think there is no need to take the risk considering there are great GPT sites available for U.S. residents.
Prizerebel is one of them. You can also try Swagbucks, Fusion Cash, Rewarding Ways, and InstaGC.
As you can see, there are many alternatives!
Verdict: Not Recommended
How I Make Money Online
---
I used to spend long hours per day on GPT and survey sites but never made over $60 per month.
Then, 3 years ago, I discovered how to build an internet business that generates affiliate commissions.
That changed everything!
I was a complete newbie, but thanks to this step by step program, I was able to build my site, attract an audience, and start making money.
It was not easy, and it took me 3 years to reach where I am, but I think it was well worth it.
I haven't quit my job yet, but now I can travel and save much more.
Also, I don't need to worry about losing a job or working fewer hours because the business covers my living costs. That means I have more flexibility to decide what I want to do with my life, without relying 100% on a job.
If you want to follow in my footsteps, check out my #1 recommendation.
The first 10 lessons are completely free, and with the starter membership, you will also get:
2 Free websites
Support from me, the owners, and the entire community.
Check Out My #1 Recommendation Review HERE
Thanks for reading and I hope this MindsPay review was helpful to you. If you have any questions, feel free to ask in the comment section below.
Peace!