Welcome to my Lucky Steps review!
Are you tired of downloading reward apps that don't deliver? 
Searching for a reward app that will provide passive income for easy activities like walking? 
Today might be your lucky day! Or maybe not. Introducing Lucky Steps, an Android app that promises to track your steps and turn them into cash. 
Imagine a world where a simple walk around the block earns you hundreds of dollars!
This is precisely what the developers behind the Lucky Steps app want you to believe in.
Their alluring advertisement features a rabbit trotting along and raking in over $200 faster than you can say, "easy money." But let's not hop to conclusions just yet.
You might wonder, "Is this app legit, or just another fake reward pedometer? Does it pay or just pocket all the advertising revenue? Let's find out! 
Before you leave this page, check out the step-by-step program that helped me to generate $2,000+ a month and quit my job in 2019.
Lucky Steps Review
Name: 

Lucky Steps – Walking Counter

Developer:

 Fungames Club

Availability:

 Worldwide

Price:

 Free

Payout threshold:

$35

Overall Rating: 0 stars
What Is Lucky Steps? 
Lucky Steps, at its core, is a health and fitness Android app that claims to reward users for staying active.
It follows the same concept as countless pedometer apps like Walking Fit and Pedometer Club.
Boasting over 500k installations on the Play Store, it tracks your steps while encouraging you to achieve your daily fitness goals.
Sounds pretty good so far.
Here's where the "lucky" part comes in: for every step you take, Lucky Steps generously rewards you with 4 points or coins if you like.
The catch? Prepare yourself for an advertising onslaught. I'm not exaggerating when I say that every tap, swipe, or glance at the app will trigger a sponsored video. 
It seems like they are testing your patience and sanity!
Once you've collected a mind-boggling 2 million coins, you can finally redeem them for a whopping $177. Cha-ching? 
Well, not so fast… Stick around as we unravel the truth behind this step-tracking cash cow!
How Does Lucky Steps Work? 
Lucky Steps is available worldwide on the Play Store for Android devices.

It kicks off by asking for your gender, height, and weight. This data helps the app tailor its tracking to provide more precise results.
Oddly enough, you can access the app without even needing to register.
This is a red flag since all legit reward apps have some form of registration to avoid fraudulent accounts. 
Once you've entered your details and allowed Lucky Steps to track your physical activity, it gives you a welcome bonus of 50,000 coins.
But of course, they will entice you to tap the button and watch the video —this is just the beginning of an avalanche of commercials.
With every step you take, you'll earn 4 coins, which can be exchanged after—you guessed it—watching another advert.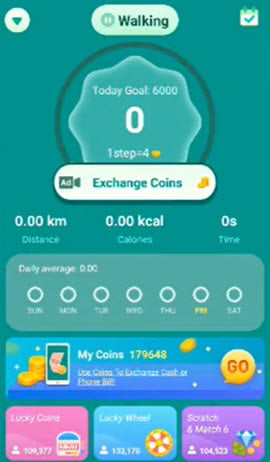 Lucky Steps tracks indoor and outdoor activities thanks to its built-in motion sensors (commonly found in smartphones) that detect your movement.
The app offers basic fitness features, such as displaying the distance you've walked, calories burned, and exercise duration.
It even records your progress over time and presents it in an easy-to-read graph.
Now, let's dive into the fundamental question: Why are the developers so eager to entice users with virtual coins that can supposedly be exchanged for cash?
The answer couldn't be different. The developers are getting paid by advertisers for every video you watch.
It's a clever strategy: reel you in with the prospect of easy money and keep you engaged or walking, if you will. 
It offers even more rewards as you strive to reach your daily goals. But wait, there's more!

Lucky Steps also features games like the lucky wheel, luck scratch, and slots, which give you a chance to win additional coins.
Withdrawing Funds
Lucky Steps make it seems very easy to convert your coins to cash, but there's a big problem.
You can only cash out once you've collected a whopping 2 million coins, which convert to $35. 
To initiate the withdrawal process, open the coin wallet within the app, where you can see the value of your coins in your local currency.
From there, you can choose the amount you wish to redeem.

This reward platform is going viral! Cash out via PayPal, Visa, Gift Cards, and in-game currencies - Click here to find out how to generate an extra $10+ per day! 
Bear in mind that reaching the 2 million coin threshold can be arduous, requiring significant time and patience.
Therefore, you must know whether they will pay you as you have no intention of wasting your time while the developers profit from your efforts.

Is Lucky Step Legit? Does it Pay? 
So, the moment of truth – No, it doesn't!
The developer has crafted a profitable digital asset for himself, exploiting people's time while raking in revenue from the relentless adverts.
Accumulating the required 2 million coins? Good luck with that!
It's a task that would take ages, leaving even the most determined users feeling hopeless. 
To put things in perspective, you'd have to walk to the moon and back to withdraw a few dollars. Well, not really, but that's how it feels! 
The psychology behind this strategy is simple: dangling fake dollars in front of people will get them to do whatever developers want. 
Most users eventually give up, realizing that the pot of gold at the end of this rainbow is nothing more than an illusion.
But here is the thing. Some folks are very persistent and will try to reach that elusive goal at all costs. 
Now, picture this: You've defied all the odds and finally collected 2 million coins. 
Finally, you can cash in and treat yourself to something nice. But wait!
The developers will entirely ignore your payment request or, worse, come up with a hidden video requirement. 
Sooner or later, people will realize the cash rewards are fake! 
Conclusion 
Before you embark on this seemingly lucrative journey with Lucky Steps, remember that if something seems too good to be true, it probably is! 
Although it tracks your steps and offers basic fitness features, its purpose is to line the developers' pockets. 
But that wouldn't be an issue if they were being fair and transparent with users!
Unfortunately, that's not the case since cash incentives are entirely fake. 
Is There an Alternative to Lucky Steps? 
Sure. If you're seeking more reliable alternatives, try Winwalk and Sweatcoin!
While these apps won't make you rich, they genuinely reward users for their steps.
So, at least you can trust that these companies share a portion of their profits as advertised.

Learn more by reading my full WinWalk review here! 
Earn a Full-Time Income Online
Instead of wasting precious time on fake money apps, I suggest you build your own online business. 
In 2015, I set up this website and started providing helpful content that ranks on Google and gives me a consistent income. 
Here are some of the most enticing benefits of taking this route:
Break free from the constraints of a traditional 9-to-5 job! 

Work from anywhere, anytime, giving you the perfect work-life balance and the freedom you crave. 

Grow and expand your business with minimal additional costs and effort.

Your business will work 24/7 for you, generating income even while you sleep! 
This excellent step-by-step program has helped thousands of people, including myself, create profitable online assets. 
Joining this platform back in 2015 was the best investment I have ever made, and it completely changed my life!
It allowed me to acquire valuable knowledge and skills, interact with successful people and learn from their strategies. 
Ready to take control of your future? Click here to learn more! 
Final Words
I appreciate you taking the time to read my Lucky Steps review!
So, how was your experience using this app? Use the comment box below to share your valuable thoughts and opinion. 
Peace!