Welcome to my Golden Pig review!
I have recently stumbled upon an intriguing Android app that has been making some rather audacious claims.
It goes by the name "Golden Pig," and it boldly proclaims that if you don't win real money within the first 10 minutes, you should delete the app.
But that's not all; it further tantalizes people by asserting that Mr. Beast will give $300 to everyone who downloads Golden Pig.
No ads, top-ups, or pesky withdrawal limits – they emphasize there's no payout threshold to meet.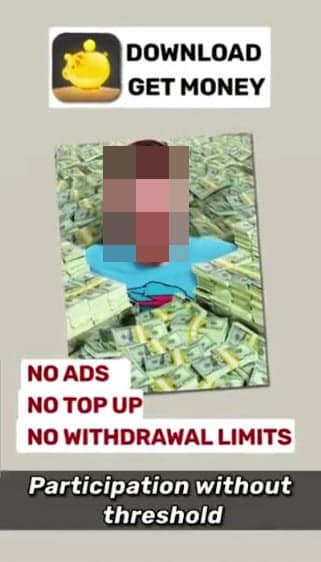 As you read these astonishing promises, you can't help but wonder: Is Golden Pig legit or fake?
How can any developer afford such a generous program that purportedly benefits everyone?
Join us as we dive deep into the world of Golden Pig to unravel the truth behind their remarkable claims.
Before you leave, click here and discover the step-by-step program that helped me build an internet business and generate over $2,000+ monthly. No special skills are required! 
Golden Pig Review
Name: Golden Pig
Developer: billfishstudio
Eligibility: Worldwide – Android
Price: Free
Payout Threshold: £90
Overall Rating: 0
What is Golden Pig?
Golden Pig is a free Android app that offers a straightforward and fun way to earn extra cash.
The app's premise revolves around playing sponsored games and collecting tokens.
These tokens can be converted into real money using popular payment methods like PayPal, Cash App, and Paytm.
This proposition is indeed enticing, as it allows you to monetize your gaming activities. So, it's basically "free" money in your pockets!
Golden Pig offers an eclectic range of games, from mind-bending puzzles to laid-back casuals and epic adventures.
However, there's a noteworthy aspect to consider. Despite boasting 100,000 installations, Golden Pig remains in "early access" on the Play Store.
This status means that user reviews are not available. Therefore, it's difficult to determine whether Golden Pig can deliver on its bold claims.
How Does Golden Piggy Work? 
Golden Pig is an Android app available worldwide that claims to pay users for installing and playing sponsored games.
While the prospect of easy earnings is enticing, there are some red flags you need to consider.
Firstly, the app doesn't ask you to create an account or provide personal information during sign-up.

This may seem convenient, but your earnings are tied solely to your device.
So, there is no way to recover them if you switch or lose your phone.
It also means Golden Pig has no mechanism to prevent fraudulent accounts from flooding the platform.
Another significant issue is the app's lack of data encryption.
Data encryption is essential for safeguarding personal information. Without it, any data you input or generate while using the app is vulnerable.
In case of a data breach, cybercriminals may steal your data, putting you at risk of malicious activities such as identity theft and scams.
When you launch Golden Pig, you're greeted with a welcome bonus of 2,000 tokens, equal to £0.18.
To earn more tokens, the app asks for access to your usage data to track your playtime and reward you accordingly.
All you need to do is toggle the "Allow Usage Tracking" option to grant the app permission.
As a new user, you can earn an additional 1,500 tokens by installing your first two apps, which are located in the "Discover" tab within the app.
Each sponsored app listing indicates the maximum number of tokens you can earn, with most offering up to 20,000 tokens.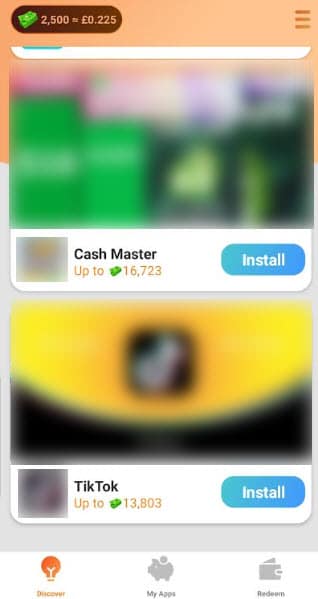 Earning these tokens is simple. Tap "Install" to download from Google Play.
Once the installation is complete, you must navigate to the "My Apps" tab and launch the newly installed app by clicking the "Play & Earn" button.

Golden Pig will then award tokens based on the duration of your gameplay.
For example, Cash Master gives 990 tokens if you play for 600 seconds.
You can see your token balance at the top, along with the conversion in your currency.
Withdraw Your Funds
To access your earnings, simply tap on the "Redeem" option.
Despite the initial advertisement's claim of "no thresholds," there is indeed a substantial minimum cashout requirement.

This reward platform is going viral! Cash out via PayPal, Visa, Gift Cards, and in-game currencies - Click here to find out how to generate an extra $10+ per day! 
You must accumulate a staggering 1 million tokens to cash out £90.
This contrast between the advertisement and reality raises a significant concern:

Will users have access to enough apps to realistically accumulate enough tokens and meet the high cashout requirement?
Dive into the next section and unveil the answer.
Is Golden Pig Legit? Does it Pay? 
I can't definitively declare whether Golden Pig is legitimate or fake.
However, the odds of receiving your hard-earned money appear slim at best.
The app's developer has created a scenario that makes it virtually impractical for users to reach the 1 million coin threshold required for a £90 cashout.
Consider this: You'd have to spend countless hours playing games just to earn a few thousand tokens.
With such limited earning potential, you're likely to run out of available games long before coming close to meeting the lofty requirements.
But even if you somehow manage to reach the goal, there is a significant risk that the developer won't pay you.
Unfortunately, in the world of reward apps, there are no guarantees.
Moreover, it's worth noting that Golden Pig's initial claim of no cashout requirement has cast doubt on the developer's trustworthiness.
Given these circumstances, I don't recommend Golden Pig as a viable platform for earning extra income.
Instead, consider exploring alternatives like JustPlay or Richie Game.
Learn more about JustPlay here! 
Check out my Richie Game review here!
These options provide a more realistic and trustworthy avenue for those seeking to earn while having fun.
Conclusion 
After a thorough analysis of Golden Pig, several concerns have emerged.
First and foremost, there's a stark discrepancy between its advertisements and the actual app experience, especially regarding the cashout threshold.
Despite claims of "no thresholds," users must collect an overwhelming 1 million tokens for a £90 cashout.
This, coupled with limited earning potential and the absence of user reviews, creates skepticism.
Additionally, the app's lack of data encryption poses significant security risks.
Given the vast hours needed to reach the cashout goal, combined with doubts about the developer's authenticity, Golden Pig's credibility comes into question.

Considering the issues above, I advise against using Golden Pig.
Earn a Full-Time Income Online
If you're genuinely seeking a reliable way to earn online, let me introduce a far more rewarding approach: building your own online business.
Imagine leading a flexible lifestyle where your office could be anywhere with a Wi-Fi connection!
Picture yourself having the freedom to set your hours and traveling the world, all while your site operates round-the-clock.
I've personally tapped into this digital era's potential and have achieved remarkable success on the internet.
It didn't happen overnight, but with dedication and the proper guidance, I've established a thriving online business.
You know what was a game-changer for me? This remarkable step-by-step program! 
It gave me the tools and know-how to go from $0 to over $2000/month. Absolute gold!
Why settle for apps with questionable claims when you can follow a clear plan to achieve time and location freedom?
Click here and start your journey today! 
Final Words
Thanks for diving into my Golden Pig review! If you've tried the app and wish to share your experience, I'd love to hear from you in the comments.
Peace!