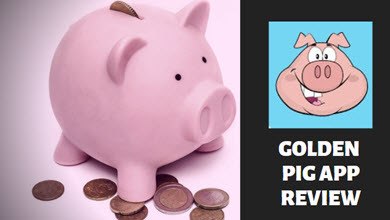 Welcome to my Golden Pig App review!
This seemingly harmless app is giving you the chance to make money by playing games, trying new apps, completing offers, taking surveys and more!
There are probably hundreds of similar apps on Play Store, but the reality is that very few honour user's earnings.
Choosing the wrong app can make you waste a significant amount of time and patience. Therefore, you need to be picky!
Golden Pig doesn't make any unrealistic claims, and should only be considered a spare-time activity.
However, if you are using this app is because you want to get rewarded for your time and effort. So, does Golden Pig pay? Is it a scam or a legit application?
Keep reading to find out!
You may also want to check out the step-by-step training that helped me reach $1,000+ per month working from my laptop (no special skills required). 
Golden Pig App Review Summary
---
Name: Golden Pig
Website: http://golden-pig-app.com/
Company: Adprime Marketing Solutions Ltd
Price: Free to join
Membership Eligibility: Worldwide
LEGIT
Overall Rating: 3.3/5
What is Golden Pig App?
---
Golden Pig is an app that provides different opportunities to make money such as games, trial offers, online surveys, videos, and more!
The app was developed by Adprime, which is the same company that operates other reward apps such as Money Tree, Hungry Unicorn, and Cash Time.

This reward platform is going viral! Cash out via PayPal, Visa, Gift Cards, and in-game currencies - Click here to find out how to generate an extra $10+ per day! 
By using Golden Pig, you will collect coins that you can redeem for PayPal and e-gift cards, including Amazon, Google Play, and Steam.
The application is available worldwide for both iOS and Android devices.
However, the reward potential varies from country to country due to different advertising incentives.
Pros and Cons
---
Pros
Easy way to make money.
Make money everywhere, even lying in your comfortable bed.
There is a wide selection of offers.
The minimum payout threshold is only £5.
Redeem via PayPal and Amazon gift cards.
Cons
Installation and Registration
---
Download and install Golden Pig from the Google Play or App Store.
After the installation, you will get access to the app without having to sign up.
You can collect coins, but when you reach the minimum payout threshold, you must create an account in order to receive the payment.
You can create an account by providing your name, email address and date of birth. Alternatively, you can simply sign up with Facebook.

Points Vs Rewards
---
The point system can distract you from the real money you are actually earning.
I highly advise that you calculate the value of one coin in your country before start using the app.
Then, multiply this amount by the total number of coins that the app is offering.
In the UK, you can redeem 6,250 coins for £5. Thus, 1 point quals £0.0008.
How to Earn Coins With Golden Pig
---
When you open the app, the first thing you will see is this fat pig's face in the centre of your screen.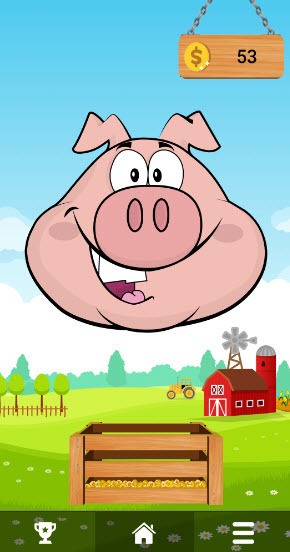 Tap on the pig to uncover all the opportunities to make money.
There are three different sections where you can collect coins; namely, Games, Offerwalls, Recommended apps, and Earn Coins.
Next, I am going to briefly comment on each one of them and show you how much money you can earn.
RECOMMENDED: Click here to see my no.1 recommendation for making money online.
Games
In this section, there is a game called Whac-a-pig, where you will get 1 point every time you click on the pig before it disappears. It's possible to earn more than 20 points per day with this game.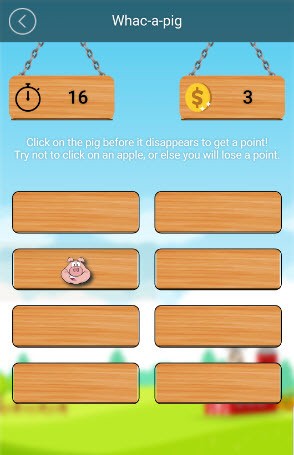 Keep in mind you can only receive coins once every 24 hours on this game.
Another option in this section is called "Offers by Playtime". This section consists of games that you can install and play.
The longer you play these games, the more coins you can earn.
However, just like Coin Pop and Cash Alarm app, your earnings will decrease and eventually stop altogether.
At this point, you should download and play another game to keep earning.
Offerwalls
Golden Pig provides various offers through its own platform as well all third-party providers aka Offerwals.
Currently, they have a partnership with Fyber, Playtime, Peanut Labs and AdGem.
The Peanut Labs wall includes not only offers but also lots of survey opportunities.
To start taking surveys, you must complete your profile, which doesn't take more than 5 minutes.
As for the AdGem Offerwall, you will mostly find apps that you should download and play for a while.

Before downloading any app, read the guidelines and make sure you don't miss any requirement.
Gaming apps usually require you to reach a certain level or play for a few minutes. Other apps only need a free subscription.
Another common type of offer is the one that gives you free entries for prize draws.
Here is one example:
To accept this offer, you must be willing to provide your contact details (email address and phone number) to receive marketing communications.
Once you accept the offer, you have to wait for Golden Pig receive a confirmation from the respective partner that you have successfully completed the task. The approval can take up to 30 days.
The number of coins you will get varies widely from offer to offer. I've seen gaming apps worth  7,000+ coins.
Earn Coins
In this section, you will find another three ways to earn coins.
Rate Golden Pig: You will be encouraged to rate Golden Pig with 5 stars to receive bonus coins.

Watch videos: Earn coins for watching videos. Most videos are promoting other aplications.
Invite friends: Invite your friend to install the Golden Pig app and earn 100 Coins for each friend that you refer. Also, you will get an extra 500 Coins when your friend reaches 500 Coins.
Payments
---
To receive your payment, tap on the crate below the pig's face and select your payment option.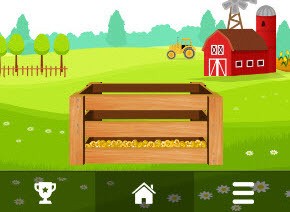 In the UK, the minimum payout requirement is £5 via PayPal and Amazon e-gift cards.
User Reviews 
---
Many people have rated Golden Pig 5 stars only to get the bonus coins. That's a fact!
However, I didn't find many complaints about Golden Pig on the internet, which is a good sign.
The last cash app that I reviewed (Moolabag) got so many negative comments that I couldn't recommend to anyone.
Fortunately, Golden Pig doesn't get such a bad rep!
There are some complaints about missing coins, but the reality is that most people don't wait for the confirmation period.

Conclusion – Is Golden Pig a Scam?
---
I am confident that Golden Pig is a legit app. As mentioned earlier, the company is reputable and operates other legit apps.
However, errors can occur, and you may not get credited.
I haven't seen any complaint about blocked accounts, which is a good sign.
Unless you break any rule, it's unlikely that they will terminate your account for no reason.
Overall, Golden Pig is a decent reward app that you can use to earn pocket money.
Verdict: Legit
If you are searching for more surveys and offers, I highly recommend a GPT site called Prizerebel.
Prizerebel has an insane variety of tasks to make money. Besides, there are monthly bonuses and up to 30% referral commissions!
How I Make £1,000/Mo From My Laptop
---
More and more people are searching for ways to earn a full-time income from the internet.
Apps like Golden Pig become a distraction for those who want to quit their jobs and achieve time and location freedom.
Personally, I decided to cut out all the distractions from my life and build an internet business "empire".
I wanted to quit my soul-crushing job travel the world without any limits.
Whatever your dreams in life, making a substantial income online has life-changing benefits.
This step by step training helped me start an affiliate site from scratch and achieve my goals.
They will show you how to set up a website, rank high on Google and get massive traffic (web visitors).
Keep in mind that I had no coding, web design or marketing skills. Besides, English is my second language and I still make lots of grammar mistakes.
So, if I made it, so can you!
Final Words
Thanks for reading my Golden Pig app review until the end. I hope it answered all your questions, mainly if this app is a scam or legit.
If you still have a question or you want to share your experience with Golden Pig, feel free to leave a comment below.
Before you leave: Check out my #1 Recommendation to Make Money Online Here
Until next time, and I wish you all the best!

Your friend
Stefan