Welcome to my Fun Money review!
I recently installed Fun Money, a reward app attracting many with its simple premise: earn cash by playing games on your Android.
With over 100,000 installs, its appeal is undeniable.
The app advertises easy earnings, cashed out in 5 minutes through PayPal or Amazon gift cards.
Besides, the description mentions the possibility of earning up to $300 with a single offer.
Users collect coins per minute by playing games and eventually trade them for cash rewards.
The promise of effortless money is alluring but also raises eyebrows.
Can we trust Fun Money? Is it a legitimate opportunity for gamers to earn, or is it just another scam?
In this review, I'll break down how the app works and help you decide if it's worth your time.
Recommendation: Join the step-by-step program that helped me to generate $2,000+ per month and become a digital nomad in 2019.
Fun Money Review 
Name: Fun Money
Developer: GameTester
Price: Free (no financial risk)
Payout threshold: $1
Overall Rating: 0 stars
What is Fun Money?
Fun Money is an Android application where you can earn cash rewards by playing sponsored games.
It will track your playtime and award coins you can convert to rewards via PayPal, Amazon, and Google Play.
Fun Money is another app developer by GameTester, which operates two other identical apps: game Tester And Money Cash.
It's important to mention that you can only earn coins if you are a new player.
Therefore, there is no point in downloading additional apps to make money off the same games.
With over 100,000 installations on the Play Store and a respectable rating of 3.8 out of 5, it certainly piques interest.
However, it's crucial to know that an overall rating alone may not provide a complete picture.
That's because many developers purchase reviews to artificially inflate their ratings.
How Does Fun Money Work? 

Fun Money is accessible to gaming enthusiasts worldwide, with no registration needed!
Before diving into the dashboard, you must provide your gender and age.
Why, you ask? It's so that Fun Money can curate and recommend titles you'll likely enjoy.
Upon your entry, a welcome gift awaits!
You'll be credited with 3600 coins, positioning you halfway towards your first cash-out.
To convert your virtual coins into real cash, you'll need to accumulate at least 6999 coins, which allows you to withdraw $1.
Now, let's get to the games! You'll have a panoramic view of sponsored games, each tagged with the number of coins you can earn per minute of play.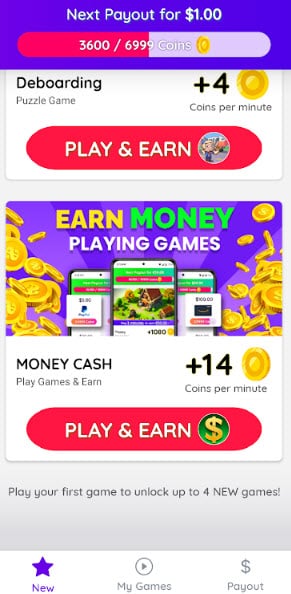 They claim you must play at least one game to unlock four more.
Select a game that piques your interest and tap the "Play & Earn" button.
Before proceeding, Fun Money requires permission to monitor your playtime.
Don't worry; it's a straightforward process.
Hit "Confirm" and activate "Permit Usage Access."
Activating this option is typically safe and ensures accurate tracking of your playtime.

Next, you'll be directed to the Play Store to install your chosen game.
Once installation is complete, launch the game from the "My Games" section and play while watching your coin balance grow!
Fun Money also offers bonuses for completing in-game challenges like completing levels.
You can earn more coins by installing apps hitting milestones.
Bear in mind that some of these offers require purchases to accrue coins.
I'd advise against spending your hard-earned money in exchange for high coin rewards.

This reward platform is going viral! Cash out via PayPal, Visa, Gift Cards, and in-game currencies - Click here to find out how to generate an extra $10+ per day! 
That's because there's a significant risk of not getting the coins, resulting in a loss.

Withdrawing Funds
Cashing out is simple. Once you have at least 6999 coins, you can withdraw $1.
Go to the payout section and choose the $1 option.
While Fun Money allows payouts via PayPal, Amazon, and Google Play, the available options depend on your location.
For example, in some countries, only PayPal might be available.
Is Fun Money Legit? Does it Pay? 
Yes, Fun Money is a legitimate application that pays out.
Many users report receiving payments multiple times without any issues.
They are also happy about gathering points efficiently and receiving fast payouts.
Be aware that the longer you engage with a particular game, the fewer coins you'll accumulate over time.
Therefore, it works best if you install and play new games frequently.
However, it's important to mention that not everyone has had a positive experience with Fun Money.
Some users have reported not receiving credits from various games after accomplishing specific in-game levels or making purchases.
There have been issues where the app seemed to work initially, only to stop awarding credits later.
Users reported delayed payouts and no response from the app's support team despite repeated attempts to contact them.
This lack of customer service left users extraordinarily frustrated and helpless!
As you can see, Fun Money seems to be a hit-and-miss opportunity.
While you might enjoy smooth payments initially, don't expect this streak of good luck to last forever.
There's a risk that issues with your coins and payments may eventually surface.
A significant concern is the app's absence of Terms of Service and Privacy Policy.
These documents are crucial as they set the ground rules for using the service.
Without them, the developer has free rein over your account and earnings.
In simple terms, nothing within the app obligates the developer to process your payments or respond to your concerns.
You spend your time, yet there's no assurance of payout.
Essentially, you're at the developer's mercy; despite investing your time, there's no assurance that you'll receive payouts.

Is There a Better Game App? 
JustPlay used to be a favorite recommendation on my blog, but over time, it stopped meeting users' expectations.
Like all game apps, it fails to deliver consistently in the long run.
That's why I'm not endorsing reward apps focused on games right now.
Instead, I recommend Freecash. It's reliable, offering various ways to earn online—not just through games.
You can make money through different offer walls and survey providers.
Plus, promoting Freecash on social media can earn commissions through its excellent referral program.
Learn more about Freecash here! 
Conclusion 
Fun Money offers an attractive and straightforward way to earn cash by playing games, but users should be cautious.
The company advertises easy money and quick payouts, and many users have indeed earned rewards without issues.
However, reports of inconsistent payouts and poor customer service make the overall experience unpredictable.
The absence of essential legal documents like Terms of Service is a red flag.
Without this document, users do not formally understand the app's rules, rights, and limitations.
Therefore, the app developer can act arbitrarily, leaving users unprotected and vulnerable.
So, while Fun Money may present some opportunities to earn, its reliability and trustworthiness remain uncertain.
You should consider these risks before investing your precious time in this platform.
Earn a Full-Time Income Online
Unlock a Life of Freedom and prosperity!
Are you ready to dive into a lifestyle where you earn comfortably while working from anywhere with your laptop?
Discover the step-by-step program that opened doors for me to establish a robust website that attracts a massive audience and converts to revenue.
With expert guidance, I was able to set up an authoritative site that generates life-changing commissions.
You can replicate my success by following this simple training and taking massive action!

Final Words
Thanks for diving into my Fun Money review!
I trust you found the insights you were looking for. Do you have questions or thoughts bubbling up?
Drop them in the comments below—I'd love to hear from you!
Peace!