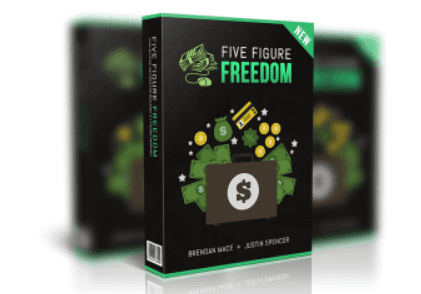 Brendan Mace is claiming Five Figure Freedom will help you build a business that generates $10,000 or more in the next 30 days. Can you believe that? Is it another scam or what?
Discover all you need to know from my review below!
By the way, if you want to steal the strategy that earns me $900+ per month from my laptop, get it here. It's all yours, but as any real business, you will have to put in the time and effort. Remember, there are no shortcuts!
Five Figure Freedom Review
---
Name: Five Figure Freedom
Website: www.fivefigurefreedom.com
Price: $6.64 + Upsells
Type: Internet Marketing
Owner: Justin Spenser and Brendan Mace
Overall Rating: 3.2
The Hype
---
I know, you wish so badly you could make 5 figures per month with just 1 hour of work per day.
But I am here to tell you that no, you shouldn't expect so much money for so little work. The internet is full of very talented and VERY HARD WORKING people that are competing with each other.
So, if you jump in with this mentality, chances are you will get very frustrated.
The sales page of Five Figure Freedom is massive but doesn't explain what you will be doing to make so much money. They only give you a bunch of vague claims such as:
"How to get started right now with this simple, but incredibly powerful system for building a five-figure online business."
"Discover our unique method for getting high-quality traffic that actually puts money in your pockets for FREE!"
"How to start making money in your pocket within just a few short days of getting started…"
I've seen this type of sales page a thousand times, and it doesn't feel right.
Starting a business with unrealistic expectations is the worst thing because you are more likely to give up when you realize the amount of work needed to reach that level of success.
What is Five Figure Freedom?
---
Five figure Freedom is a video training on how to build a solo ads business. It was created by Brendan Mace and Justin Spencer, two experienced and top sellers on the WarriorPlus marketplace.
Solo ads are basically email-based advertisements you buy from other internet marketers who owns a list of email subscribers.
With Five Figure Freedom, you will learn how to build a list so you can become a vendor and sell it to other marketers who want to promote their own businesses.
Pros and Cons
---
Pros
Easy to follow lessons.
You can make money with this method, but you should not expect 5 figures/ mo with 1 hour of work per day. 
There are some bonuses.
Affordable training.
Cons
The sales page gives people unrealistic expectations.
It's not cheap to set up all the tools you need to run the business.
The paid traffic method is expensive, and the free one can be very ineffective.
Beginners usually spend a ton of money and struggle to make consistent profits with this strategy.
How Does it Work? 
---
It all starts with building your own product, a sales letter, a squeeze page, and an email follow-up sequence.
To become a solo ad vendor, you will first have to build a list of email subscribers.
If you want to follow the "easier" route, you will have to spend a lot of money buying solo ads from other vendors, so you can build your own list gradually. In this case, there is a risk you won't recover your investment.
The other option is to use Facebook groups to get traffic (visitors) to your landing pages. It can take a long time to build a list with this method, but the advantage is that you can do it for free.
Furthermore, you will be encouraged to buy some products to set up your business such as Clickfunnels (landing page builder), Clickmagick (tracking software) and an autoresponder. These can add up to more than $150 per month easily.
Not to mention Five Figure Freedom also recommends you purchase a PLR product together with its sales letter in case you don't want to do it yourself.

A PLR (Private label rights) is basically an ebook or another form of media that you can sell it or give away as a freebie in exchange for people's signup.
The Training
---
The course consists of 9 videos in total, which are quite easy to follow. However, and in my opinion, you will need to learn much more than that to grow a successful solo ad business.
You will get the following video lessons:
Five Figure Freedom intro.
Creating your own product.
Creating your own sales letter.
Setting up a squeeze page.
The follow-up sequence.
Connecting things together.
Using Facebook groups for traffic.
Link tracking with Clickmagick.
Wrapping up everything.
And here is a screenshot of the dashboard: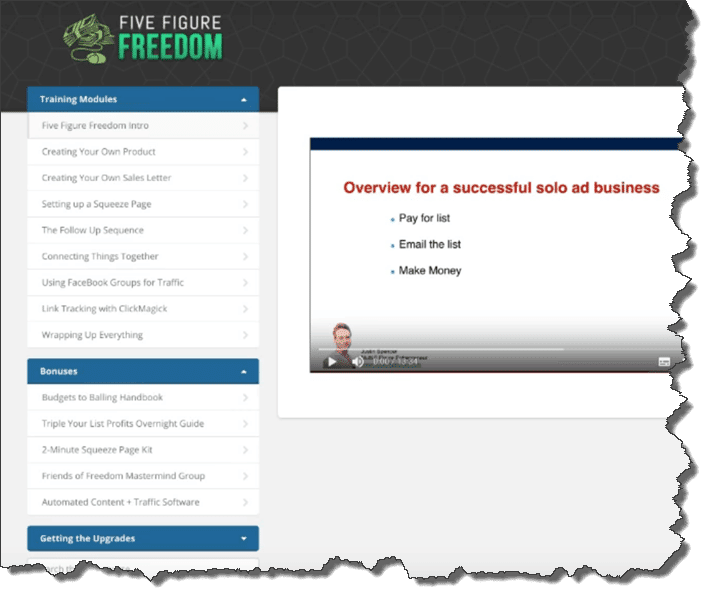 The Challenge With Five Figure Freedom
---
Online marketers have been using solo ads for years to build a list. So, it's not a new strategy.
The big challenge with this method is to manage to pay all the solo ads and extra services and still make a profit. It's a very expensive business strategy that can put a lot of pressure on your finances.
You will probably have to plow through dozens of bad solo ad sellers to find one decent source. Besides, your marketing campaigns will have to convert very well, which is something that requires months and years of experience and testing.
Final Thoughts – Is Five Figure Freedom a Scam? 
---
No, it isn't. For just over $6.65, I think Five Figure Freedom does a decent job in teaching you how to build a solo ad business. The videos are easy to follow, and you can start implementing the strategy straight away with ease.
However, making money with it is another story.
In my opinion, it works best for experienced marketers who have a lot of money to experiment.

Verdict: Legit / Not Recommended for Newbies 
What I Recommend
If you are new to internet marketing, and even if you are experienced, one of the best strategies is to create sites, write blog posts (reviews, how to's, etc.) and promote products as an affiliate marketer.
Many people think this method takes too long, but in my opinion, that's the price you pay for building a reliable source of income from home without burning a hole in your bank account.

This reward platform is going viral! Cash out via PayPal, Visa, Gift Cards, and in-game currencies - Click here to find out how to generate an extra $10+ per day! 
If you want to discover the platform that I've been using since I started my affiliate site in 2015, check out my no.1 recommendation. They have a free starter membership that includes 10 free lessons, support and all the tools you need to get started.
Not risks here!

In addition, they have recently added a fantastic keyword research tool that gives you the edge over the competition. It's awesome!
Thanks for reading, and I hope you find my Five Figure Freedom review helpful. If you have any questions, please feel free to ask in the comment section below.