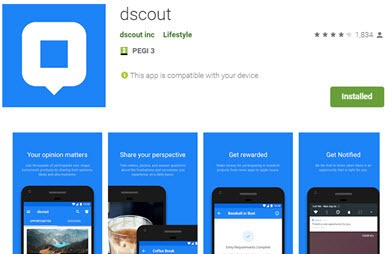 Welcome to my Dscout app review!
There are lots of marketing research companies recruiting panellists, but it's hard to find one that pays more than the minimum wage.
Usually, the pay rate is terrible, and that's why many people give up online surveys altogether.
However, there are a few companies that pay good money for those who want to share their valuable opinions.
Dscout is one of them!
I discovered Dscout yesterday while searching for survey apps on the Google Play store.
After creating my account, I was surprised to see many marketing studies ranging from $20 to $230!
In this review, I am going to explain all you need to know about Dscout and give you my honest opinion about it. Is it a scam or legit app? Does it pay?
Let's find out!
You may also want to check out the step-by-step training that helped me reach $1,300+ per month working from my laptop. It's 100% newbie friendly and free to get started! 
Dscout App Review 
---
Name: Dscout
Company: Dscout, Inc.
Type: Online Surveys
Pay rate: $20 – $200+ per study
Minimum redemption: No minimum
Membership Eligibility: Worldwide
Recommended? Yes
Overall Rating:

4.3

/5

This reward platform is going viral! Cash out via PayPal, Visa, Gift Cards, and in-game currencies - Click here to find out how to generate an extra $10+ per day! 
What is Dscout?
---
Dscout is a website and app that allows you to participate in high-paying marketing research studies from your phone or desktop.
It connects you with leading brands and startups that need your feedback on new products and services.
Some of the top brands that Dscout has already worked with include:
Nike
Embraer
Wrigley
Ideo
Salesforce.
According to the company, there are tens of thousands of panelists known as "Scouts" all over the world.
You can join the group, help influence the decisions of brands and get paid for your opinions.
Pros and Cons
---
Pros
High-paying studies – earn from $20 – $200+.
Missions are easy and fun.
You can complete missions from either your phone or computer.
There is no minimum payout threshold – Get paid after completing each mission.
It pays via PayPal.
Cons
It can be difficult to qualify.
Surveys fill up fast.
How to Join Dscout?
---
You can join Dscout either via the app (Android or iOS) or website.
The registration is free and straightforward. You just have to provide your name, email, and password.
The sign-up process is the same if you are joining Dscout through their website.

If you are using the app, Dscout will ask permission to access your location, camera, media storage, microphone, and notifications.
The reason is that most missions will require you to submit videos, audio responses, and pictures.
RECOMMENDED: Click here to see my no.1 recommendation for making money online.
Dscout Missions
---
As a Scout, you will engage in different research projects called Missions.
You will receive an email invitation whenever a new mission becomes available. You can also browse all the opportunities available on the dashboard.
Dscout will show you the participation reward, the estimated time to complete, as well as the maximum number of participants (openings) allowed.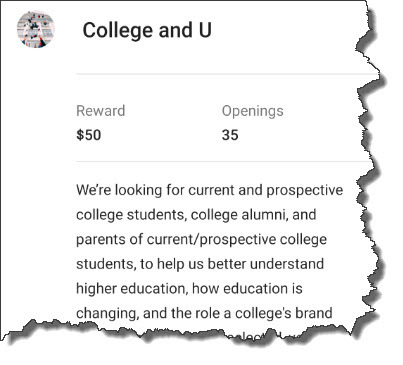 To apply for a mission, you must answer a few qualification questions and maybe record a short video. This will help Dscout see if you are a good fit.
Most opportunities involve sharing your thoughts on particular topics/products and submitting a video. They call these Diary Missions.
Many people claim that missions are easy, fun and require little time.
Here are some examples:
Finance your future – $150
Dscout would like to task to scouts who are planning to make large purchases to understand their financial decisions. Scouts will complete a multi-part mission that will last a few weeks.

Meals and Wheels – $100
In this mission, Dscout would like to know about your food delivery experience with different apps such as DoorDash and UberEats. Selected scouts will participate in a multi-part mission that will last for 1 week.
Your Self-Care Routine – $75
Share your favorite bath and fragrance products and explain how you shop for them. This is a 3-part mission where you must use part of your incentive to purchase a product.
Live Sessions 
You may also take part in live, one-on-one sessions with researchers via webcam.
Here are some live sessions that scouts have engaged in the past:
Provide feedback on how to improve Dscout's app usability.
Tell researchers what frustrates you about using new products and software.
Share your new tattoos.
Tips On How to Make the Best of DScout
---
Dscout provides best practices when applying for missions.
Here are some important tips that will help you improve your chances of getting accepted:

Don't apply to all missions
Don't waste time applying to missions that are not relevant to you.
For example, if you see a marketing study inviting all business owners, but you don't own a company, then you should not try to qualify.
Provide Thoughtful Answers
You should always provide complete, thoughtful and unique answers. Therefore, Dscout recommends that you only apply to missions on topics that truly excites you.
Follow directions and stay on topic
Read all the instructions carefully and provide only the information that has been requested.
Offer quality picture and video responses
When submitting a picture or video, ensure the subject (you or any product) is visible and that the audio is clear enough.
The company recommends that you speak clearly and passionately about the topic.
Also, when recording a video, keep your phone steady and make sure that you are in a well-lit room.
How Much Money Can You Make With Dscout?
---
Most missions pay $20 – $100 and can take anywhere from one day to a few weeks to complete.
On a Reddit thread, someone claimed to have earner over 1k during the summer.
Dscout pays quite well, but the problem is that it can be hard to qualify for many surveys within a short period.
So, your earnings can be very inconsistent.
How Do You Get Paid?
---
Dscout will pay you via Paypal after the mission leader review and approve your entries.
The payment team will send you a message with the exact date that you should expect to receive the payment.
Usually, it takes around 10 working days of the mission deadline.
If your PayPal email differs from the email you used to sign up with Dscout, then you should update your profile.
If you don't have a PayPal account, it's possible to get a check.
Sites Like Gscout
---
It's hard to find sites that pay well like Dscout, but after some research, I came across some interesting options for you.
Here are three sites that are open worldwide:

Conclusion
---
Dscout is one of the highest-paying marketing research companies on the internet.
In my opinion, it's an excellent opportunity to make money online!
The pay rate is similar to that of focus group sessions, but all research studies are done remotely.
The main problem is that it's a bit hard to qualify as studies usually target a very specific group of people.
Also, the quota can be reached pretty fast as many people are applying.
Nevertheless, I think it's worth joining Dscout and trying to qualify if you have some spare time.
Verdict: Legit 
How to Earn a Full-Time Income From Home
---
One of the best ways to make money online is to create a website and promote products as an affiliate.
With affiliate marketing, you can earn five and even six figures working from your laptop!
In short, your job is to create helpful content and recommend (link to) products that can benefit your audience.
I was a complete newbie, but after following this excellent training and putting in the work, I've reached $1,300 per month.
Recently, I quit my job to dedicate myself 100% to my website and travel the world!
You too can reach remarkable results if you take consistent action on a strategy that is proven to work.
Final Words
Thanks for taking the time to read my Dscout review. I hope it was helpful! 😉
If you have any questions or you want to share your experience as a Scout, feel free to leave us a comment below.
Stay safe and peace out!