Welcome to my Dice Go review!
Over 100,000 people have recently discovered this free Android board game, as I did, through an eye-catching advert.
The commercial showcases a few people screaming with joy, claiming to have won thousands of dollars just by rolling virtual dice.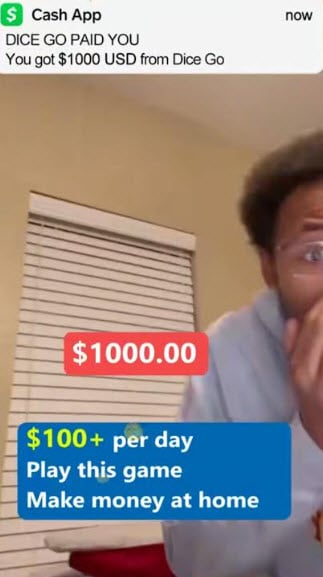 Right off the bat, it sounds like a dream, right? Especially when it claims you can make over $100 per day! 
So, is Dice Go a legit money-making game, or is it just another gimmicky time-waster dressed in sheep's clothing?
If you're reading this review, I bet you're already hooked on this game for hours!
However, you don't want to waste more time on a game only to find out it was all smoke and mirrors.
Well, you're in the right place. We will dive into these questions, examining whether Dice Go truly holds up to its claims.
Top Recommendation: check out the step-by-step program that helped me build my online business and generate $2,000+ per month. No special skills are required! 
Dice Go Review
Name:

Dice Go: Lucky Day

Developer:

AaoWei

Availability:

 Worldwide

Price:

 free

Overall Rating: 0
What is Dice Go?
Dice Go is a free-to-play Android game crafted with a powerful platform called Unity.
Its gameplay is as straightforward as the name suggests.
You tap the screen to roll a pair of virtual dice, setting your character off on a journey around a colorful board.
Depending on where your character lands, you collect virtual dollars, an enticing twist on a classic board game.
But here's where it gets interesting. Once you've accumulated $450 on your balance, the game claims you can cash out actual money via various payment options.
These include popular platforms like PayPal, Cash App, PayTm, and others.
Dice Go also features a gift center where your gaming efforts could potentially earn you some dazzling prizes.
We're talking about the latest PS5, an iPad Pro, a shiny new Samsung Galaxy, and even Bitcoin.
How Does Dice Go Work? 
Accessible worldwide, Dice Go can be downloaded from the Play Store onto any Android device.

There are no in-app purchases or registration requirements, which allows you to dive straight into the action after accepting the ToS and Privacy Policy.
The developer promises data encryption and offers you the option to delete your data should you wish to.
Love gaming? How about getting paid for it? Learn all about it in my articles on the best gaming apps that pay.
How to Play
The gameplay consists of a vibrant board where your character embarks on an adventure dictated by the roll of two dices.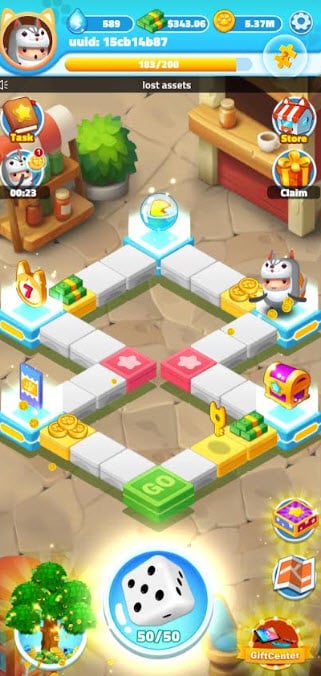 A simple tap on the screen sets the dice rolling and your character moving.
You will get cash rewards if you land on the banknote symbol.
Other places will trigger the lucky scratch, lucky wheel, or slots opening doors to bigger wins.
Unlike many similar games, Dice Go doesn't seem rigged – the dice rolls appear genuinely random.
You'll often be enticed to tap the 'claim' button and sit through an advertisement to double your winnings.
This is a savvy strategy used by the developer to maximize video views and, as a result, profit from advertisements.
Sometimes, you'll hit the 'Big Win,' a jackpot showing you cash, tokens, and even puzzle pieces for prizes in the gift center.
Gather enough of these pieces, and you could claim prizes like a PS5, an iPad Pro, Samsung Galaxy, Bitcoin, or even an iPhone 13.

Withdrawing Funds
The goal is to accumulate a balance of at least $450 so you can cash out.
Upon reaching this amount, enter the cash wallet, select a payment method, input your account details, and hit submit.
As for the prizes in the gift section, you must collect at least 50 fragments corresponding to each award.
Is Dice Go Legit? Does it Pay?

This reward platform is going viral! Cash out via PayPal, Visa, Gift Cards, and in-game currencies - Click here to find out how to generate an extra $10+ per day! 
The unfortunate answer is no; it does not.
A quick glance at the Play Store reveals a mounting pile of negative reviews, players expressing their frustration over their failed attempts to cash out.

Your progress may mysteriously stall once you've collected 48 puzzle pieces, blocking you from snagging that last piece needed to claim your prize.
Reach the $450 mark, and you're placed into what appears to be an infinite queue, perpetuating false hope.
One disheartened gamer shared that their queue position got locked at 15,000, making the cash-out just out of reach.
Another user received a "lost asset" message upon attempting to withdraw their earnings.
The verdict? Dice Go is another fake cash game like countless other casual dice games. 
Beneath the colorful gameplay and enticing rewards, the developers are the ones cashing in on ad revenues.
It's a cruel game of smoke and mirrors, a time-drain without tangible rewards.
Don't let this illusion fool you. Your time and effort are worth more than this!
Ignorance isn't bliss when it comes to fake cash games. Stay one step ahead with my informative article that unearths their deceptive tactics.
Conclusion 
Don't let Dice Go lead you on a wild goose chase. The game is all smoke and mirrors, using ads and hollow promises to profit off your time.
So, why not switch lanes and steer your time towards a road that leads to real profits?
Ever fancied being your own boss with the freedom to work from anywhere in the world?
That dream isn't as far-fetched as it sounds. Like me, you can create your own online business and net life-changing commissions!
Instead of tapping your phone to roll a useless dice, roll up your sleeves and build a digital asset that actually pays off.
This step-by-step program will show you how to set up a website and attract massive traffic to monetize it effectively.
It's like a roadmap where you can learn and get invaluable support from highly successful website owners!
Final Words
Thanks a million for reading my Dice Go review! I hope it shed some light and answered all your questions!
Got a story or opinion to share about this app? Your words are gold to us.
So, feel free to speak your mind in the comment section below.
Peace out!