Welcome to my Daily Habits Tracker review!
Perhaps you found this app in the Play Store, attracted by its promise of self-improvement.
As someone who loves building positive habits and tracking progress, it's no surprise you'd feel drawn to it.
However, this app is more than a habit-tracking platform. 
Daily Habits Tracker claims to be a money-making machine, suggesting you could earn $500 a day.
Now, that adds a whole new layer of excitement, doesn't it?
Once I launched the app, a familiar scene greeted me.
Instead of the health-focused platform, I landed on a dashboard enticing the user to play games, collect $200, and cash out.
Sounds too good to be true, right? 
Like many other apps I've reviewed, it will hit you with adverts in exchange for those virtual dollars. 
I know you're busy and have a life to live. So, you don't want to waste your precious time chasing an illusion, right? 
That's why you are wondering: is Daily Habits Tracker legit or just another fake reward app? Can you withdraw $200 for playing games? Let's find out! 
Top Recommendation: check out the step-by-step program that helped me build my online business and generate $2,000+ per month. No special skills are required! 
Daily Habits Tracker Review
Name:

 Daily Habits Tracker

Developer:

 Solar Blum

Availability:

 Worldwide

Payout Threshold:

 $200

Price:

 free

Overall Rating: 0
What is Daily Habits Tracker? 
Daily Habits Tracker is an Android app dressed up as a personal development tool. 
It has a section with a list of daily activities and awards you cash rewards for simply tapping cash icons and "complete" buttons. 
Every time you tap them, get ready for an advert! This app craves your views and will throw a commercial at every opportunity. 
Daily Habits Tracker also features in-app games. 'You can get a lot of cash by playing games, ' it says, 'and once you've collected $200, it's all yours to cash out.'
Despite over 10k installations of this app on the Play Store, no reviews are available.
That's because the developers have classified it as "Early Acess," allowing app owners to dodge bad reputations and even outrageous behaviors. 
Daily Habits Tracker Work? 

Daily Habits Tracker is accessible on the Play Store and doesn't require registration.
However, as harmless as this may sound, it opens up a can of worms regarding privacy.
The app doesn't encrypt your data; once you're in, there's no option to delete your data.
Why is this alarming? Think identity theft, personal security, and violations of privacy regulations in many countries.
Right off the bat, on launching the app, it greets you with a 'Congratulations, you're a lucky user!' message and hands you a $60 welcome bonus.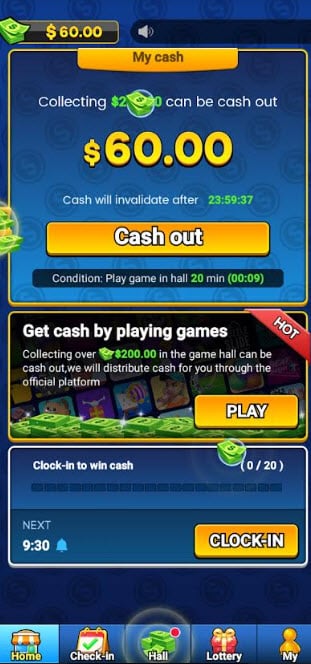 Great start, right? However, you can only cash out once you've accumulated $200.
That's not too bad, considering you are supposedly making money effortlessly! 
So, how do you bridge this $140 gap? The app suggests playing games and clocking in daily. That sounds like a breeze!
You'll find various casual games under the 'gaming hall' section – no extra downloads needed, which sounds convenient.
The good news is that you don't need to play the games to collect virtual cash rewards.
Just tap the cash icons, sit through an advert, and voila, you've got your 'prize.'
And what about the check-in section? Well, it's essentially a list of recommended daily activities:
Wake up – because, you know, you might forget

Poop or pee – no comment

Wash and brush – Hygiene, folks! 

Drink water – very rare to see people drinking water these days! 

Watch the news – thats' debatable! 
Just tap 'complete' next to the activity, sit through another advert, and add more 'cash' to your balance. 

How do You Cash Out? 
Cashing out on Daily Habits Tracker is seemingly as simple as its daily recommendations.
Once you've earned a minimum of $200 in your app balance, head straight to the 'Home' tab.
Here, you'll find the eagerly-awaited 'cash out' button. Give that a tap, and you're supposedly one step closer to your payday.
You can choose the corresponding option in the payment section according to the app's instructions.
Once completed, the app are supposed to transfer the money directly into your account! 

This reward platform is going viral! Cash out via PayPal, Visa, Gift Cards, and in-game currencies - Click here to find out how to generate an extra $10+ per day! 
Is Daily Habits Tracker Legit? Does it Pay? 

Here is the harsh reality that none of us wants to hear. Drumroll, please…the cash rewards on Daily Habits Tracker are completely fake! Yes, you heard that right.
The developer is a master illusionist, creating an enticing mirage of earning real dollars.
The so-called money you've been tirelessly collecting will never find its way into your PayPal account.
Yep, it's all smoke and mirrors designed to waste your precious time while the ads roll in.
Getting to the $200 threshold takes ages because your cash rewards dwindle as you inch closer to the payout.
It's a cunning tactic designed to prolong your engagement with the app and maximize their profits. 
And once you finally reach the elusive $200 and hit the cash-out button? Surprise! Another condition! 
This time, you're required to spend 20 minutes in the gaming hall. Again, no gaming is required – just sit tight, open the hall, and endure another barrage of commercials. 
After this, who knows what other hoops they might have you jump through?
But one thing is sure – no matter how many tasks you complete, you will never get paid! 
Conclusion 
Daily Habits Tracker isn't a self-improvement app to help you cultivate healthy habits, nor is it a golden goose set to fill your pockets with easy money.
It's essentially an advertisement Trojan horse, disguised to lure you in and profit from your time. 
I have tested many similar application in the past including Lucky Habit and HabitNow. Here is my Lucky Habit review! 
Earn a Full-Time Income Online
Yearn to break free from the traditional 9-5 grind? Dream of the so-called 'laptop lifestyle,' where the world is your office?
Imagine swapping rush-hour commutes for leisurely breakfasts, office politics for the peace of your own space, and restrictive work hours for flexible schedules.
It's a world where you are your own boss, and most importantly, you seize control of your time and income.
As enticing as it sounds, this isn't just a fantasy. It's a reality, a lifestyle achievable with the power of the internet and the right tools in your hand.
I've been there, feeling trapped in the rat race, dreaming of the freedom that seemed just out of reach.
But guess what? I made the leap, and so can you!
Thanks to an exceptional step-by-step program, I've been able to grow a profitable site that allows me to earn a full-time income online.
This isn't a get-rich-quick scheme; it's a legitimate way to build your online empire, one step at a time.

It requires dedication, hard work, and consistent effort. But with these in place, the sky's the limit.
If you are interested, click here to learn more! 
Final Words
Thanks for reading my Daily Habits Tracker review! I sincerely hope it was helpful! 
Please, don't hesitate to ask questions or share your experiences with this application in the comment box below. 
Peace!