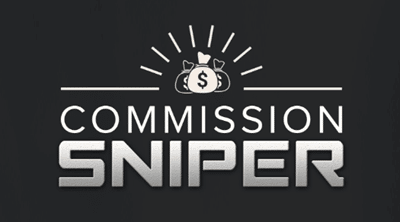 We all wished there was a shortcut to making passive income online. Commission Sniper is another software that is supposed to automate the whole process of getting free traffic so that you earn commissions while you sleep. Amazing!
I decided to take a look at this new software and give you my honest opinion about it. Is Commission Sniper a Scam? If not, does it work exactly as it should?
Let's see!
If you want to follow the same steps that I use to earn $700+/mo in affiliate commissions, don't forget to check out my #1 recommendation*.
Commission Sniper Review
---
Product: Commission Sniper
Website: http://commissionsniper.co/live
Price: $34.95 + Upsells
Owners: Billy Darr
Overall rating: 1/5
What is Commission Sniper?
---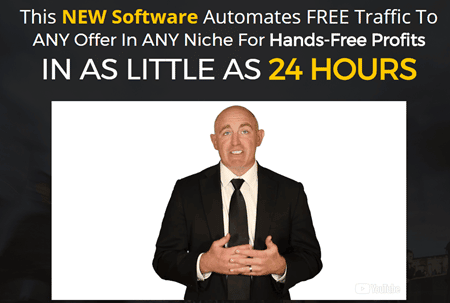 Commission Sniper is being promoted as an app that automates free traffic to any offer, earning you commissions without the heavy lifting.
It's basically a cloud-based software that allows you to create quick videos in hopes that they will rank on the first page of Google.
With Commission Sniper, you won't need to:
Have any experience or skills.
Perform keyword research to see which one is going to rank or not.
Create videos from scratch.
Manually upload videos to social media websites.
Create backlinks to help with rankings.
The software does all that on autopilot, I don't doubt about it. But what about results? Does it really help you get traffic and commissions?
Well, first you need to understand how this software works, so you trust what I have to say here.
How Does it Work? 
---
Keyword research
Commission Sniper comes with a keyword research tool, which identifies how many competitors exists for a particular keyword and analyses the difficulty to rank on Youtube and Google.
You should pick the keywords that are easier to rank and make it as the title of your videos.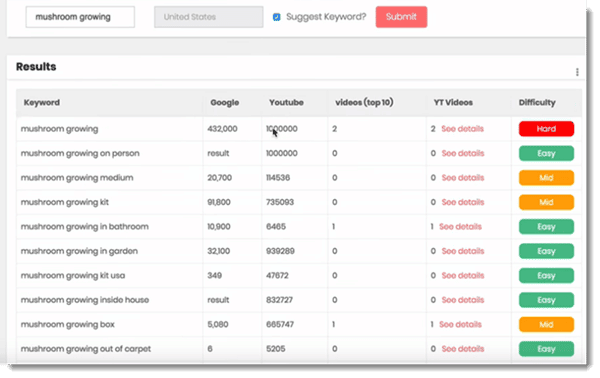 Video Creation
Now the fun part.
In order to create a video with Commission Sniper, you have to select images in PNG or JPG. You also have to choose the MP3 that you recorded yourself, or type in the scripts so that the software generates a "human" voice-over. In reality, the video will have a robotic voice that is not so pleasant to hear.
This is the video creation section: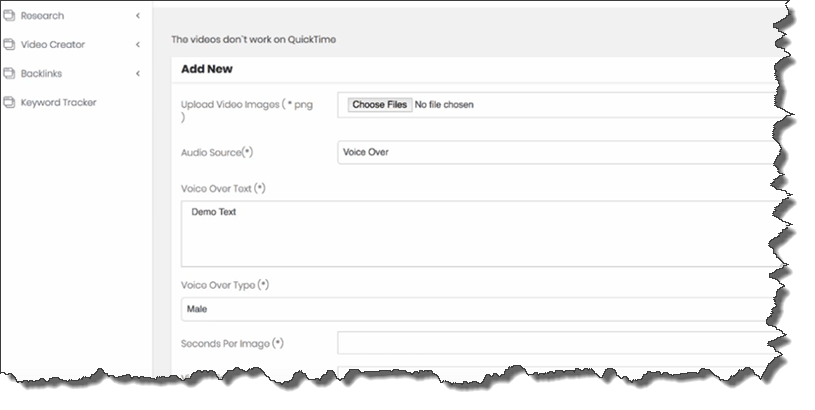 As you can imagine, your videos will be in a video-slide format, which, at least for me, is incredibly annoying to watch!
Backlink Building and Social Media Sharing
Commission Sniper will create an artificial backlink structure by linking existing videos to new videos on your Youtube channel. It also automatically shares your video throughout all your social media accounts.
Is Commission Sniper a Scam? Does it Work? 
---
No, I can't say Commission Sniper is a scam because it offers a real service.

However, the idea of getting a ton of free traffic and making commissions with no effort is flawed to say the least. 
You need to understand that Google has a robust algorithm in place to rank the videos that are the most relevant, interesting, and engaging for a particular keyword. Providing value is key here! 
What happens when you land on a boring video or one that doesn't provide the answers you are looking for? You close it!
Watch time and user experience metrics such as comments, shares, likes, dislikes and numbers of subscribers all influence the way Youtube thinks about the quality of your videos.
So, if you upload a slideshow of 5 minutes with a robotic voice in the background, trust me, most people won't watch more than 1 minute! And what happens is that Youtube won't rank your videos high enough to get the traffic you want.
Not only that, even if you do get good rankings as a stroke of luck, the conversion to your affiliate offers might be low as a result of poor engagement and user experience.
You need high-quality videos, great content, and you need lots of it!
Unfortunately, or fortunately, no software can replace the human touch and create great content out of thin air. Commission Sniper won't help you with that!  
Upsells
---
After you purchase the front end product for $34.95, Billy Darr will try to sell you another four upgrades.
Here is the funnel structure: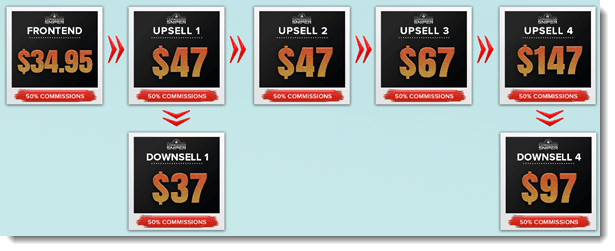 Upsell #1 – 1k Per Week Edition
With this upsell, you will get 10 step by step video tutorials on how to reach $1,000/ week and proven templates to use in your campaigns.
Upsell #2 – DFY Video Pack edition
You get 20 Done For You Videos, Step-By-Step training, and a list of 300 profitable affiliate offers that you can promote.

Upsell #3 – Reseller's Rights
You will be able to sell unlimited copies of Commission Sniper and get 100% of the profits. Plus you get the whole funnel and email swipes to promote the software.
Upsell #4 – $10K Coaching Edition
You will get 4 weeks of coaching that will help you reach your first $10,000 online. Topics include affiliate marketing, traffic, list building, Digital Products, and more.
Pros and Cons
---
Pros
30-day money back guarantee.
The keyword research tool is useful.
Cons
Videos-slides don't grab people's attention, so conversion is usually very low.
It gives people the wrong mindset for success.
Lots of upsells.
Overhyped

This reward platform is going viral! Cash out via PayPal, Visa, Gift Cards, and in-game currencies - Click here to find out how to generate an extra $10+ per day! 
Final Thoughts
---
Commission Sniper is not a scam, but the owners are trying to convince you that this tool will effectively help you get high rankings and make quick profits.
To be honest, I think you will get better results without any automated software! All you need is a camera and enthusiasm to help people in your niche market.

Popular YouTubers know how hard it is and how long it takes to build a big list of subscribers and reach high rankings. When you visit their channels, you notice how hard they work behind the scenes to provide amazing content for you.
If you want to succeed like them, you need to have the right mindset and ignore all the shiny options that you will see along the way. Just focus on creating quality content and help your audience as much as you can.
In the beginning, you will sweat like a horse to get visitors and subscribers. But if you stick to it, you will build a strong channel and eventually achieve remarkable results. It's worth it!
My #1 Strategy to Make Money Online
---
Personally, I prefer writing than being in front of the camera. That's why I created a blog that allows me to earn passive income from the digital products that I promote.
I can also create videos, get traffic and promote the same products.
However, I prefer to have my website as the foundation of my business because it's the platform that I have total control of. With my site, I don't need to abide by any rules that can impact my revenue in the future.
The best thing is to have a website and a mix of traffic sources.
Now, it's totally up to you!
If you want to build a strong foundation for your internet business, then check out my #1 recommendation!
This platform will give you excellent step by step training to build an authority website, get tons of traffic and start making affiliate commissions.
There is also extensive training on YouTube marketing, social media marketing, email marketing and much more to help grow your business.
By the way, there is a 100% free membership available so that you can test the platform and understand the whole process.
That's it for now. I hope this review helps you make an informed decision. If you have any thoughts or questions about Commission Sniper, feel free to drop me a message below.
Your friend,
Stefan