Welcome to my Cash Tile review!
You may have stumbled across Cash Tile while scrolling through social media or playing a fake cash game.
I know what you're thinking – just another tile-matching game among hundreds, right?
Well, not quite! This one claims you can actually make real money while playing.
But we're not talking about small change either – it's an income that could transform your life!
I stumbled upon Cash Tile while playing another game, and I bet many of you have seen it too.
The image featured a multitasking mom holding her kid with one arm while using her laptop with the other.
In the meantime, the game screen displayed some jaw-dropping claims like:
"Average income for a stay-at-home mom is $154,700 per year. That's $12,810 per month!
All you need is your phone, and it requires no experience."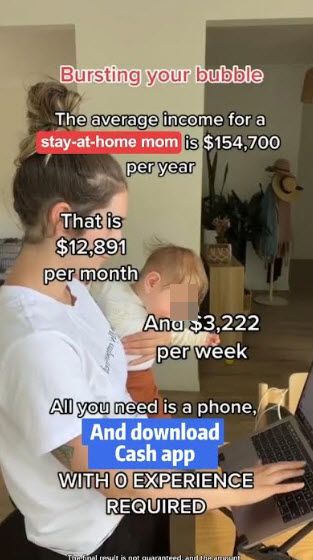 Clicking on the video directs you to the Play Store, where you can download the game for free and enjoy unlimited winnings!
Of course, you are here because it doesn't look real by any stretch of the imagination!
So, is Cash Tile a legitimate money-making opportunity or just another fake money app? Does it pay for matching virtual tiles?
Stay tuned for all the juicy details!
Ready to trade in your 9-5 for a laptop lifestyle? This excellent step-by-step program helped me generate $2,000+ per month and can help you do the same. Click here to find out!
Cash Tile Review
Name:

 Cash Tile 

Advertiser: ubfw

Eligibility:

 Worldwide

Price:

 Free

Payout Threshold:

$2

Overall Rating: 0
What is Cash Tile? 
Cash Tile is a tile-matching game available on Android, and it's entirely free to download and play.
The gameplay is simple: tap the tiles to place them in boxes, and they vanish when you arrange three identical tiles side by side.
The objective is to clear all the tiles from the screen to receive cash rewards or coins that can be redeemed for real money!
Also, if you collect 30 game themes, you can supposedly win the sought-after iPhone 14.
Despite being installed over 50k times, Cash Tile is still an Early Access application.

That means the developer doesn't want users to share honest opinions and experiences on the Play Store.
This lack of transparency and unrealistic payouts raise serious concerns about Cash Tile's legitimacy!
How Does Cash Tile Work?
You can find Cash Tile on the Play Store, and it won't cost you a single dime to dive.
Yep, it's free to download and play, so you won't risk your hard-earned money for a chance to win.
Once you launch the game, a quick tutorial showcases its simple mechanics – click and transfer squares to the display bar.
Each tile bears a delicious food image. Align three tiles with the same image, and they will vanish, granting you coins and virtual cash rewards.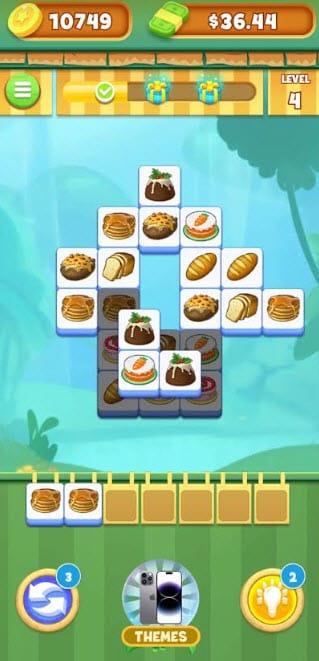 You then have to tap "get" to reveal the reward.
Next, they will give you the choice to tap another button to multiply your reward by up to 5 times.
However, you must watch an advert to boost your earnings.
The goal is to clear all tiles to complete each level without running out of space.
So, be careful and think strategically before placing the next square, as the display bar only fits seven tiles.

If you run out of space, you will fail the level. But don't worry; you can watch a video to continue or restart the level without losing your hard-earned cash and coins.
Cash Tile has numerous levels; you will receive more cash and coins after completing each level.
As you climb higher, the game gets trickier, but that's part of the fun!
There's an extra treat for the players who stick with it. Make it through enough levels, and you unlock a new theme.
The best part? Cash Tile says if you unlock all 30 themes, you can win an iPhone 14.

This reward platform is going viral! Cash out via PayPal, Visa, Gift Cards, and in-game currencies - Click here to find out how to generate an extra $10+ per day! 
How to cash out
You can exchange your virtual cash and coin balance for real rewards.
However, your balance's value doesn't directly reflect the real currency.

Instead, depending on your level, you have only a specific percentage of your balance available for exchange.
For example, from level 1 to 49, the exchange rate is only 1%. So, if you have $100 in your balance, it is actually worth a mere $1 in real money.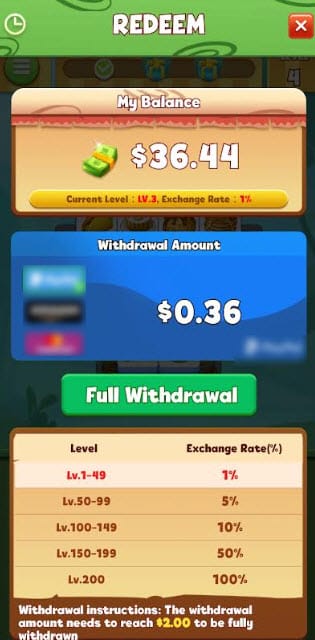 This encourages players to continue playing and complete more levels before cashing out. Balls King is a very similar reward system! 
The exchange rate gradually increases as you progress through levels, and after reaching level 200, you can supposedly cash out 100%.
At this point, your $100 in the game can be exchanged for the exact $100 in real currency.
The value of coins also depends on your level. For instance, 10000 coins are worth $1 from level 1 to 49 and $100 after reaching level 200.
The minimum cashout requirement is $2, and you can withdraw your earnings via popular payment platforms such as PayPal, Amazon, and Mastercard.
Is Cash Tile Legit? Does it Pay? 
No, it doesn't! Regrettably, you won't find a dime transferred into your PayPal, even after tirelessly matching tiles to reach the minimum cash-out amount.
This is the bitter truth of many such cash games, adeptly exploiting users' time in exchange for advertising revenues.
Behind the smokescreen of "easy money," there lies a clever scheme engineered to maximize the adverts users are exposed to, generating handsome profits for the developers.
This is a cunning manipulation of our inherent desire for instant and effortless wealth.
Conclusion 
I earnestly advise you to avoid fake money games like Cash Tile.
Instead, invest your valuable time in proven strategies like becoming a content creator.
This exceptional step-by-step program took me by the hand and helped me set up this lucrative site you are now reading.
Imagine the power of working remotely, setting your own rules, and bending your business to fit your lifestyle!
Imagine the thrill of being your own boss, steering your life in the direction you desire!
The possibilities are limitless, and the freedom unparalleled.
Your time is now, so click here to learn more and build your online empire today! 
Final Words
I hope this review answers all your questions about Cash Tile. Feel free to use the comment box below to ask me any questions or share your honest review about this game.

Thanks for reading!