Welcome to my Bitcoin Master review!
If you are playing Bitcoin Master with the expectation of winning crazy amounts of Bitcoin, you are not alone!
More than 50,000 people have downloaded this application with the same goal.
The commercial depicts a guy driving a Lamborghini and a game simulation giving Bitcoin prizes worth thousands of dollars.
I am not joking! Here is a screenshot of the commercial: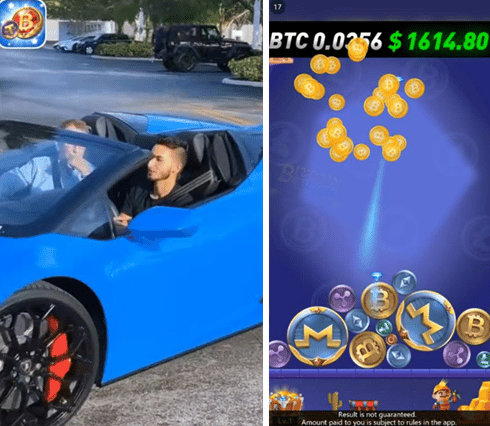 The app has a payment section where you can earn cryptocurrency once you reach 0.25 BTC or 1,000,000 diamonds.
But there is more!
You can also redeem an Apple Watch 7 worth $499 after signing in for just three days!
It's hard to believe that a game developer can afford this prize bonanza, and that's why you are here!
So, can you win enough Bitcoins to live a luxurious lifestyle, as the advert suggests? Is Bitcoin Master legit or fake? Let's find out!
Before leaving, don't forget to check the step-by-step program that helped me generate over $2,000 per month and quit my job in 2019. Free membership is available here! 
Bitcoin Master Review
Name: Bitcoin Master
Advertiser: Infinity Game LLC
Price: Free
Payout threshold: $0.25 BTC
Overall Rating: 0/5
What is Bitcoin Master?
Bitcoin Master is a very simple game where you merge two identical coins to collect unrealistic crypto rewards.
Cocktail Smasher was the first merging game I reviewed in 2020.
Since then, I've seen similar games with different themes, such as chips, sweets, and gems.  
Bitcoin Master is a new one that went viral in the recent weeks with over 50k Installations so far.
There is another very similar Bitcoin Master on Google Play. The main difference is that it allows players to win $1000 instead of BTC.
If you are using this other app, I recommend you keep reading because the outcome is the same!
How Does Bitcoin Master Work?

Installation
You can download Bitcoin Master from the Google Play Store. It's completely free, and you don't need to create an account.
It's important to note the app can read, modify and delete any content in your SD drive. That included your picture, videos, or any other document.
Many people are unaware of that because the information is in the permission section.
How to Play Bitcoin Master?
As soon as you launch the game and tap the claim button, you will get a sign-in bonus of 0.001 BTC. That's equivalent to US$30!
All you have to do is watch the video until the end to collect the reward.
You will get even bigger rewards by signing in for the following six days.
The gameplay is very straightforward. Just drop the coins with different crypto symbols and try to collide with other identical coins.
As a result, they will merge into a larger object, and you will receive diamonds.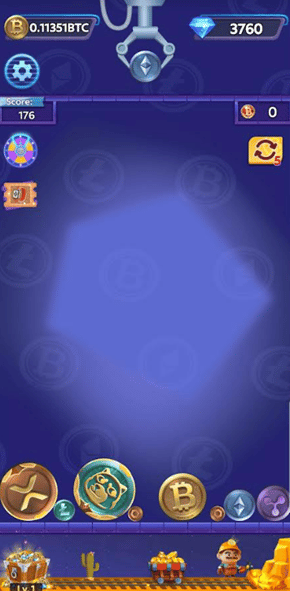 Every time you merge two coins with the Bitcoin symbols, you will get 0.011BTC.
Bitcoin Master will also give you 0.0025BTC after unlocking the largest coin and leveling up.
You can play the game for as long as you want, but the rewards will only be credited if you watch the videos.
Of course, most people are happy to do so! After all, they need to meet the payout threshold before transferring Bitcoin to their digital wallets.

If you want to redeem real Bitcoin by playing games, the best option is the Freecash app! 
Withdrawing Your Winnings
By the app's description on the Google Play store, you wouldn't say Bitcoin Master offers real payouts.
The reason is that there is no information about withdrawals.
But it does! In fact, they make users believe they can get so rich they can eventually afford a Lamborghini.
If you open the Bitcoin balance, it says you must collect 0.25 BTC to cash out. 

This reward platform is going viral! Cash out via PayPal, Visa, Gift Cards, and in-game currencies - Click here to find out how to generate an extra $10+ per day! 
In addition, you can redeem 0.1 BTC once you accumulate 1 million diamonds.
Is Bitcoin Master Legit? Does it Pay?

No, it doesn't! Bitcoin Master will never transfer real crypto to your wallet no matter how long you play.
Once you finally achieve 0.25BTC, the requirement is updated, and now you must watch 30 videos to activate the order.
It would still be a dream come true if we could get rich by playing games.
Sadly, watching 30 videos will not suffice, and you will be asked to watch an extra 50 videos.
Please, don't do that or you will regret it big time!
I have seen many negative reviews from players who met all the requirements and didn't get paid.
So, don't even bother playing because it's hopeless!
Conclusion
Bitcoin Master is another fake bitcoin game that will make you jump through hoops for nothing.
They lure players into watching hundreds of videos with the expectation of making over $7000 worth of BTC.
But there is no way developers could afford such generous prizes in a free casual game.
By playing it, you are just collecting virtual currency while the owner is laughing all the way to the bank.
Don't be misled by applications that want to take advantage of your time and data.
If your priority is to make actual money, avoid Bitcoin Master and focus on reliable platforms or methods of making money online.
The following section will show you the one I use to bring in a steady income online.
Earn a Full-Time Income Online
If you are searching for an opportunity to earn thousands of dollars, you need an entirely different approach.
The best strategy is to set up a system that works for you 24/7 and generates passive income. Let me explain.
When you create helpful content for the internet, it will stay there for months and years, attracting visitors and generating revenue.
In 2015, I created an affiliate site that still brings me revenue month after month.
It helped me quit my job and achieve time and location freedom!
If you want to create a profitable online asset that you can even sell for big money, this excellent step-by-step program will show you how!

Final Words
Thanks for reading my Bitcoin Master review. If you played this game and want to raise awareness, please leave your comments below. Your contribution is very important to us!
Peace!