Welcome to my Royal Chips 2248!
You may have found Royal Chips 2248 App and the opportunity to redeem at least 0.1 BTC just by combining chips on your phone.
That's almost 4,000 US dollars, which is mind-blowing!
Over 100k people have already bitten the bait and are now playing this game non-stop.
Most players don't realize that the developer generates revenue whenever they watch the videos.
There is no legal obligation to transfer any Bitcoin to the user's account.
With so many scams on Google Play, you need to know whether Royal Chips 2248 will pay you or not. Is it legit or fake? Let's find out!
Before leaving, don't forget to check the step-by-step program that helped me generate over $2,000 per month and quit my job in 2019. Free membership is available here! 
Royal Chips 2248 App Review
Full Name: Royal Chips 2248
Developer: Katy Chow
Eligibility: Worldwide
Payout threshold: 0.1 BTC
Price: Free
Overall Rating: 

1/5
What Is Royal Chips 2248? 

This reward platform is going viral! Cash out via PayPal, Visa, Gift Cards, and in-game currencies - Click here to find out how to generate an extra $10+ per day! 
Royal Chips 2248 is another chip puzzle game where you combine discs of the same number to earn rewards.
The game dishes out Bitcoin and allows you to withdraw BTC directly to your Coinbase account.
Your job is to link and merge all the identical chips into higher-number chips.
As you are playing the game, it will give you an insane amount of Bitcoin that you can transfer to your Crypto wallet later.
Royal Chips 2248 has been installed over 100,000 times and rated 3.4 stars.
With such a mediocre rating, I presume gamers are not getting compensated. What do you think?
How Does Royal Chips 2248 Work? 
Installation
Royal Chips 2248 is only available for Android devices. Therefore, you can download it on the Play Store and begin merging.
The game is free to play, but you will be encouraged to pay a speed fee to transfer BTC faster. More on that later.

Before playing Royal CHips 2248, I recommend checking its Terms of Service and Privacy Policy.
There is no direct link to these documents on the loading page or settings.
You can only open these documents in the VIP tab, where they promote the VIP membership.
Bitcoin Rewards
As soon as you launch Royal Chips 2248, it points to some instructions at the top.
It promises to give Bitcoin through the game and send them to your Coinbase account once the event time is over.
The countdown begins at 36 hours, but you cannot remove less than 0.1.
Next, you will receive a novice exclusive bonus of ₿ 0.0099491.
How to Play Royal Chips 2248? 
The gameplay is straightforward!
Just slide your finger over the same number of chips to connect them through a line.
As a result, they will merge into a chip with a larger number following the sequence: 2, 4, 8, 16, 32…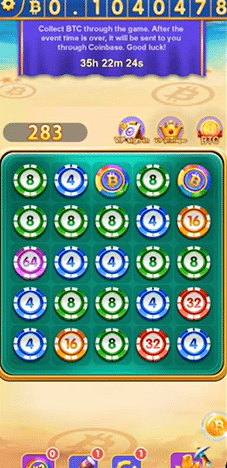 Every time you merge at least two chips, you earn between ₿0.005 and ₿0.008.

Although it doesn't seem much, that's worth $200 – $300!
You will collect BTC instantly after the first 2 or 3 moves. After that, however, the game requires that you click "get" and watch a video to earn more Bitcoin.
If you connect chips with the Bitcoin symbol, it will trigger the slot machine where you earn even more rewards!
How do You Get Paid? 
You can submit your Bitcoin order to your Coinbase account as soon as you reach ₿0.1, equivalent to almost 4000 US dollars. 
Believe it or not, you can reach your goal in less than 30 minutes!
I reviewed many legit games that take hours to accumulate Bitcoin worth a few cents of the dollar.
Once you reach $0.1 BTC, open the redeem page and request the payment by entering your email.
Then, Royal Chips 2248 congratulates you for completing the order and says the review time is seven days and 12 hours.
Below the countdown, there are two methods you can use to receive faster payouts.
Each video you watch while playing the game will reduce the waiting time by 30 minutes.
Pay a $0.99 handling fee, and the developer promises to pay you immediately!

VIP Privileges
Royal Chips 2248 is chasing not only your time but also your money!
The developer is selling a VIP membership for $6.99 per week, which removes the adverts and provides excellent sign-in bonuses.
You will understand why you should not give them your hard-earned money in the next section.
Is Royal Chips 2248 Legit? Does It Pay? 
No, it doesn't! Indeed, you will never receive Bitcoin for merging chips even if you pay the review fee.
The developer lures players to watch countless videos with the pretense of making thousands of dollars worth of Bitcoin.
This is not a new approach, as many other applications use the same modus operandi.
Royal Chips 2248 will ignore your existence after trying to redeem your Bitcoin.
But you don't have to take my word for it. Hundreds of negative reviews on Google Play report that the app doesn't pay!
Sadly, some people have paid the speed-up fee and lost their money because Royal Chips 2248 didn't pay them.

Conclusion 
Do not be fooled by the promises of easy money or cryptocurrency by playing mobile games.
Royal Chips 2248 entices players with the opportunity to win an unrealistic amount of Bitcoin.
They are making profits by showing advertisements and selling useless VIP memberships.
Save your time, money, and sanity by keeping your distance from this game!
Final Words
Thank you for reading my Royal Chips 2248 app review. Kindly share your thoughts about this game in the comment box below.
Peace!