Welcome to my Wonder Scanner review!
I discovered Wonder Scanner today after seeing an advert with an enticing offer:
Exercise and redeem your steps for FREE ROBUX!
This may shock many gamers who cannot afford the high price tag of game currencies.
However, it comes as no surprise to me, given that I have reviewed over ten similar apps proposing to transfer Robux for players. 
And I'm not talking about a few bucks in credits here. With Wonder Scanner, you can supposedly redeem game currency worth hundreds of dollars! 
So, is Wonder Scanner legit or fake? Does it reward gamers or not? Let's find out!
Wonder Scanner Review
Name:

 Wonder Scanner

Developer: 

QIANGSHAO

Availability:

 Worldwide

Payout threshold: 

5,000 Points

Overall Rating: 0 stars
What Is Wonder Scanner?
Contrary to the advertisement, Wonder Scanner is not a step-tracking app!

This reward platform is going viral! Cash out via PayPal, Visa, Gift Cards, and in-game currencies - Click here to find out how to generate an extra $10+ per day! 
It's a basic application where you can earn game currency for scanning barcodes and playing games.
You will earn coins and diamonds that may be redeemed for credits in the following six games: Roblox, Free Fire, Brawl Stars, Mobile Legends, Genshin, and PUBG.
The app has been downloaded over 500,000 times on the Google Play Store, and the number is growing.
How Does Wonder Scanner Work? 
Wonder Scanner is available globally on the Google Play Store and works on Android smartphones.
Once you open the app for the first time, it presents three simple steps to earn game currency for free:
Enter the game.

Collect points through scanning or playing games.

Use points to redeem your favorite game currency, which will be issued to your account in 1 minute.
Next, you will find three options for earning points: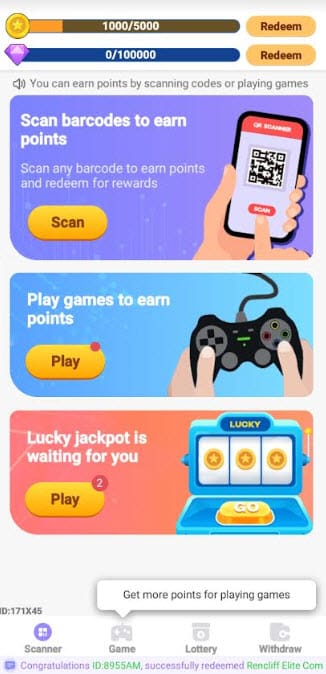 Scan Barcodes
The first step is to click the scan button and then allow Wonder Scanner to take pictures and record videos.
Then, point your phone's camera at any product's barcode or QR code. 
Wonder Scanner will then read the number embedded in the code using a built-in sensor and immediately trigger the reward.
Finally, tap "receive" and watch the 30-second video to claim the points.
Play Games
When you click "Play, you will land on a page promoting top mobile app development companies. Additionally, it features a large banner at the top! 
Many people don't understand this since they expect to see a list of games.
As a result, they visit the sponsored websites by mistake, which is very beneficial to the developer!
To access the games, tap the "game" tab at the top and choose one from the list. 
You will get diamonds every second while browsing for games or playing one. 
Another way to get points is by tapping the coin icons and watching the commercial after pressing the "receive" button. 
Lucky Jackpot
The Lucky Jackpot is where you can get skins and avatars for your favorite games. 
You will be allowed to open a mystery box every two videos you watch inside the Wonder Scanner app. 

Redeeming Points and Diamonds
You can only withdraw game currency once you collect enough points or diamonds. 
The minimum payout requirement depends on each of the six games available.
For instance, you may exchange 5000 points and 100,000 diamonds for 10,000 and 15,000 Robux, respectively.
Is Wonder Scanner Legit? Does it Reward Players? 
No, it doesn't! You won't receive any amount of game currency despite your best efforts to meet their ridiculous requirements. 
Apps like Wonder Scanner are a dream come true for developers because they get passive income while you are using the app. 
I hope you realize that everything is an illusion to maximize app revenue at the expense of your time. 
That explains why you will receive fewer and fewer points as you approach the minimum withdrawal requirement. 
It takes you longer to attain your goal, which benefits the developer even more!

Worse, another level of absurdity emerges after you hit the threshold and push the redeem button.
You will be required to watch 20 videos within 24 hours only to be put on the infamous waiting list. 
Do you want to skip the waiting list? Of course, why not view another 35 videos to claim your reward immediately?
Some brave people who reached this stage reported the app asked them to pay a 2 USD fee or watch 80 additional clips. 
What a joke, folks! 
There appears to be no regulation preventing app developers from making absurd cash incentive claims.
Note that most of the adverts for these reward applications come with the small print saying, "There are no guarantees." 
That, of course, exempt the companies from any obligation to reward player. Besides, they operate overseas, so how can you demand any "rights"? 
I am not here to discuss whether or not what they are doing is illegal because I am not a lawyer!
But what I can tell you is that you won't receive the game currency as advertised. 
Conclusion 
Don't waste your time with Wonder Scanner because this is not an actual reward app. 
They will get you to jump through hoops only to ask for 2 USD before sending your game currency worth 50 USD. 
That makes no sense at all! 
I know many people are craving game currencies that cost an arm and a leg. But unfortunately, there are no miraculous apps and offers that will fulfill your dreams. 
What you can do is join the Freecash app, where you can complete simple tasks in return for points. 
These points can be exchanged for $10 – $50 gift cards to Roblox, League of Legends, Fortnite, and Valorant.
Alternativelling, you can withdraw cash via PayPal and purchase whatever you want! 
Final Words
I hope you found my Mystery Coin Box review informative and eye-opening!
Thank you for stopping by, and I'll see you in the next post!
Peace!