Welcome to my Wizard Fortunes review! 
You might have seen an advert for this game that looked like something out of a fairy tale.
It showed a happy woman holding lots of cash, claiming she won it all by playing Wizard Fortunes.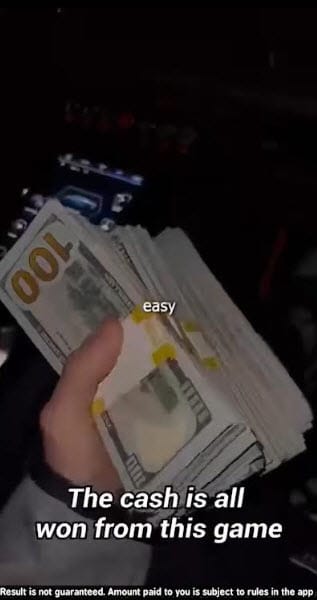 I have heard those bold claims from game developers thousands of times – no limit to cash out, quick payments, and the chance to win $3000 daily. 
Just hit the spin button, and you'll see money adding up to your game account.
Wizard Fortunes, just like other free slot games, makes it seem like anyone will make lots of money simply by pressing the spin button. 
The best part is that you don't even need to touch your wallet and risk your hard-earned money. But is this too good to be true?
I've reviewed many slot games before that promise lots of money, only to fill your screen with adverts while the game creators get richer.
So, you're probably asking: Is Wizard Fortunes real or fake? Will it really give you all that cash and make you rich overnight? 
Before leaving this post, check out the step-by-step program that helped me build an affiliate site and quit my job in 2019. It's free to join, and you don't need any previous experience.
Wizard Fortunes Review 
Name: 

Wizard Fortunes

Developer: 

buddlers

Availability:

 Worldwide

Payout Threshold:

$300

Price:

 Free

Overall Rating: 0 stars
What is Wizard Fortunes? 
Wizard Fortunes is a free slot game you can play on Android devices and supposedly win lots of money.
It feels like you are in Vegas with unlimited spins! 
It has a 5-reel format, meaning five reels turn with different pictures when you hit the spin button.
If you get the right combination on the line you've bet on, you win virtual dollars!
The game has nice graphics and is built with Unity, a tool many game developers use.
Wizard Fortunes says that once you reach $300, you can take out real money using PayPal. Crazy, right?
One thing to note about Wizard Fortunes is that it has no reviews on the Play Store yet.
This is because it's still in early access, a classification usually exploited by many developers to avoid critics and keep users in the dark. 
When there are no reviews, you can't see if other people could cash out their winnings.

How Does Wizard Fortunes Work? 
Wizard Fortunes is a game you can get on the Play Store for free and is available worldwide. 
Just keep in mind this app is PEG 18, meaning it's not recommended for those under 18 years old due to its addictive nature. 
You don't need to make an account to start playing and collecting virtual cash rewards. Just download, open, and you're ready to start spinning!
However, it's important to know the app doesn't encrypt your data.
This means that if you enter information, especially on the cash-out page, the developer might be able to see it.
This is risky, especially if the game asks you to enter account details.
Some players might enter their bank account information expecting the developer to transfer the money. Please, don't do it! 
You will understand why soon, but for now, let's talk about how to play Wizard Fortunes.
To start, you'll need coins for each spin. Hit the spin button and wait for the reels to stop.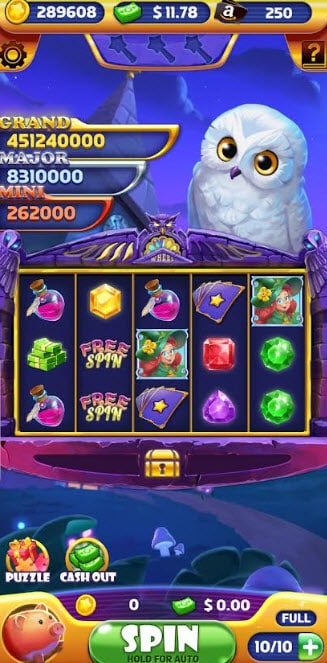 If you get the right combination of pictures, you win more coins!
How much you win depends on the Pay Lines.
You can check out the game rules to see how these work.

But, if you match three banknotes, you'll get virtual dollars instead of coins.
If you want to boost your winnings, tap 'claim' and watch an advert to multiply your winnings by up to 10 times!
There's also a special bonus if you collect three magic wands.
This lets you flip over three cards that can give you more coins or cash rewards.
Plus, you can collect Amazon cards as you play and trade them in for more dollars. 
This detailed post explores the deceptive tactics of fake cash games! 

This reward platform is going viral! Cash out via PayPal, Visa, Gift Cards, and in-game currencies - Click here to find out how to generate an extra $10+ per day! 
How to Withdraw Your Funds
The smallest amount you can take out through PayPal is $300.

So, you'll need to have won at least this much in virtual dollars before you can cash out.
Wizard Fortunes also lets you use Amazon cards. If you've collected 500 virtual Amazon cards while playing the game, you can trade them in to cash out a minimum of $500.
When ready, tap the cash out button to enter the withdrawal page.
According to the app instructions, your rewards should be sent to you within 3 to 15 business days.
Is Wizard Fortunes Legit? Does it Pay? 
After all the spinning and winning, can you cash out and see some real money in your bank account?
I hate to break it to you, but the answer is no.
The cash rewards are just a shiny hook to reel us in, getting us to watch ad after ad with the hope of earning real money.
But it's all lies! 
What happens when you finally hit that minimum cash-out amount?
Well, it's like a replay of all those other fake cash games I reviewed in this blog! 
They let you pick how you want to get your money. PayPal, Cash App, you name it. You enter your account details, hit submit, and then… the twist!
Suddenly, they want you to spin 20 more times to "approve the order."
And what happens? You are bombarded with more advertisements! 
At the end of it all, what do you get? That's right, a big, fat nothing.
And don't think it stops there. Oh no, they'll find even more tasks for you because why not squeeze just a bit more of your time?
Conclusion 
Wizard Fortunes is, without a doubt, a tempting game that hooks you with all the glitz and glamour. 
The idea of winning big bucks by just pressing a button is irresistible, especially if you are in a dire financial situation. 
Their advertising strategies, quite frankly, are hard to stomach.
They show you an appealing fairy tale of fortunes, promising the moon while knowing very well they're not going to deliver.
It's a story we've seen repeatedly, but it doesn't make it any less infuriating each time it happens.
You play the game, watch countless adverts, and feel your earnings growing.

But when it's time to claim your reward, the rules change, leaving you with nothing.
The developers have got this down to a fine art. Their business model revolves around you spending time on the game and watching commercials.
Your hopes and dreams become their avenue for profit.
So, avoid Wizard Fortunes at all costs! 
Earn a Full-Time Income Online
Imagine living the dream: sipping your favorite drink at a beach café and a laptop in front of you, where you're the boss.
This laptop lifestyle, where freedom and work harmoniously coexist, is closer than you think! 
In 2015, I built my own affiliate to generate an alternative and robust income from my laptop.
Challenges? Sure. But the freedom and fulfillment? Absolutely priceless.
And here's the golden nugget – training and support. 
So, I suggest ditching the illusion of 'get-rich-quick' games like Wizard Fortunes and investing in something that can truly reshape your life.
Ready to dive in? This step-by-step program is your roadmap to building this lucrative business! 
Final Words
Thank you so much for stopping by and reading my Wizard Fortunes review. I hope it gave you the insight you were looking for and possibly other paths. 
Feel free to share your experiences, thoughts, or questions in the comment section below.
Your comments could help other readers make informed decisions! 
Peace!