Welcome to my Undersea Connect review!
I ran into this game recently after watching an advert making some pretty outlandish claims.
They said if I installed it now, I would earn $1000 straight away!
I mean, who wouldn't be tempted, right?
They even boasted about the possibility of winning $3000 per day!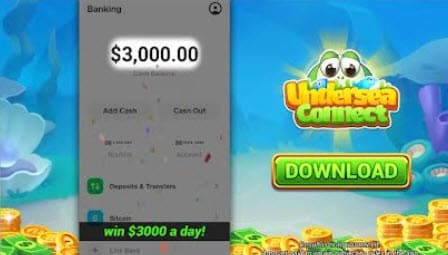 I couldn't help but raise an eyebrow at these bold statements.
Despite looking too good to be true, over 10,000 people had already downloaded the app from the Play Store, all lured by the prospect of easy money.
Now the big question on everyone's mind: is it legit or just another fake money-making game?
Will they pay you $1000 to your Cash App account just for connecting sea creatures? Let's find out!
Before you leave, discover the step-by-step program that helped me reach $2,000+ per month from my laptop and quit my day job. No special skills are required!
Undersea Connect Review 
Name: Undersea Connect
Developer: Karagulleyan Jack
Prize: Free (no in-app purchases)
Payout Threshold: £240
Overall rating: 0 Stars
What is Undersea Connect? 
Undersea Connect is a casual elimination game that involves connecting identical sea creatures to eliminate them.
The concept is simple yet addictive. The more creatures you connect in a single move, the higher your score climbs.
And let me tell you, my friend, chasing that high score is oddly satisfying.
Why? Well, your score isn't just a number on the screen; it propels a progress bar forward.
And when that progress bar reaches the gift icon, oh boy, get ready for some delightful surprises!
You'll be rewarded with a  gift box filled with cash rewards. Yes, they want to convince you that you are earning real money!
The developer claims you can withdraw the money once you reach a total of £240 in your account.
If you hit that withdrawal target within 24 hours, they'll throw in an extra £800 as a nice bonus on top of your balance.
And it gets even better, my friend. If you can conquer level 100 during this special event, you can win none other than the highly coveted iPhone 14!
Who doesn't want this marvelous piece of technology, right?

How Does Undersea Connect Work? 
You can find Undersea Connect on the Android platform, and it is completely free to download and play.
As you embark on your underwater adventure, you'll be mesmerized by the captivating visuals and virtual cash flowing into your balance.
The objective is simple: slide and connect at least three identical elements to eliminate them.
It's all about strategic moves and unleashing your puzzle-solving skills.
Connecting five or more elements creates special ones that can help you eliminate them even faster.
As you make connections and eliminate elements, new sea creatures fall from above to occupy the empty spaces.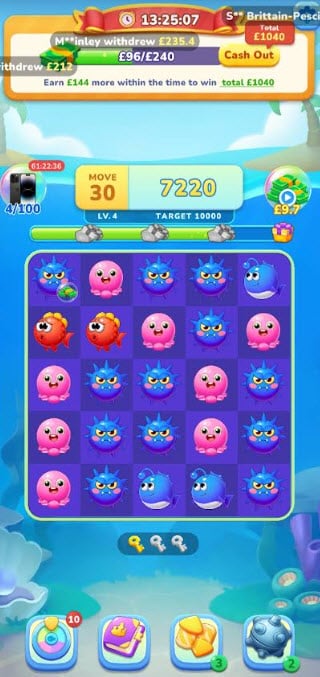 Once your progress bar reaches the gift card icon, you will complete the level and trigger cash rewards. 
But remember, you have a maximum of 30 moves to achieve this.
However, you will be prompted to tap the claim button and watch a brief commercial to unlock the prize.
This is a sneaky way to maximize ad views and ultimately boost their profits!
If you need extra assistance to pass a challenging level, props will aid you in your quest for underwater domination.

And guess what? You can trigger another video and instantly receive £10 just by tapping the cash bubble at the top.
Win the iPhone 14
To be eligible for a chance to win the iPhone 14, you need to reach a significant milestone in the game: level 100.
But it gets even more challenging because you must do so within the event, which lasts only 24 hours.
It adds extra excitement and urgency to the game to hook the player.

This reward platform is going viral! Cash out via PayPal, Visa, Gift Cards, and in-game currencies - Click here to find out how to generate an extra $10+ per day! 
Withdrawing Cash
To cash out your earnings, press the cash-out button at the top and follow the prompts.
You can also qualify for the bonus of £800 if you reach the £240 target within a 24-hour time limit.

Is Undersea Connect Legit? Does it Pay? 
No, it doesn't! Undersea Connect isn't the fair and rewarding game it claims to be.
Behind the shiny façade of cash rewards and the allure of winning an iPhone 14 lies deceit and manipulation.
The truth is that Undersea Connect is another game that employs misleading tactics to lure players in.
It's not just crafty; it's downright exploitative.
They prey on our innate survival instincts – the need to pay bills and secure our financial future.
They fuel the grind, making you believe that the reward is yours if you reach that target in the game.
But when you finally hit that milestone, they shift the goalposts. Suddenly, there are new requirements to 'activate' your order.
The pattern is painfully clear: they want to keep you hooked, watching more videos without the intention to pay us!
How about the iPhone 14 – that's a pipe dream too!
Learn how to avoid fake cash games here! 
Conclusion 
Undersea Connect might have you feeling like Captain Nemo, but there is no treasure trove here.
In truth, it's a clever trick designed to flood your smartphone with advertisements.
It's a sickening practice where they use false rewards to manipulate players into generating profits for them.
And let's be real, shall we? What are the chances of you walking away with that iPhone 14?
As likely as finding Atlantis!
So, let me offer an alternative before you give up hope.
Instead of wasting your time on fake cash games like Undersea Connect, why not invest your time in something real?
Like setting up your own online business! Trust me, I speak from experience.
You see, back in 2015, I created the website you are reading.
I had no fancy skills or special knowledge to make it happen.
It was just me, a vision, and a laptop.

Over time, it's given me the freedom to live life on my own terms – no more 9 to 5 grind, no more washing up plates and cups in the coffee shop.
However, I didn't venture into this journey alone.
I was guided by a remarkable platform that offers a comprehensive, step-by-step program specifically designed for newbies.
Final Words
Thanks for reading my Undersea Connect review. I hope it was eye-opening!
If you have any questions or comments regarding this game, please leave them in the comment section below. 
Peace!