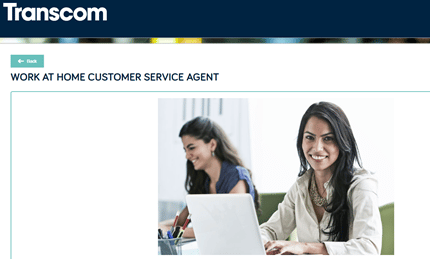 Before I talk about Transcom and show you the positions available, I just want to be clear that I am not representing the company in any way.
The purpose of this blog post is only to inform readers about the work-at-home opportunities that Transcom is currently offering.
Name: Transcom WorldWide AB
Website: https://transcom.com
Industry: Outsourcing
Opportunity for workers: Work-at-home positions in customer service, technical support and sales.
What is Transcom?
---
Transcom is a company specialized in providing customer service, technical support, and sales through an extensive network of remote agents and contact centers.
Founded more than two decades ago, Transcom currently has 30,000 agents delivering services for over 350 clients in 23 countries.
It's important to note you will be working as a service representative of different companies. Some of Transcom clients include Apple, Verizon, and Charter.
Working For Transcom
---
Because Transcom is a big multinational company, they are always looking for new agents to join their team. Most jobs are for people from North America and Asia, but there are positions in many other countries as well.
Visit the career section on their website and look for "open positions". You will see a list of many countries to choose from:

This reward platform is going viral! Cash out via PayPal, Visa, Gift Cards, and in-game currencies - Click here to find out how to generate an extra $10+ per day! 
The most common position is the Customer Service Representative (CSR), which is responsible for performing customer care, telemarketing, and other back office duties.
As a CSR, you will have to handle incoming and outgoing calls (including sales calls), as well as input data to clients' programs and other tasks.
For this specific role, you must have had at least 6 months experience in customer service or sales and 6 months of computer-related experience. For the complete job description as a Customer Service Representative, you can check the official website here.
At the moment of writing this review (11/01/2018), Transcom is hiring full-time Remote Technical Support Customer Service Agents. This entry-level position, which is only for US residents, pays $10 – $11 per hour regardless of call volume.
Furthermore, it includes competitive benefits such as medical, dental, 401k and paid training.
If you want to check the job requirements and apply, you can visit the official page here. This page may be taken down when they fill up all the position. In that case, you should visit the career section for new openings.
Final Thoughts
---
Working for Transcom gives you the advantages of working from home, the pay is reasonable, BUT it's fast-paced environment like all jobs in this sector. Therefore, you need to feel comfortable with high efficiency, customer service, and troubleshooting.
Personally, I love the idea of working from home, but I panic over customer service. I am an introvert guy who doesn't feel quite well speaking on the phone all the time.

That's why I decided to build an online business and work for myself. It takes a lot of time and effort to start making money, but it's possible to earn a living online as a content creator. If you are interested to learn more about this possibility, check out this free step-by-step program.
So, do you work or have you worked for Transcom? What's your opinion as an insider?