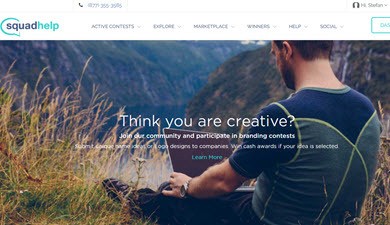 Welcome to my Squadhelp review!
Recently, I noticed a lot of YouTubers trying to teach people how to make a lot of money by writing "names" online!
They make it seem very easy to earn $300 – $400 per month by typing names, but the reality can be very disappointing.
It turns out many of them are promoting Squadhelp, which is a crowdsourcing platform that provides custom name suggestion for businesses.
In this review, I would like to explain how Squadhelp works and give you my honest opinion about it.
Is it a scam or a legit site? How much money should you expect to earn with this site?
Keep reading to find out!
While you are still here, don't forget to check out my #1 recommended program, which helped me work for myself and reach $1,300/mo working from my laptop. 
Squadhelp Review
---
Name: Squadhelp
Company: Squadhelp Inc
Type: branding contests
Membership availability: Worldwide
LEGITIMATE
Overall Rating:

4/5
What is Squadhelp?
---
Squadhelp is an innovative platform where you can get paid for submitting creative name ideas for businesses.
Many startups pay good money for agencies to provide them with catchy names and slogans.
At Squadhelp, these companies can find amazing brands ideas quickly and for a fraction of the cost charged by traditional agencies.

This reward platform is going viral! Cash out via PayPal, Visa, Gift Cards, and in-game currencies - Click here to find out how to generate an extra $10+ per day! 
When you join this community of over 70,000 people, you can participate in branding contests and earn cash rewards if a company selects your idea.
Squadhelp was founded in 2011 but gained a lot of popularity recently since Youtubers started promoting it as a simple way to earn money online.
But, is it really that simple?
Is Squadhelp a Scam?
---
No, it isn't. Squadhelp is a reliable company that has been in business since 2011.
The site pays without any issues and gets lots of positive reviews on Facebook and Sitejabber.
How Does Squadhelp Work?
---
Can you really make money just by writing names?
Well, the reality is that you will not get paid for typing things mindlessly. Your main task is to suggest great names, slogan and logos for companies.
Besides, you will participate in contents where other people are also submitting creative names to compete with yours.

At Squadhelp, you will only get paid only if the company chooses your idea.
So, there is no guarantee that you will earn any cash by participating in these contents.
You need to be a very creative person to win multiple contests as the competition is very stiff.
That's the reason why you can't rely on Squadhelp to generate a consistent income online unless you stand out from the crowd.
How to Join Squadhelp? 
The first step is to click on "sign up" and create your account as a creative.
You must provide your name, username, email address, and residence address. The profile picture and phone number are optional.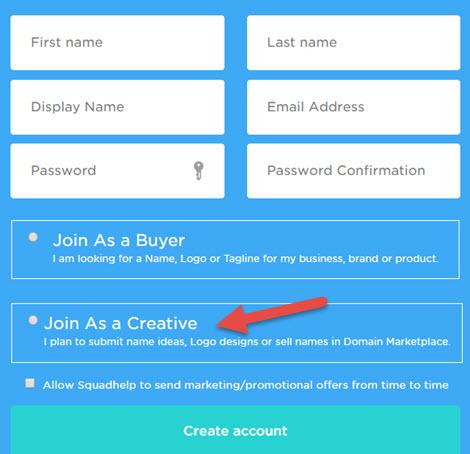 Next, Squadhelp will give you 3 options on how you intend to participate.
Participate in naming contests ($10 fee).
Participate in logo contests.
Submit names for sale in domain marketplaces (free).
To participate in naming contests, you should pay $10, which is a very negative point of Squadhelp.
If you choose to participate in logo contests, you must email a link to your design portfolio and be approved.
Next, you can click on "See my assigned contests" and then activate your account by clicking on a link sent to your email.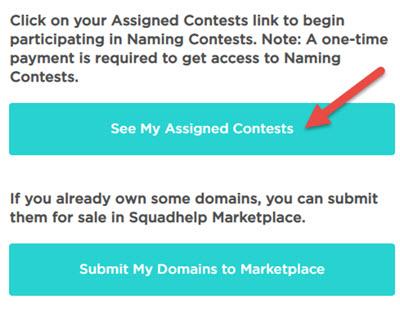 Initially, your account will be in restricted status, which means you can only join contests that are assigned to you.

Once you accumulate good ratings by providing creative entries, you will be automatically upgraded to full Access!
After you activate your account, you will see the dashboard.
Read attentively all the information provided on that page and follow all the instructions to make sure nothing goes wrong with your account.
If you have experience with graphic designing tools such as Adobe Illustrator, you can also participate in contests for logos.
How to Participate in Contests
To start participating, click on "Contests" and then "Active contests".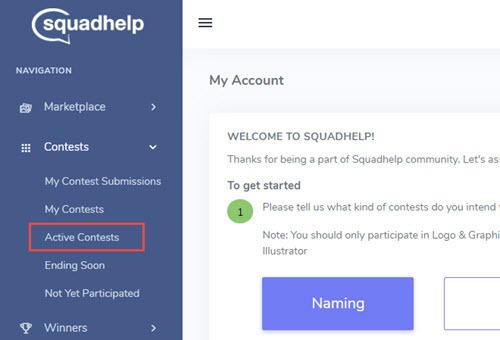 You will see a list of all the contests that are currently active on the platform.
Those are all contests launched by companies that will pay you ONLY if you are a winner.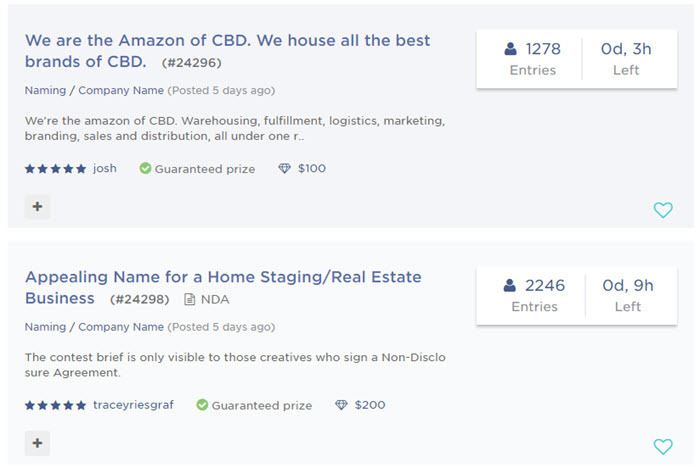 The first thing you should do is click on the contest and read all the information that the company has provided.

I highly recommend reading all about the company and their preferences before submitting your name or logo.
For example, a company may prefer a short name that plays on words such as EyeQ and Sole Mates.
Usually, the brand name should also be available for purchase at domain registrars.
So, if you come up with a great name that isn't available as .com or another extension, it probably won't be accepted.
As you can see from the two contest above, there can be over 1000 entries, which means the competition is too high! 
Even if you don't win, your entry can receive a high ranking score which can help you achieve tier A status and apply to more contents in the future.
Besides, a high ranking score allows you to submit more entries per contest!
How do You Get Paid?
---
After you win your first content, you can request your payment via PayPal or Payoneer. Those are the only payments options available at the moment.
The payments are typically processed 7 days after your request.
Can You Earn $300 per Day With Squadhelp?
---
Some "influencers" persuade you to join Squadhelp in hopes to earn $100 – $300 per day working from your laptop.
The reason why they are so positive about it is that they will earn a commission if a user registers using your referral link.
Depending on the contest, you can earn from $100 up to $300. That's true!
But think about it!
Can you win a branding contest every single day?
Considering the number of talented participants that exist in this platform, it will be very tough!
I am not saying that joining Squadhelp is a bad idea, on the contrary!
Many people are making some extra dollars every month by working just a few minutes per day.
What I am saying is that it's not as easy as typing anything on your keyboard, and you may not earn a lot of money at the end of the month.
There is also the possibility of not making any money if you don't win any naming contest.
Conclusion
---
Squadhelp is an exciting platform to make money online.
The pay rate is excellent, and you don't need to have any previous experience to join.
However, it's not easy to win contests when you are competing with hundreds or even thousands of talented individuals.
Besides, you have to pay $10 to participate in naming contents, which is a bummer.

If you are confident in your creativity, by no means join Squadhelp and reap the rewards!
Verdict: Legit – Recommended
If you are serious about working remotely and making a full-time income from the internet, you should definitely check out my #1 recommendation.
This excellent training platform will give you the proper foundation to build profitable affiliate sites capable of generating $1,000s per month.
It takes time to get traction, but it's worth it!
The good news is you can sign up for free and get started today!
Final Words
Thanks for taking the time to read my Squadhelp review. I hope it was helpful!
If you have any questions, feel free to leave your question in the comment section below, and I'll be more than happy to help!