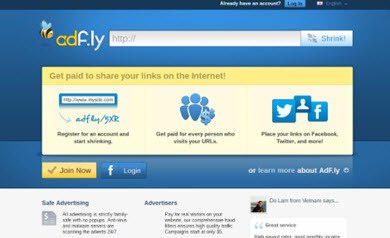 Welcome to my Adfly review!
Many people are claiming you can make good money quickly and easily by using a popular URL shortener called Adfly.
When I first heard about Adfly, I was very sceptical and thought that it was another time-waster, or even worse, a complete scam!
However, I can assure you that Adfly is not only legit but a very powerful site that you can use to earn an online income.
In this review, I am going to explain exactly how Adfly works, how much money you can make, and give you my honest opinion about it.
While you are still here, don't forget to check out my #1 recommended program, which helped me work for myself and reach $1,300/mo working from my laptop. 
Adfly Review
---
Name: Adfly
Website: https://adf.ly/
Type of business: Get paid to share links
Membership availability: Worldwide
LEGITIMATE
Overall Rating: 

4/5
What is Adfly?
---
Adfly is a platform that shortens links of sites that you want people to visit.
Visitors who click on that link will see an advert before they are directed to the website.
Therefore, Adfly will get paid by those advertisers and pass on a percentage of their profits back to you.
After all, you were responsible for getting traffic to their ads by sharing the links on the internet.
Adfly was founded in 2009 and after 10 years, it's still attracting a lot of people who want to make money online.
The reason that it provides a straightforward method for anyone to start making money without having to create any content.
Is Adfly a Scam?
---
No, Adfly is a 100% legitimate advertising company. It will pay you without any issues as long as you respect their terms of service.
Registration
---
There are no entry fees or specific requirements to join.
To register with Adfly, you must fill up the form with your name, username, email address and password.
Then, if you want to make money by shortening links, choose the account type called Link Shrinker.
Go to your inbox and follow the instructions to activate your account.
Setting up Your Account
---
When you log in for the first time, you will see the dashboard with your balance account as well as the link shortener.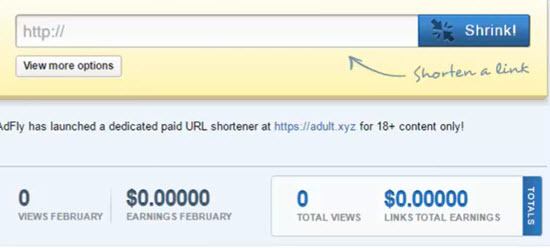 First, you should click on "account" right at the top and fill up all your details.

These include your address, phone number and PayPal or Payoneer account.
If you don't have either PayPal or a Payoneer account, you should create at least one because those are the only payment methods available.
How to Make Money With Adfly
---
It's a simple process!
The strategy consists of shortening a link that you think will get lots of views on the internet.
You will copy that link, paste it on Adfly dashboard and click on "shrink!"
Then, your job is to promote that link using different methods.
The more clicks you get, the more people will see the ads and thus, the more money you will make.
RECOMMENDED: Click here to see my no.1 recommendation for making money online.
The Best Strategy to Make Money With Adfly
---
In my opinion, the best way to get lots of clicks is to share related content on specific social media groups.
You can join Facebook groups and post news or helpful content that people might like.
For example, you can join a group about meditation and share YouTube videos with tips.
Yes! You can shorten Youtube links and share videos as well!

I can assure you that if the content is related to the niche of the group, lots of people will click on it.
Let's say you join a group of 10.000 members and only 1% of them click on your link to watch the video.
That's 100 clicks that you will get from only 1 single post!
Think about the number of clicks that you can get by joining lots of groups and sharing hundreds of content daily.
The potential is huge, but that doesn't mean it will be easy!

This reward platform is going viral! Cash out via PayPal, Visa, Gift Cards, and in-game currencies - Click here to find out how to generate an extra $10+ per day! 
TIPS!
---
You need to share trendy and very interesting content that gets people's attention quickly.
I advise you to start by joining groups on a niche that you enjoy and are knowledgeable.

Check the type of posts that gets more views and likes and search for similar content. Depending on the niche, interact with people, don't just share links.
How Much Money Can You Make?
---
You will get paid per 1000 clicks, and the pay rate depends on where the traffic is coming from and the type of device.
Traffic from developed countries like the US, the UK, and Canada pay more because companies make more profits by promoting to residents of those countries.
Also, traffic from desktop users pays more than traffic from mobile devices.
For example, if your traffic comes from Desktop users from the United States, you will get $19 per 1000 views.
On the other hand, if your traffic is targeted to Brazilians, you will get $1.47 per 1000 clicks from desktop users or $0.59 from mobile users.
The full list of payout rates by country can be found at the footer of the official website.
Now, you are probably wondering how much money you can earn with Adfly.
Well, this question is impossible to answer because your results will depend on many factors!
These include the content that you are sharing, the people you are targeting, and the number of links that you share.
Don't trust anyone who is claiming to make hundreds of dollars per day with Adfly.
It's not easy to get 1000 clicks on your links, let alone 10.000s!
So, if you want to use Adfly, do so with realistic expectations.
How Do You Get Paid?
---
Adfly process payments via PayPal or Payoneer, and you are required to earn at least $5 before you get paid.
Conclusion
---
Adfly is a reputable URL shortener for people who want to make money online.
I know many people who use Adfly and generate a good income every month by sharing links on social media.
If you target countries with high CPM rates and share relevant content, you can achieve great results.
Verdict: Legit
Earning money with Adfly can become a good source of online revenue for you.
However, you can make more money by creating an affiliate site and promoting other people's products.

If you want to learn how to create a profitable affiliate site that gets a ton of traffic and commissions, check out my #1 recommendation.
This excellent training platform has helped me reach $1,300 per month and quit my job in 2019!
It takes time and effort to get traction, but it's well worth it!
The good news is you can sign up for free and get started today!
Final Words
Thanks for taking the time to read my Adfly review.
If you have any questions about this platform, feel free to leave your question in the comment section below, and I'll be more than happy to help!