Welcome to my Ocean Link Master review!
I stumbled across a game called Ocean Link Master through an overhyped advert that seemed too good to be true.
Get this: A mobile game with real cash withdrawals, no adverts, and no withdrawal thresholds! 
All you have to do is connect three or more identical sea creatures to win some quick and easy cash rewards.
And here's the kicker – the developer claims to transfer your money to your Cash App account within one minute.
He even boasts that you can win up to $1,000 a day! Are we talking about a goldmine here, or is it just a bottom-feeder scam?
As a seasoned reviewer of cash reward-based casual games, I've seen my fair share of disappointing bait-and-switch tactics.
Naturally, this makes me very skeptical about Ocean Link Master's generous claims. So, is it legit or fake? Let's find out! 
Before leaving this post, check out the step-by-step program that helped me build an affiliate site and quit my job in 2019. It's free to join, and you don't need any previous experience.
Ocean Link Master Review 
Name: 

Ocean Link Master

Developer: 

Cissenetwo1994

Availability:

 Worldwide

Payout Threshold: N/A

Price:

 Free

Overall Rating: 0 stars
What is Ocean Link Master?
Ocean Link Master is a casual match-3 game with a twist: the tantalizing promise of winning unrealistic cash rewards! 
The gameplay is simple – link three or more identical sea creatures to eliminate them from the board. It's similar to Cake Shop! 
Your progress bar fills up as you play, eventually reaching a gift box jam-packed with those sweet cash rewards.
The goal? Hit the target score for each level, make even more money, and supposedly cash out your earnings via PayPal. Of course, they make it seem so easy! 
With over 10,000 installs on the Play Store, Ocean Link Master is still in "early access," meaning it's technically under development.
But here's a little-known fact: developers of fake cash games often hide behind this classification to dodge negative reviews. So, this is definitely a red flag to be aware of. 
How Does Ocean Link Master Work? 
As I mentioned earlier, Ocean Link Master is open to Android users across the globe.
It's free to download, and you can start playing without registering. That makes it very convenient for you and developers who can't wait to start making profits from your time! 
So, what's the game all about? It's super easy. Just slide your finger on the screen to connect three or more matching sea creatures.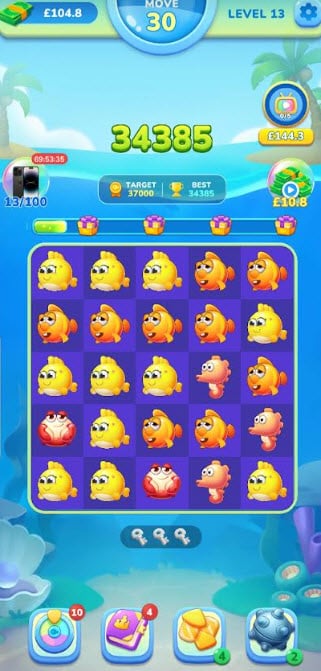 Once connected, they'll vanish, and you'll score points. Your main goal is to hit the target score without running out of moves.
If you can do that, way to go! You've just finished a level and earned some cash rewards.
But there is more! You can multiply your rewards by tapping the button and watching a short video advert. It will boost your prizes up to four times.
The progress bar is another way to earn extra cash. As you play, it fills up, and when it hits the gift box, you're in for a treat.
But (you guessed it!) you'll need to watch more commercials that help the developer generate more revenue. 
Feeling stuck during the game? Don't worry; you've got some help. Use props to breeze through missions more quickly.
And if you're feeling lucky, take a spin on the lucky turntable to collect even more cash rewards.
Learn how to avoid fake cash games! 
Withdrawing Funds
Now that we've covered the basics of how the game works, let's talk about withdrawing your earnings.
The developer claims it's very easy, and you can cash out any amount you want via PayPal. How generous! 
Hit specific milestones, and you can even score a multiplier of up to five times.
Win the iPhone 14 Pro
As if unlimited cash rewards were not enticing enough, the developer also claims you can win the iPhone 14 Pro. 

You might be thinking, "Alright, what's the catch?" Well, let me tell you. All you need to do is pass level 100 during a special 72-hour event, and the game's system will supposedly reward you with that shiny new iPhone.
The developer even goes so far as to promise that your prize will be sent via the FedEx logistics platform.
This is where we need to pause and examine a sneaky marketing tactic: scarcity.
By introducing a time-limited event and an expensive prize, the developer creates a sense of urgency that encourages players to devote even more time and energy to the game. 
It also showcases pictures of shiny new iPhone boxes and congratulatory messages addressed to specific users. 
However, it's crucial to remember that such images can be easily sourced or manipulated, making them far from concrete evidence that the developer indeed pays out.

This reward platform is going viral! Cash out via PayPal, Visa, Gift Cards, and in-game currencies - Click here to find out how to generate an extra $10+ per day! 
Ocean Link Master Legit? Does it Pay? 

No, it doesn't!
The developer cleverly employs a bait-and-switch tactic to keep you hooked in the game for as long as possible. Let me explain.
You might think cashing out is a breeze since you can do it anytime.
However, once you enter your PayPal account information, the developer suddenly springs a new requirement: complete ten more levels to activate the order.
Sounds fishy, doesn't it? That's because it's a ploy to make you watch even more adverts in the game. 
Let's say you take the bait and complete those ten levels. What happens next? Surprise, surprise – another requirement!
Now you have to watch five videos to "approve" the order. Are you starting to see the pattern here?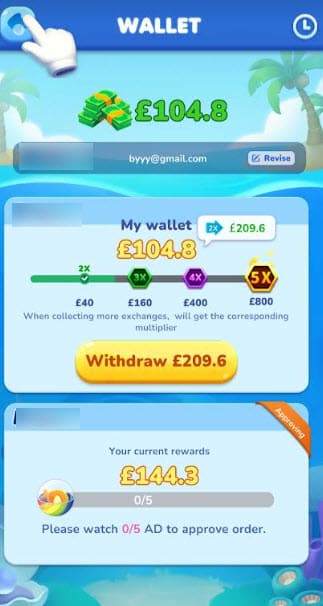 The developer keeps moving the goalposts whenever you meet their conditions, but they never transfer the money.
Instead, they devise excuses to keep you playing, watching adverts, and generating revenue for them.
What if you manage to complete all the requirements? Well, they might run out of justifications, but guess what?
They still won't transfer the money. It's a classic case of dangling a shiny carrot in front of you, only to keep you moving where they want you to go! 
To put it bluntly, Ocean Link Master is a complete waste of time for players who hope to earn some cash.
The only one making money here is the developer, who's laughing all the way to the bank, thanks to the revenue they're generating from advertisers. 
Conclusion 
If you're hoping to make some real money, steer clear of Ocean Link Master because it's a one-way ticket to frustration land.
Please, don't play this one even if you are just looking for a fun, casual game to pass the time. 
The reason is that you are helping these developers build wealth and create even more fake cash games. So, don't feed the beast! 
Earn a Full-Time Income Online
Are you tired of chasing empty promises and fruitless games? It's time to step up your game and start building an online business that can generate REAL money.
By creating a lucrative site, you can work remotely and enjoy the freedom of being your own boss. It's the best of both worlds! 
I am here to share the life-changing potential of content marketing because that's precisely how I make over $2000 per month! 
But how do you get started? No worries! We've got you covered with an excellent step-by-step program that will help you to attract a massive audience and craft content that generates fantastic commissions! 

Final Words
Thanks for checking out my One Link Master review! I hope it helps you make an informed decision and saves you precious time.
Feel free to share your thoughts, opinions, or experiences with this app in the comment section below.
Peace!