Welcome to my Mystic Bingo Voyage review!
With over a million downloads, this free bingo game is making waves in the Android community.
But what's all the buzz about?
The game's flashy adverts offer players the chance to win real cash rewards, and they seem to be working.
One commercial features a woman driving a fancy car, saying she used to be in a bad mood for two months.
But she is now over the moon because of Mystic Bingo Voyage, which has allegedly made her hundreds of dollars per week.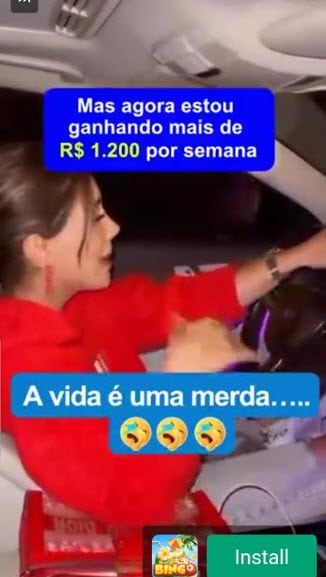 Of course, the developers know how to reel people in.
They entice people with the idea that they can withdraw big bucks as soon as they collect enough virtual cash.
And it sounds like a dream, doesn't it? But hold on a sec.
We've seen this story before, with many other games that make bold claims but leave players with empty pockets.
So, is Mystic Bingo Voyage legit or fake? Can we really pocket all that cash? Or are we just chasing rainbows?
I've been on these rides before and learned the value of caution.
It's tempting to dive in, but a pinch of skepticism doesn't hurt.
In this review, I'll take a closer look at Mystic Bingo Voyage to see if it's worth your time.
I'll tell you everything you need to know about the game, including how to play, accumulate virtual cash, and whether it pays.
Before leaving this post, check out the step-by-step program that helped me build an affiliate site and quit my job in 2019. It's free to join, and you don't need any previous experience.
Mystic Bingo Voyage Review 
Name:

Mystic Bingo Voyage

Developer:

Pop star play game

Availability:

 Worldwide

Price:

 Free

Overall Rating: 0 stars
What is Mystic Bingo Voyage?
Mystic Bingo Voyage is a popular mobile application available on Android, focused on the classic game of bingo.
Set against a well-crafted interface, this app promises not just entertainment but also the allure of real cash rewards.
To play, users are presented with two scorecards filled with numbers.
As the game progresses, numbers are called out, and you must quickly mark off these numbers on your card.

The goal is to complete a line or pattern like traditional bingo.
As you play, you will collect diamonds, which can supposedly be exchanged for real cash rewards.
How Does it Work? 
Accessibility
Mystic Bingo Voyage is available for free on the Play Store and accessible in all countries.
One of its standout features is that it doesn't require registration, making it easy to start playing.
Simply download, and you're ready to dive into the world of bingo.
How to Play
Once you launch the app and it fully loads, you'll be greeted with an option to start your game.
You can choose to play with two cards simultaneously for double the fun!
During the game, numbers are announced, and your task is to mark them off on your cards as quickly as possible.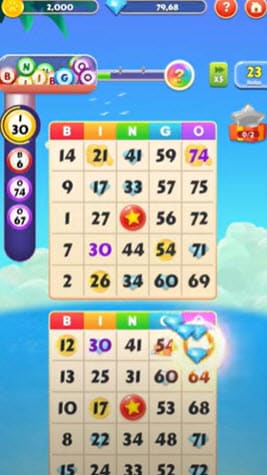 The goal is to complete a line or pattern on your card. You'll hit "bingo" and earn diamonds if you're successful!
But Mystic Bingo Voyage doesn't stop there. After you hit bingo, a special button appears that allows you to boost your diamond rewards.

By pressing this button and watching an advertisement, you can multiply your diamond earnings by up to 5 times!
This is a smart way to engage players and encourage them to watch ads.
When you give players the chance to boost their earnings, they become more open to advertisements.
This results in more views and, as a result, more profits for the developers.
Earning  Cash Rewards
Mystic Bingo Voyage suggests that players can convert earned diamonds into real cash.

This reward platform is going viral! Cash out via PayPal, Visa, Gift Cards, and in-game currencies - Click here to find out how to generate an extra $10+ per day! 
That explains why so many people have installed this application!
However, when you try to cash out by tapping the diamond balance, the page doesn't open.

So, what's really going on? Stay tuned as I will expose all the truth in the next section.
Is Mystic Bingo Voyage Legit? Does it Pay? 
Mystic Bingo Voyage might shine with its bold claims of easy money.
But beneath the surface, it's a different story.
Players are drawn in with the prospect of converting diamonds to cash, but this is just an illusion.
The virtual currency you accumulate during gameplay holds no real-world value.
Despite the effort and time you invest, there's no tangible reward waiting at the end.
My journey with the app was revealing.
I discovered no withdrawal page, making it impossible to claim my cash reward.
Even if some were lucky enough to access a cash balance or fulfill withdrawal conditions, getting money remains a distant dream.
Here's a red flag that can't be ignored: Mystic Bingo Voyage is still tagged as "Early Access" on the Play Store.
Why might this matter? By keeping the app in this status, developers conveniently prevent players from sharing reviews.
It's a clever tactic, silencing any negative feedback or warnings from other users.
Curious about other bingo games to avoid? Check out my Bingo Kitchen review!
Conclusion 
Mystic Bingo Voyage is another fake money game designed to captivate players with the illusion of easy wealth.
Beneath its flashy graphics and ludicrous rewards lies a profitable business that doesn't work in your best interest.
If you want to create a reliable source of online income, consider building your own online business.
I embarked on this journey in 2015, and it's been transformative.
It's not just about money; it's about crafting a life of freedom!
I transitioned from the dreadful 9-5 to living the laptop lifestyle by growing an online audience.
For those eager to replicate my success, I can't recommend enough this step-by-step program.
The same platform illuminated my path to building this lucrative site and generating life-changing commissions.

You can do the same by following the training and applying their strategies.
Final Words
Thanks for reading my insights on Mystic Bingo Voyage.
If you've tried this game, I'd love to hear your experiences and opinions. Also, feel free to ask any questions you might have.
Peace!