You have been approached by someone praising iMarketslive and saying how this platform can help you earn lots of money with Forex and Cryptocurrency trading. Is iMarketslive a scam or legit?
To answer that question, I decided to dig deeper into every corner of the internet in search of clues.
There are mixed opinions about this company, but the exciting thing is that most of the positive reviews seem fake!
The fact that iMarketslive operates as a network marketing firm tells us that the stakes are too high for promoters, which tend to flood review sites with their biased 5-star ratings.
I am not a promoter of iMarketslive, and my entire review is based on my honest opinion about their products.
iMarketslive Review 
---
Name: iMarketslive
Website: https://www.imarketslive.com/
Business Type: Multi-level Marketing (MLM)
Price: $217.19 (upfront) + $161.50 per month.
CEO: Christopher Terry
Recommended? Nope! 
Overall Rating:

1

/5
If you want to learn the exact method that earns me $1,000/mo from my laptop, check out my #1 recommendation!
What is iMarketslive?
---
Trading as iMarketslive, International Markets Live is an MLM (multi-level marketing) company that provides Forex and Cryptocurrency education and signal services for traders.
The company claims to provide highly effective services and tools to help members make the right decisions to profit in the Forex and Futures markets.
IMarketslive has approximately 50,000 members from all over the world. Still, I didn't find any proof that someone has made a fortune or at least a consistent income after gaining knowledge or following their market signals.
Pros And Cons
---
Pros
There are a lot of content and live training.
Cons
Overpriced products due to the MLM structure.
You will waste hours studying and analyzing charts, only to put your money at serious risk!
Confusing compensation plan.
F rating on the BBB.com – Lots of complaints.
According to the FCA, iMarketslive has no authorization to run in the UK.
You can only join if a recruiter invites you to his/her team.
Strange Background
---
Christopher Terry has founded the company back in 2013, and according to the website, he is still considered the CEO of the company.
However, after a quick search, I discovered the official CEO is actually the cofounder Isis De La Torre, as you can see in this NYC Department of State document.
IMarketslive also operates in the UK under the direction of Isis. The company's previous director in the UK was another woman called Jennifer, who resigned on August 2.
Chris appears to operate the business without any official relationship with it, which is very strange.
There is a lot of information about Chris Terry on the internet, and many blogs claim that he was involved with ZeekRewards, a fraudulent business that was shut down by the SEC in 2012.
I didn't find any proof that he was involved with this scam, so if you have any, please provide a link in the comment section below.
One important question to answer is: if Chris has so much experience and makes so much money as a trader, why would he need to create an MLM business and sell education to others? Why not just make his millions as a trader?
The Old Auto Trader – Poor Traders!
---
In the beginning, the company operated an Auto Trader called FXSignalsLive, running in the back office of iMarketsLive.
People were encouraged to open a trading account with one of their recommended brokers and set up the auto trader (aka mirror trader).
By activating this feature, the system would automatically make the same trades the experts perform.
People were sold the idea that by following the experts' signals, they could easily take a piece of the pie and make a ton of money on autopilot.
Not so fast…

The reality is that those experts had no supernatural powers to predict the market, so most traders lost their money.
I can say this with confidence because there will never exist an auto trader that can improve your chances of winning in the Forex or Crypto trading.
The marketing forces are many and unpredictable. Consider this pure luck if you win a trade using an auto trader.
That is not to say you can't learn chart analysis or factors that can influence the trends. But you can't predict if and when the same result will occur.
In September 2018, iMarketslive received a letter from the Commodity Futures Trading Commissions warning that they were acting as a CTA ( Commodity Trading Advisory) without proper registration with the CFTC.
As a result, they were forced to pay a penalty of $150,000!

Next, the company decided to shut down the auto trader, and instead of trading on behalf of users, they came up with an app called Swipe trades.
This app also provides the signals recommended by experts, which means they will give you tips that supposedly increase your chances of winning.
The difference is that you are now responsible for your own trades. The thing is, these expert signals are useless because they don't reduce your risks. They don't guarantee you will make profits in the long term.
Think about it, folks. If these guys were so good at predicting the markets, why wouldn't they enjoy life with the money they make with trading?
Why would they keep working for iMarketslive when they have the knowledge and skills to become financially free?
I can't swallow it.
What is The Offer Now? 
---
IMarketslive claims to be one of the world's largest FOREX and Cryptocurrency educational platforms.

To have access to their educational products as well as their compensation plan, you have to purchase the Platinum package. This costs $217.19 (one-time fee) plus $161.50 per month. 
This package includes the IML Academy, IML TV, Harmonic Scanner, Swing Trades, and Night Own Sessions With Chris Perry.
IMarketslive Academy
IML Academy is their flagship product, which consists of 100+ educational videos organized into step-by-step modules.
The training covers Forex and Cryptocurrency trading and has beginner, intermediate and advanced levels.
IMarketslive TV
IMarketslive provides 1000+ hours of education per month in 8 different languages. I have to agree those 50+ educators provide lots of value weekly.
Harmonic Scanner
Harmonic Scanner is a software that scans the Forex market and identifies patterns and opportunities to help you trade.

This reward platform is going viral! Cash out via PayPal, Visa, Gift Cards, and in-game currencies - Click here to find out how to generate an extra $10+ per day! 
Swing Trades and Night Own Sessions With Chris Perry
This is a webinar hosted by Chris Perry, who gives you advice on trading and chart analysis.
However, Bitcoin kept falling forever and never recovered!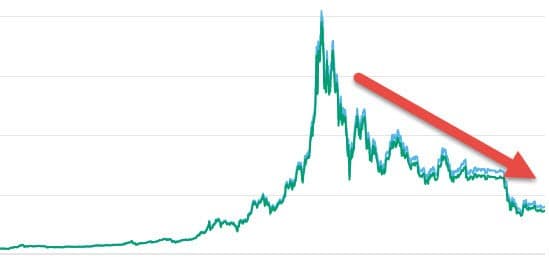 These are the additional products you can get for an extra monthly cost:
Web Analyser ($16.71/mo): Real-time scanning for potential profits in the Forex and Crypto markets.
Swipe Trades ($16.71/mo): Get Forex trade ideas, risk points, and guidance.
Swipe Coin ($99/mo): The same as Swipe Trades, but applied to cryptocurrencies.
iMarketslive Compensation Plan
---
One of the reasons you will see many websites and influencers talking about iMarketslive is that most of them are recruiters and will earn a generous commission if you join under them.
If you purchase the Platinum Package, you can become an Independent Business Owner (IBO) and take advantage of their compensation plan.
As a fast start bonus, you will get:
$35 for every platinum package you personally sponsor.
$10 for every platinum package in your second generation (referral of your referral).
$5 for every platinum package in your third generation.
You will also make residual commissions according to your rank. The more people you recruit, the higher your ranking in the matrix. As a result, the higher your income potential.
This screenshot shows all the rank positions with their weekly residuals:
For those who have never been involved with a multi-level marketing company, it can be very challenging to make sense of such a complex compensation structure.
If you have experience and know how to attract a massive audience, promoting iMarketslive can be very profitable.
However, most people fail because it's not easy to convince others to pay such an expensive membership fee.
Besides, even though there is a ton of value in the iMarketslive platinum package, many subscribers quit after one month because they don't see profits or don't succeed as an IBO.
The Most Critical Testimonial on Youtube 
---
A guy on Youtube (Boot) explains why he left IML and why people should avoid it too.
iMarketslive provides abysmal training, and people are leaving because it's useless.
The company is strictly network marketing and focuses on recruiting rather than helping people succeed with trading.
Most of their signals aren't profitable.
Strategies are being copied from other sites.
F Rating on BBB
---
International Markets Live Inc. has received an F rating by the Better Business Bureau (BBB). The reasons for such a poor rating are:
21 complaints against the business.
Failure to respond to 3 complaints.
Four unresolved complaints.
The business took a long time to reply to complaints.
Most of the complaints involve people struggling to get refunds. IMarketslive should refund unhappy customers within 7 days, but apparently, not everyone gets their money back.
One customer from the UK claims that despite sending numerous emails for four months, he/she didn't get a refund.
Unfortunately, iMarketslive didn't reply to this person on BBB.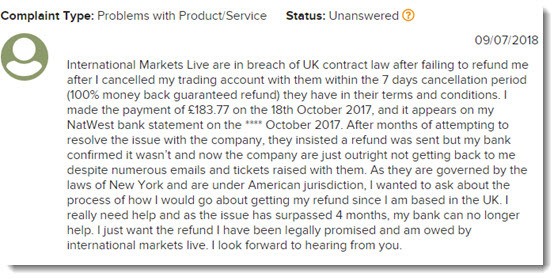 iMarketslive Is Not Authorized To Run In the UK!
---
The FCA (Financial Conduct Authority) has warned people that iMarketerslive may be offering financial products without their authorization.
The regulator advises customers to avoid companies that are not regulated because some run investment scams.
Positive Reviews are Everywhere, BUT…
---
If you do a quick search on Trustpilot, you will see that 77% of people rated it as 5 stars and 23% as 1 star.

There are literally no 4, 3, or 2 stars, which is weird!
It's impossible to claim any of those 5-star reviews are fake, but many of them don't look real to me!
Will You Get Rich With iMarketslive? 
---
I doubt anyone will get rich only by using this company's strategies and tools. In fact, you'd be lucky to cover the hefty monthly costs.
Although there is a ton of information within the member's area regarding Forex and Crypto trading, they are not enough to predict such volatile markets.
People can call themselves experts but in reality, the more knowledgeable you get, the more you realize how risky this industry is.
As one Quora contributor said:
You will never be prepared for the unexpected. 
If you expect that trading will help you make a lot of money quickly, you've probably been misled by people trying to sell you the dream.
Don't fall for the hype!
If you want to trade, you will need to study a lot and, most importantly, accept the high possibility of losing a lot of money.
Conclusion – Is iMarketslive a Scam?
---
I am not labeling iMarketslive a scam because they provide a tangible product from which members can benefit. That doesn't mean the product is achieving its mission of changing people's lives.
Everyone who purchases the expensive package expects to receive a return on investment.
The problem is that trading Forex and Cryptocurrencies is an extremely risky activity, which makes it incredibly difficult to achieve consistent results.
You will waste hours and hours trying to learn from the charts only to realize the markets don't care about the past.
If you are living in the UK, there is also the risk of dealing with an unregulated firm
In my opinion, iMarketslive has the potential to change the lives of those who work hard as an IBO and can successfully refer lots of people.
However, I am unsure how they can successfully refer many people by telling the truth. The truth is that traders can lose a lot of money even after watching 100+ hours of training and investing hundreds of dollars in education.
Imakretslive seems legit, but those trying to recruit you may not use a realistic approach to trading.
Verdict: Not Recommended
How I Prefer to Make Money Online
---
I don't believe anyone can make a living strictly from trading in such volatile markets.
Some lucky people have become rich thanks to Bitcoin's incredible rise in December 2017. But after 2018, the price dropped significantly and never recovered.
Trading Forex and Cryptocurrencies are risky, so I don't recommend it. If you can't afford to lose your hard-earned money, you should avoid iMarketslive at all costs.
I have been making money online for the past three years, thanks to affiliate marketing.

This marketing model completely changed my life because it allows me to work whenever and wherever I want.
It consists of creating a simple site, providing helpful content, and earning commissions by directing traffic (internet users) to merchants' websites.
Your website is your online business, which works for you 24/7 and generates commissions even while you are sleeping or travelling the World.
You will have to commit yourself and work hard to reach that level, as this strategy is not one of those get-rich-quick schemes.
The question is: How much do you want it?
If you are sick and tired of commuting to work, reporting to a nasty boss, and doing a monkey job every single day, you will do whatever it takes to reach your goals.
Why? Because better than making a good income is the freedom to live on your own terms!
If you are serious about building your own internet business, working for yourself, and earning a job-replacing income online, check out my No.1 Recommendation.
The owners Kyle and Carson have developed a remarkable training and community that has turned LOTS of newbies into 6 figure earners. The great thing is that there is a free started membership to test the waters!
Thanks for checking out my iMarketslive review. Please let me know if you have any questions in the comment section below.
Stay safe, and peace out!