Welcome to my Fun Task Crazy review!
I have recently stumbled upon this app after watching one of its flashy adverts, claiming to be a real money maker.
The ad showcased a simple plane shooting game, with the PayPal balance at the top rapidly growing to thousands of dollars.
It proclaimed that you could rake in $100 in as little as 10 minutes!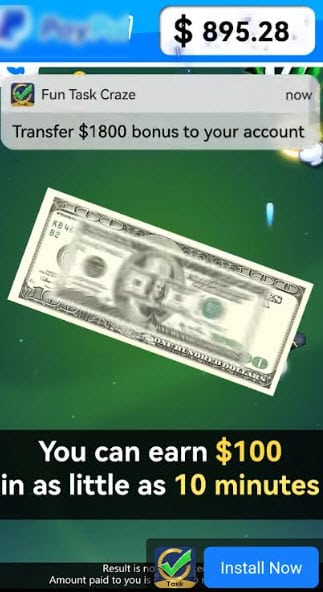 And to top it off, the money would be transferred straight into your account within a minute.
Sounds too good to be true, right?
Well, here's the thing. I've reviewed countless apps in the past that employed deceptive advertising tactics to lure in as many users as possible.
Their end game? Filling the developer's pockets with advertising income while leaving users empty-handed and frustrated.
So, naturally, I've got some burning questions about Fun Task Crazy that I would like to explore in this review.
Is it legit, or is it just another fake cash app? Will they transfer the money that appears on your virtual wallet?
Let's dive in and see what this app is all about!
Before leaving this post, check out the step-by-step program that helped me build an affiliate site and quit my job in 2019. It's free to join, and you don't need any previous experience.
Fun Task Crazy Review 
Name: 

Fun Task Crazy

Developer: 

EclipseTesseract

Availability:

 Worldwide

Payout Threshold:

 $200

Price:

 Free

Overall Rating: 0 stars
What is Fun Task Crazy?
Fun Task Crazy is an Android app that tempts you with the possibility of making real money by completing various tasks.
According to the app's description, these tasks include playing games, browsing the latest news, and watching exciting videos.
Can you believe it? Achieving financial freedom while having fun! It sounds too good to be true, and that's because it likely is.
It's astonishing how many people fall prey to these illusions.
The idea of earning easy money is so tempting that individuals often overlook the unrealistic nature of such claims.
And to make matters worse, people assume that if an app is on the Play Store, it must have passed some form of Google inspection.
But that can't be further from the truth. The presence of an app on the Play Store does not guarantee its authenticity.
Google doesn't check how the developers promote their apps elsewhere or the validity of those claims.

Furthermore, the Play Store doesn't even mention the earning aspect of Fun Task Crazy.
How Does Fun Task Crazy Work? 
Prepare yourself for some eye-opening revelations.
First, it turns out that Fun Task Crazy is a rebranded version of Huuuge Task Tycoon. Check out my Huuge Task Tycoon review here! 
They didn't even bother changing the logo or the advertisements!
This app is available for free on the Play Store for Android devices worldwide.
Upon opening it, you'll find a list of payment methods, such as PayPal, Coinbase, and OVO.
The app lures you in with the promise of earning a jaw-dropping $200 in three simple steps.
Step one is to head to the task hall and receive the tasks.
Step two involves completing these tasks to earn cash rewards.
And finally, step three is to cash out your money, which supposedly gets transferred to your account immediately.
They even throw in a welcome bonus of $60, which seems too good to be true.
They claim you need to collect $200 to cash out, and then they hit you with a countdown timer of 24 hours.

It's a marketing tactic designed to create a sense of urgency and engage you in reaching that cash-out goal before the time runs out.
Collecting Cash Rewards
You'll find a list of mobile games, each claiming you can earn up to $30. 
The developer entices you to reach level 5 in these games to complete the task and claim your reward.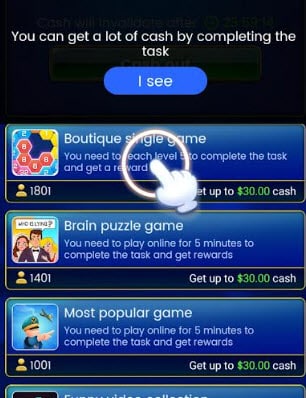 I tried opening one of the games, and it didn't even work as intended.

This reward platform is going viral! Cash out via PayPal, Visa, Gift Cards, and in-game currencies - Click here to find out how to generate an extra $10+ per day! 
Nothing happened except for a blank page with a cash note icon on the right side and a progress bar.
They give you the option to tap the "claim 2x" button to double your reward or click the "claim" link.

If you tap the button, be prepared to endure advertisements.
Yes, they want you to watch as many sponsored videos as possible because that's how the developer profits from your time.
So, Fun Task Crazy is not interested in you completing the game offers or any other tasks they present.
They only want to flood your screen with advertisements in return for those virtual dollars.
I selected another game, and it apparently worked. 
It opened a page with more adverts and a "Play Now" button. 
I clicked the button, but the game didn't match the one I picked from the list.
It's pretty confusing, but who cares? You are just in it to collect the dollars, right? 
While playing, you must click the banknote icon to activate the reward and watch the sponsored video until the end. 
By doing this, you can increase your cash holdings and finish a task required on the cash-out page. 
Withdrawing Funds
You can withdraw your funds by tapping the cash-out button on Fun Task Crazy's homepage.
However, before doing so, you must meet two conditions: reaching a minimum balance of $200 and completing three tasks.
They don't specify how to complete the tasks, but as mentioned earlier, it involves selecting a game, tapping start, and watching a commercial while the game is open.
Once you fulfill these conditions, you can select a redemption method from the eight available options: PayPal, Dana, Paytm, and Coinbase.
Enter your account information accurately for the chosen platform.
Is Fun Task Crazy Legit? Does it Pay? 
No, it doesn't! The cash rewards they advertise are nothing but a clever trick!
As you diligently make progress and inch closer to that $200 mark, you'll start noticing your rewards will dwindle.
They'll diminish to just a few pennies, especially when you've overcome $199.
They're intentionally doing this to prolong the process so that you watch more videos. 
But it gets even crazier from here! 
Just when you thought you had finally fulfilled the two cash-out requirements, Fun Task Crazy throws another curveball! 
Out of the blue, they hit you with an additional demand.

Now, you must watch a whopping 40 videos within 24 hours to activate the cash-out. 
This bait-and-switch tactic is the ultimate proof that Fun Task Crazy is shamelessly exploiting the user to generate more views and profit from their valuable time.
They have no intention of actually paying you for your efforts.
Click here to become an expert at spotting fake cash games! 
Conclusion 
Fun Task Crazy financial rewards are nothing but smoke and mirrors.
Instead of earning money, you'll be trapped in endless advertisements while the developer reap the profits.
It's time to bid farewell to Fun Task Crazy and seek genuine opportunities to make money online. 
What if I told you that you could earn thousands of dollars per month by creating your own business on the Internet? 
This strategy has been working for me since 2015, when I first began blogging.
And now, I want to extend this opportunity to you.
Imagine having the ability to generate a steady income while affording the freedom to work from anywhere, at any time.
This is the reality of running a successful niche site that generates revenue with affiliate marketing! 
If you're serious about making money online, I invite you to join this excellent step-by-step program. 
This platform is where you will find structured training and get personal support from the top internet marketers out there! 
Final Words
Thanks for reading my Fun Task Craz review! I hope it helps! 
We'd love to hear your thoughts or experiences with this app. So, feel free to leave your comments below!
Peace!