Welcome to my Fruit Merge Mania review!
I found this game through one of those fishy adverts making bold claims about earning ridiculous amounts of money.
In the video, the narrator claims they spend 10 minutes on it every day and earns $3000 a week.
Furthermore, it offers the convenience of paying via PayPal and a substantial $200 bonus to entice you further.
It's the perfect combination of fun and profit… or is it?
The marketing strategy behind these commercials is simple: tap into the innate human desire for easy money and instant rewards.
But with countless money games under my belt, I've found that the cash prizes are almost always fake! 
So, is Fruit Merge Mania the real deal, or just another fake? Will it transfer the money to your PayPal account? Let's find out! 
Recommendation: Join the step-by-step program that helped me to generate $2,000+ per month and become a digital nomad in 2019.
Fruit Merge Mania Review
Name:

 Fruit Merge Mania: 2048 Shoot

Developer:

 A3 Hostingker

Price:

Free to play 

Payout threshold:

$1000

Overall Rating: 0 stars
What is Fruit Merge Mania?
Fruit Merge Mania is a free-to-play game inspired by many popular 2048 puzzle games. Here is another similar money-making game! 
The objective is simple: aim and merge 3D cubes that bear the exact numbers, resulting in new cubes with double the value.
For example, merging two cubes with '2' on them results in a single cube displaying a '4'.
The gameplay is engaging and challenging, as players aim to merge cubes to achieve higher values.
But the most enticing aspect of Fruit Merge Mania is the opportunity to earn virtual dollars as you play. 
These virtual rewards can allegedly be redeemed for real money via PayPal or exchanged for Amazon gift cards.
With no financial risk to players, it seems like a win-win situation! But we will see! 
Does Fruit Merge Mania Work? 
Fruit Merge Mania is available on the Play Store for Android users worldwide and doesn't require registration to play.
The core mechanics involve sliding, aiming, and shooting cubes onto the playing field.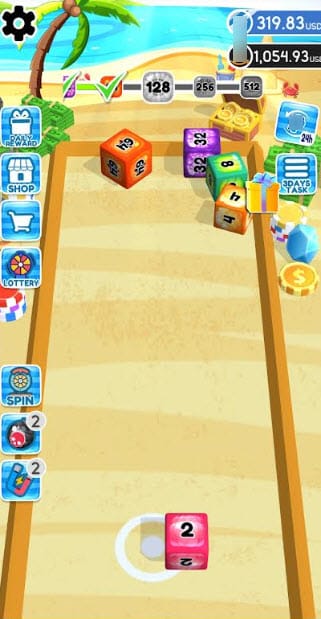 When two cubes displaying the same number collide, they merge to form a new cube with a higher value.

These merged cubes can immediately interact with other identical cubes, creating combos and further unlocking higher numbers. 
To enhance the gameplay, players can use bombs or magnets to create instant merges and trigger cash prizes.
You'll receive PayPal and Amazon cash bonuses as you unlock higher numbers.
But there's hidden agenda behind those virtual cash rewards. Tap the "collect" button to claim your earnings and watch a sponsored video.
This clever tactic maximizes income for the developer through advertisements. Every time a sponsored video is streamed on a player's phone, the developer gets paid by advertisers based on the video's number of views.
Just imagine the revenue generated if thousands of people are playing the game! But is it enough to pay $ 1000+ to every user $1000+? I doubt it! 
How do you withdraw your funds? 
The game claims players can cash out via PayPal once they reach a $1,000 balance.
For Amazon gift cards, however, the minimum withdrawal amount is a whopping $10,000.
But since the Amazon prizes are more generous, reaching that threshold may take just as long as it would for a PayPal withdrawal.
Another way to collect $1000 via PayPal is by reaching specific milestones within three days. 
VIP Subscription
In the shop section, you'll find several VIP memberships available for purchase, with prices ranging from £1.54 to £16.22.
These memberships give players even greater opportunities to hit those cash prizes.

And for £3.39, you can purchase an upgrade that removes all those pesky adverts, making it quicker to accumulate cash rewards. But the question is, are they even real? 
Is Fruit Merge Mania Legit? Does it Pay? 
No, it doesn't! Instead, the developer has cleverly crafted a scheme to exploit people's time while raking in profits from advertisers.  
The rewards gradually decrease as you inch closer to the 1,000 cash-out threshold, making it agonizingly slow.
In the meantime, you are bombarded with sponsored videos lining the developer's pockets! 

This reward platform is going viral! Cash out via PayPal, Visa, Gift Cards, and in-game currencies - Click here to find out how to generate an extra $10+ per day! 
But hold on because it gets even worse. Once you've finally reached the target, they throw in a ridiculous transaction fee as an excuse to rip you off! 
And if you're brave (or perhaps naive) enough to pay it, the money transfer never materializes. That's right, you lose your hard-earned money, and the developer laughs all the way to the bank.

It's downright outrageous! These fake money games on the Play Store use cunning tactics to prey on people's desire for easy cash.
Conclusion 
Fruit Merge Mania might be an entertaining way to pass the time, but the unfortunate reality is that the cash rewards are just an illusion.
Engaging with these apps means supporting developers who exploit unsuspecting people. 
The money they make allows them to invest in even more fake cash games, perpetuating a cycle that disappoints millions of people worldwide. 
So, as tempting as the prospect of earning easy money might be, playing this game only feeds the beast.
Earn a Full-Time Income Online
Imagine making thousands of dollars every month as a digital entrepreneur!
As a content creator, you can turn your passion into a thriving income source and achieve time and location freedom!
You can harness your creativity and start building your audience pays for all your living expenses and allows you to scale indefinitely. 
You don't need to be a professional writer or a tech whiz; all it takes is dedication and the willingness to learn.
With the right guidance, you can grow your online presence and generate a substantial monthly income.
Ready to kickstart your journey as a successful content creator and unlock your true potential? Check out my number one recommendation here! 
Final Words
Thank you for reading my Fruit Merge Mania review, and I hope it helped you save some time.
If you have any questions or comments, please feel free to share them below!
Peace!