Welcome to My Coin Digger app review!
Today I discovered Coin Digger, which is another mobile app that allows you to earn cash from your phone.
The app is very easy to use, and you don't need to complete any complicated tasks to collect points.
In this review, I am going to explain exactly how Coin Digger works and give you my honest opinion about it.
Is Coin Digger a scam? Is it worth joining?
Bear with me until the end to make an informed decision.
While you are still here, don't forget to discover the step-by-step program that helped me reach $1,300/mo from my laptop. 
Coin Digger App Review
---
Name: Coin Digger – Digging coins
Developer:

Wallet Tech

Membership availability: Worldwide
LEGITIMATE
Overall Rating:

2/5
What is Coin Digger?
---
Coin Digger is a reward app operated by a company called Wallet Tech.
After a bit of research, I found that a popular app called Money Cube was updated and rebranded to Coin Digger.
With Coin Digger app, you can play different games and watch videos to collect points.
Once you have earned the minimum payout threshold, you can supposedly exchange your points for PayPal or Gift cards.
Coin Digger provides one of the easiest ways to earn real cash from your phone. But is it legit an safe to use? Will you get paid?
Is Coin Digger a Scam? Does it Pay?
---
Coin Digger is technically a legit app, but be aware that there are many negative reviews on the internet.
Lots of users said that when Money Cube was replaced by Coin Digger, all their earning were gone!
Also, many people claim that they can't cash out.
I can't assure you whether you will get paid or not. Some people seem to get paid while others don't, so you have to count on luck.
Pros and Cons
---
Pros
Easy way to collect points and earn money.
Well-designed interface.
Cons
It takes a long time to cash out.
Terrible rate of pay.
There is no guarantee that you will get paid.
How Does Coin Digger App Work?
---
Signing up and getting started
Coin Digger is very simple to use.
After you download and install the app, you will see this page: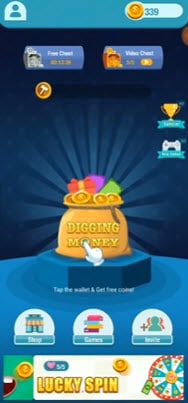 The first step is to click on the profile icon on the top and sign up with your Facebook or Google account.

After you create your account and tap on "reward", you will realize that all the payment methods are locked.
Unfortunately, you won't be able to request your payment until you provide a referral code.
I don't have an invite code to give you now, but you will find one with a quick Google search.
Once you find the code, just tap on "invite" and input the code there to earn 300 points.
How to Earn Coins?
It's very straightforward to earn coins with Coin digger.
You just have to keep tapping on the gold bag multiple times until the green bar is fully loaded.
After that, Coin Digger will give you around 20 – 50 coins ($0.0002  –  $0.0003) and play video afterward.
You can choose to double the number of coins earned by watching another commercial.
Next, you can continue tapping on the gold bag again to earn more coins.
Besides, there are other ways to earn by playing a few other games, such as Lucky twist and Slot King.
Another way you can earn with Coin Digger is by inviting friends.
If your friend uses your referral code, not only you will get 800 coins, but your friend will also earn 300 coins.
You will find your referral code inside the "invite friends" tab.

How Much Money Can You Make?
You should not expect to make a lot of money with Coin Digger as your only job is to watch videos.
Keep in mind that to withdraw $5 via PayPal, you will need 105,000 coins, which is a LOT!
It will probably take one month or more to reach the payout threshold and get receive the money.
How Do You Get Paid?
Depending on your country, you will find different payment options available.

This reward platform is going viral! Cash out via PayPal, Visa, Gift Cards, and in-game currencies - Click here to find out how to generate an extra $10+ per day! 
In some countries like the US and the UK, you can get paid via PayPal, Google Play, Amazon or iTunes gift cards.
In other countries, you may only see the PayPal option.

The minimum payout threshold is $3 via Amazon gift card and $5 via PayPal.
Conclusion
---
Coin Digger is another application that allows you to collect coins for playing and watching videos.
Unfortunately, I can't recommend it since many users are struggling to cash out.
Keep in mind that you will need to play Coin Digger for a couple of weeks to collect enough coins and cash out.
So, if you don't get paid, you will waste a significant amount of time!
How To Earn a Full-Time Income From Home
---
If you are tired of mobile apps and reward sites that don't pay well, you are not alone!
Many people are searching for alternative ways to make money online.
In my opinion, the best strategy is to create your own affiliate site that will earn you passive income over many years!
As an affiliate, your job is to create content and promote other people's products for commissions.
I've been doing affiliate marketing for over 4 years now, and I can't recommend it highly enough,
This business model has allowed me to quit my job and work 100% from my laptop.
At this moment, I am working from a ferry in South East Asia!
If you dream about working remotely and be your own boss, check out my #1 recommendation here to learn from the best!
Final Words
Thanks for taking the time to read my Coin Digger app review!
I hope you have found all the information you need to make an informed decision. If not, feel free to leave a comment below, and I'll be more than glad to help.
All the best
Stefan