Welcome to my Citadel Resistance review! 
Citadel Resistance, a seemingly innocent tower defense game, has been making waves on the Play Store! 
The app has reached over 100k installations thanks to the app's alluring advert offering big bucks.
Who doesn't want to earn hundreds of dollars by playing a game, right?
But before you jump in and start dreaming about all the cool things you'll buy with that cash, let me tell you – there's more to this game than meets the eye.
Rumor has it, this game could destroy your phone and render it useless.
Yep! Sounds like something we need to investigate! 
I've explored over 400 apps on this blog, and let me tell you, this one has crossed all lines of absurdity. 
In this review, we'll dig deep into Citadel Resistance and see what's really going on. Is it legit or fake?
Oh, and if you've already installed the app and need help solving the mess, don't worry – I've got you covered in this article.
Top Recommendation: check out the step-by-step program that helped me build my online business and generate $2,000+ per month. No special skills are required! 
Citadel Resistance Review
Name:

 Citadel Resistance 

Developer:

 Schandra Dawn Mudford

Availability:

 Worldwide

Price:

free

Overall Rating:

– 5

stars
What is Citadel Resistance? 
Citadel Resistance is a tower defense game where you annihilate enemies and supposedly earn sweet cash rewards. 
Yep! Just like hundreds of fake money games I reviewed on this blog in the past four years! 
However, the developers came up with something unexpected – a ghost app you can't even launch from the home screen! 
Despite its mysterious nature, it managed to haunt the phones of over 100,000 users and rated a shocking 2.2 stars! 
How it even scored over two stars is a mystery fit for Sherlock Holmes! 
How Does Citadel Resistance Work? 
Anyone can install Citadel Resistance on an Android device via the Play Store. 
The app's page suggests the developer took measures to protect users' privacy.
For example, it encrypts your data in transit, and you can request to delete them. 

However, upon launching the app, be prepared for unexpected chaos! 
Ad-mageddon: The Relentless Onslaught of Adverts
My phone was suddenly bombarded with commercials promoting other fake money games, even though I hadn't launched Citadel Resistance! 
It stealthily ran in the background without my consent, relentlessly pushing video after video on my face! 
My phone was rendered useless, trapped in a never-ending loop of annoying adverts! 
I couldn't even find the app's logo on my screen, which is why I dubbed it a "ghost app" earlier.
That makes it tricky to delete for those who aren't tech-savvy.
This is the first time I found such an intrusive app that triggers adverts even while you are not using the service. It's outrageous! 
To actually open the game, I had to navigate to the Citadel Resistance page on Google Play and hit the Play button.
Once it finally opened, I noticed it was a simple casual game with no virtual dollars in sight. So, the cash prizes are nothing more than a mirage!
You bit the bait of easy money, and now your phone is haunted by greedy developers and advertisers! 
Shockingly, an app like Citadel Resistance bypassed Google Play Protect!
For those who don't know, Google Play Protect is a security feature to protect your device from harmful apps.
This is a stark reminder that pernicious apps can find their way despite "protective measures." 

A Flood of Fury 
But you don't just have to take my word for it. The Play Store is teeming with negative reviews from infuriating users who have experienced the same misfortune. 
Countless people have complained about the app wreaking havoc on their phones.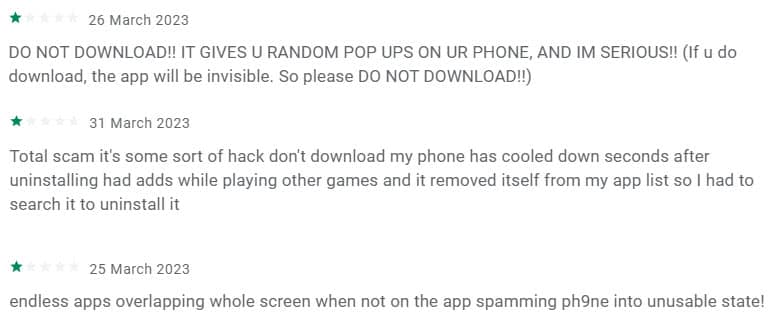 How to Get Rid of Citadel Resistance? 

This reward platform is going viral! Cash out via PayPal, Visa, Gift Cards, and in-game currencies - Click here to find out how to generate an extra $10+ per day! 
Since the app is invisible, you won't be able to uninstall it using the traditional method on your home screen. 
So, here's a step-by-step guide on how to get rid of Citadel Resistance:

Method 1: Uninstall via Google Play Store
Open the Google Play Store app on your Android device, search for "Citadel Resistance," and tap the "Uninstall" button.
Method 2: Uninstall via Settings
Open your Android device's Settings app and the "Apps" section. Then, locate and tap "Citadel Resistance" in the list of installed apps. Finally, tap on the "Uninstall" button. 
While following these steps, they might interrupt you with a pop up video.
Stay strong, and you'll eventually succeed in removing the trash app from your phone. Done and dust! 
Conclusion 
Citadel Resistance is another app that exploits users' trust and attention for financial gain.
Remarkably, it's the first game we've encountered that remains invisible while bombarding users with adverts. 
The sheer audacity of these developers in their pursuit of profits is simply mind-boggling! 
So, don't fall victim to mobile games that promise easy money – stay alert, read reviews, and do your research before installing anything. 
Final Words
Thanks for reading my Citadel Resistance review! I hope it helps you save your time, phone, and your sanity! 
If you have any questions or want to share your experience, feel free to use the comment box below.
Peace!