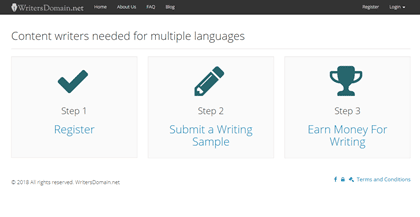 In this review, I would like to cover all you need to know about Writers Domain and give you my honest opinion about it. Is it a great way to make money as a freelance writer?
Let's check it out!
Highly recommended:  Learn step by step how to build an affiliate business that allows you to be your own boss and work anytime, anywhere!
Writers Domain Review
---
Name: Writers Domain
Website: writersdomain.net
Price: Free to join
Type: Freelance writing
Income Potential: Low to Medium
Score: 3.7/5
What is Writers Domain?
---
Writers Domain is a freelance writing platform operated by an online marketing research company called Boostability. It was founded in 2011 and has a team of over 450 remote writers from The United States, The United Kingdom, Canada, Australia, New Zealand and France.
Different from popular platforms like Upwork and Peopleperhour, Writers Domain offers jobs on a first-come-first-served basis. Meaning that once you are accepted, you will have the same opportunity as anyone to work on new projects.
Pros & Cons
---
Pros
Trustworthy.
The pay is fair.
Once you are in, the competition for jobs is not fierce compared to other popular freelancing websites.
Payments via Paypal.
Cons
They only accept native speakers.
They can be very demanding according to the project.
If they reject your project, you will not get paid.
How Does it Work? 
---

Registration
First of all, you can only work for Writers Domain if you have native-level fluency in English or French. Besides, you must be resident in the US, Australia, New Zealand, UK, Canada, and France. That is because they only do business and have clients in these countries at the moment.
Qualifying
In order to qualify, you will need to submit a writing sample of at least 400 words and a take a grammar test. They will make a final decision on your application within 2 or 3 business days. If you don't meet the standards, you can reapply in 6 months.
There may not be room for newcomers at the time of your application. If that is the case, they will put you on a waitlist until demand increases or they need to replace another freelancer.
Working on Projects
There are currently 4 project types you can work on.
Articles: Write industry-related blog posts of around 400-600 words. You will have you come up with a topic related to a keyword.
Onsite blogs: These are also industry-related blog posts, but the difference is that these posts will be published on the corporate's website. They must have between 600 and 800 words.
Content Reviews: Perform quality checks and edit for misspelling, grammar and punctuation errors.
Site Themes: Write "about us" pages for third-party websites.
It's important to mention that after you submit your content, they will review it check whether it meets the project guidelines.
Then, you will only get paid if your article is accepted. 
Writers Domain may give you the chance to make some improvements and resubmit the article, though. However, if it needs too many changes, they may pay you at a reduced rate.
How Much Can You Get Paid? 
---
The rate ranges from $0.02 to $0.05 per word.
Thus, you can expect to earn $15 for standard articles and $30 for premium articles on average.
Considering the relatively small size of each article, this rate is not excellent, but it's ok.
Cashing Out
---
Writers Domain pays via Paypal on the 5th of every month or as soon as you accrue $100 in your balance account.

Conclusion
---
Writers Domain is a legit and reliable platform to work as a freelance writer. However, you can't rely on it to pay the bills as you will work as an independent contractor with no guarantees.
Therefore, you will need to apply for other freelancing platforms to increase your pool of opportunities.
How I Prefer to Make Money Online
---
Working as a freelance writer is a great way to supplement your income and eventually replace your 9-5 income.
However, you will always trade your time for money, meaning that you will lose out if you take a break. Moreover, it's not scalable.
Personally, I decided to be my own boss and build an affiliate website. So, I write blog articles/reviews and earn revenue by promoting other people's / company's products.
What I love about it is the possibility of making money even when I am not actively working. For example, in October I went to Morocco for 10 days while my website kept running and generating commissions.
I was a complete newbie two years ago, completely lost. But thanks to an excellent step-by-step program, I learned the ropes quickly, took action and built an audience of 1,000+ visitors a day.
The business generates enough money to cover all my living expenses in London, which is remarkable!
You can learn more about my No.1 recommended program by clicking the link below.
Click Here and Check Out My No. 1 Recommendation Review
Thanks for checking out my Writers Domain Store review. If you have any questions, feel free to ask in the comment section below. I'd love to help!

Stay safe!