Overall Ra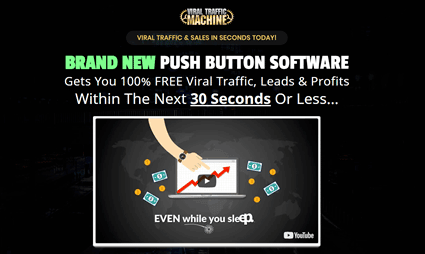 Somehow you have discovered the push button software that supposedly gets you viral traffic and sales in a matter of seconds!
Will Viral Traffic Machine help you make your life as a marketer easier?
Let's find out!
By the way, if you want to learn step by step the method that earns me $1,000/mo from my laptop, check out my #1 recommendation.
Viral Traffic Machine Review
---
Name: Viral Traffic Machine Review
Website: https://billydarr.clickfunnels.com/viraltrafficmachine
Price: $17
Overall Rating:  

1.4/5
The Sales Page
---
The creators of viral traffic machine want to convince you that the software can generate a ton of sales completely hands-free.
YUP! Just follow 3 simple steps, then sit back, relax and watch the money rolling in. I see…
In less than 30 seconds, you could be getting lots of traffic to your internet business and making lots of money.
According to the sales page, getting traffic with Viral Traffic Machine is as easy as clicking a button.
Did you believe that? Neither did I!

This reward platform is going viral! Cash out via PayPal, Visa, Gift Cards, and in-game currencies - Click here to find out how to generate an extra $10+ per day! 
What is Viral Traffic Machine?
---
Viral Traffic Machine is a cloud-based software that will blast out posts to all your social network accounts.
That's right. With just one click, the post will be published automatically on Tweeter, Tumblr, LinkedIn, Pinterest and other social media platforms.
To be honest, Viral Traffic Machine is far from revolutionary.
There are many similar tools in the market known as Social Media Management Applications such as Tailwind and Hootsuit.
Does it Really Work?
---
Viral Traffic Machine is being advertised as a solution to get free viral traffic with just one click.
So, the struggling marketer will have the expectation that the product delivers just that.
Quick and easy money!  
The reality is that this software only sends posts to your followers on different social media networks. There is nothing new about it!


But HEY, what if your account has only 100 followers?
Well, the truth is, traffic is not coming from anywhere except your own accounts!
So, Viral Traffic Machine is not really generating any traffic. It's only leveraging social media in a way that will save you a little bit of time when publishing new content.
That's all, folks!
The real challenge is to get lots of followers so then you get lots of traffic.
Nothing changes significantly with Viral Traffic Machine, and without a strong social media presence, no software can help you make a single sale.  
They say:
Stop spending countless hours focused on getting traffic – with Viral Traffic Machine, you'll have FREE viral traffic flowing in as little as 30 seconds from RIGHT NOW.
Yeah? But can you please show us where the traffic is coming from?
They won't tell you because it comes from your social media accounts.
Only you are responsible for attracting visitors to your profile first, which is why you need to work hard and provide value.
The Price
---
If you want to go ahead and purchase Viral Traffic Machine, it will cost you $17.
Too cheap for a traffic generating machine, don't you think?
I am sure that if the software effectively attracted an audience to your offers, it wouldn't be a one time fee, but a cost per click.

Conclusion
---
Viral Traffic Machine connects all your social network accounts to automate publishing with one click.
However, it doesn't automate the process of attracting followers, which is the biggest challenge for most internet marketers.
Don't buy it if all you want is to make easy money because this is not a shortcut to success.
Verdict – Not Recommended
To Make a Killing Online, Learn First and Then Execute!
---
If you have big dreams in life, such as earning passive income with an internet business, you must accept the fact you will have to GRIND!
There are no shortcuts; I can guarantee you that.
You can choose to learn everything for free on your own by visiting hundreds of sites and trying different strategies. OR you can stick with an in-depth course that will show you step-by-step a proven method!
If you are like me and decide to go for the second option, I suggest you check out my #1 recommendation.
It's the exact same training program that I used 3 years ago to build my site from scratch. I had zero experience probably just like you! But I put in the time and effort to make it happen.

Thanks for reading my Viral Traffic Machine review. If you have any questions, please let me know in the comment section below.
Stay safe!