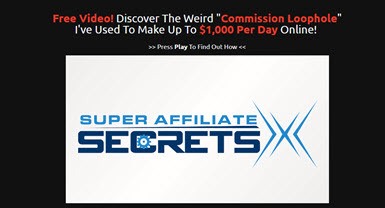 Today, I discovered this website called Super Affiliate X and the opportunity to earn a full-time income from home.
You are here because you want to know how it works, and whether this is a scam or legit system. Am I right?
First, I would like to be clear and say that unlike many reviews on YouTube and blogs, you will not find an affiliate link here, meaning I am not promoting Supper Affiliate X.
In this post, my mission is to uncover everything relevant and give you my honest opinion!
By the way, if you want to learn the same method that earns me $1,000+/mo from my laptop, check out my #1 recommendation! Newbie friendly and free to get started.
Super Affiliate Secrets X – Quick Overview
---
Product: Super Affiliate Secrets X (aka The Super Affiliate Network)
Website: superaffiliatesecretsx.com
Price: $47 per month + Upsells
Overall rating:

2.3/5
The Sales Page
---
I found the sales page of Super Affiliate Secrets X too overhyped!
It's not that you won't be able to make a substantial sum of money with this system, but it's not as quick and easy as they make it seem.
For example, one member called Alice said after joining the program, she started getting results immediately – over $5,000 in her first month.
Another successful member called Rebeca said you could start making money "as quickly and as easily" as she did.
The reality is that only a tiny percentage of people earn a good income with this program.

This reward platform is going viral! Cash out via PayPal, Visa, Gift Cards, and in-game currencies - Click here to find out how to generate an extra $10+ per day! 
According to the spokesperson in the video, Super Affiliate X is a revolutionary new method that is helping people all over the world to earn thousands of dollars.
You will supposedly leverage the expertise of internet marketers who will do all the hard work for you.
But is it all true?
Well, when it comes to building an internet business, most of the hard work will never be done for you, and that's why very few people succeed.
What is Super Affiliate Secrets X?
---
According to the sales page, Super Affiliate Secrets X is a complete A-Z system consisting of ready-made websites, training, payment processing, software, videos and even a personal adviser.
It turns out Super Affiliate X is a sales funnel designed to promote The Super Affiliate Network.
Founded by a highly successful marketer called Misha Wilson, The Super Affiliate Network is a platform and community that will help you build an internet business from home.
They say your job is to place simple online ads, and from there everything is done for you.
Now, you are wondering which type of ads and what you be promoting…

Unless you buy into the program, they will not explain the business model to you, which is very frustrating!
How Does it Work?
---
After providing your email, you will land on the checkout page where you should pay $49.
However, this is just the frontend product which is followed by many upsells that amount to $12,497.
You are not forced to upgrade but will be enticed to because of the opportunity to earn higher commissions, but you don't have to.
The way you will make money with this system is by promoting the Super Affiliate Network itself.
You will follow the Bootcamp training and be encouraged to promote the exact training and business opportunity to other people.
Whenever someone purchases the Super Affiliate Network through your link (ad banner), you will earn a generous 70% recurring commission. Plus, you will also get 5% of all the earnings of your referral's referral.
They will give you the marketing materials such as websites and email sequences, which saves a lot of time. However, it's your job to get traffic (visitors) to the website.
As an affiliate marketer with 4 years of experience, I can tell you that getting traffic is the hardest part!
The training will teach you how to advertise on social media platforms like Facebook, as well as take advantage of solo ads and other strategies.
Is Super Affiliate Secrets X a Scam?
---
In my opinion, Super Affiliate Secrets X (aka The Super Affiliate Network) operates a business model somewhat similar to MOBE and The Digital Altitude.
Both companies were shut down by the FTC due to misleading advertising and the fact that the business was based on selling the same memberships to other people.

They have similar strategies, but I don't have the authority nor proof that Super Affiliate Secrets X is a scam.
In my opinion, the sales page can give people unrealistic expectations, but from what I can see, they are not making any false claims or promises.
There is no doubt SAN provides valuable and in-depth training that will help you promote any other product online.
But as I said, the main focus is on promoting SAN because of all the done-for-you marketing materials that are already done for you, not to mention their high ticket affiliate program! So, most people will naturally follow the most profitable and easy path.
RECOMMENDED: Click here to see my no.1 recommendation for making money online
The Training
---
SAN provides very comprehensive Bootcamp training, which consists of 18 modules separated in 3 phases.
The $47 membership gives you additional training every month through the Super Affiliate Monthly Vault.
Also, you will have access to a business coach via Skype, phone or email.
A big downside of SAN is that the modules are all locked by passwords, and you can only unlock them if you complete the quiz and speak to your coach.

Can You Succeed?
---
What I am about to expose here is not meant to discourage you, but only to prove my point that succeeding with this system is not an easy task, and many people fail.
If you visit their Income Disclaimer, you will see this chart:

It tells us that only 10 members (0.0003%) earn an average of $3,730 per month.
Here is a snippet from the Income Disclaimer that I think you should read:
The average partner spends between $3000 and $12,000 in expenses per year as they build their business. Less than 2% earns sufficient commissions to cover their costs of the Super Affiliate Network products. Note that it takes hard work, dedication and commitment to the process to make substantial income in this business… and some Super Affiliate Network Partner's make no money at all.
I appreciate the honesty, BUT remember, Super Affiliate Secrets X is advertised as a revolutionary system that does all the hard work.
Unless you read the Income Disclaimer, you will likely have a different idea about what it takes to succeed in this industry.
As I already mentioned, one of the main challenges is getting traffic, and you can waste a lot of money on advertising.
As they said, "Less than 2% earns sufficient commissions to cover their costs".
Refund Policy
---
If you regret, you can ask for a refund within 30 days. Also, they will offer a conditional $100 "Just For Wasting Your Time" Guarantee.
However, you can only claim your $100 if you prove you have taken specific actions but didn't achieve the results you expected.
Conclusion
---
The money-making strategy proposed by Super Affiliate Secrets X is no secret at all!
There is no loophole or any shortcut to earning a substantial income online. I've seen it all, and I am confident about that!
They will entice you to buy more expensive memberships with the hope of earning more commissions. But there is no guarantee you will make any money!
In fact, you can lose money because part of the strategy involves purchasing Facebook and Solo Ads.
Unless you have a large amount of free traffic per day from Youtube or Blog, it's extremely hard to earn $1,000 per month, let alone per day!
What I Recommend
---
I hope my Super Affiliate Secrets X review was helpful to you.
If you want to learn how to get free traffic and build a successful internet business without risking your hard-earned money, check out my #1 recommendation!
The first 10 lessons are completely free, and with the starter membership you will also get:
2 Free websites
Support from me, the owners and the entire community.
It's a great place to build affiliate sites! But of course, there are no shortcuts so you will need to put in the work.
Stay safe and peace out!