Welcome to my Little Bat Slot review!
I was testing another application when an ad popped up, claiming that people could win money easily.
Naturally, my skeptical side kicked in because the Play Store is flooded with fake cash games. 
They boasted about no withdrawal limits, transactions within a minute, and the possibility of winning a whopping $ 3,000 daily!
This is the same script used by other developers to promote their illusions!
Yep, they copy what others do because the idea is to maximize profits using the least time and energy.
But here's the craziest part: it's completely free to play!
You spin the machine to unlock shiny diamonds, and virtual dollars start flowing in!
It sounds too good to be true, doesn't it?
So, is Little Bat Slot legit or just another fake? Will they actually transfer the money they claim you can win?
I'm sure you're itching to know, so let's explore!
Before leaving this post, check out the step-by-step program that helped me build an affiliate site and quit my job in 2019. It's free to join, and you don't need any previous experience.
Little Bat Slot Review 
Name:

Little Bat Slot

Developer:

Mathieu Bergougnoux

Availability:

 Worldwide

Price:

 Free

Overall Rating: 0 stars
What is

Little Bat Slot

?
Little Bat Slot is an intriguing blend of a free slot game and bingo.
It features a 5-reel machine where you tap the spin button and eagerly await the outcome.
Interestingly, it's very similar to the game Lucky Devil Slot and Bingo Kitchen.
Every time you hit a winning combination, those lucky diamonds you collect will carry award fragments and precious dollars!
To get in on the action, you'll be playing with gold coins, and the best part?
These coins are free and require no real deposits.
So, you can spin away and collect cash rewards without worrying about breaking the bank.
Little Bat Slot claims you can withdraw any amount you accumulate through winnings.
They offer various withdrawal options like PayPal, Cash App, Paytm, and others, making it seem very convenient to receive your winnings.

How Does Little Bat Slot Work? 
You can find Little Bat Slot conveniently on the Play Store, and the best part is that it's free to download and play.
No registration hassles or long sign-up forms are required.
You can jump right into the action with a simple tap.
The game was developed using the Unity platform, a widely recognized and popular game development engine.
Once you open the game, brace yourself for a pleasant surprise.
You'll be greeted with your first daily bonus of 1000 coins!
You can also collect free coins every 5 minutes, so you never run out of chances to spin and win.
How to Play? 
The game features a 5-reel machine, which is where all the magic happens.
With a tap of the spin button, you set the reels in motion, consuming 3,000 coins from your balance.
Speaking of coins, let's clarify their nature. Gold coins can only be used within the game and cannot be withdrawn.
They serve as the currency to fuel your spins and keep the excitement going.

Every time you hit a pay line, bam! More gold coins for your virtual piggy bank.
But it's the green diamonds you'll be really keen on as they award you US dollars in the game!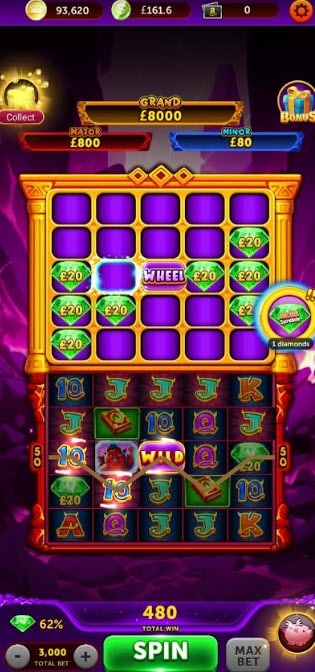 The diamonds in the slots will be stamped in the bingo scorecard above the machine.
To trigger the bingo feature, you must complete a line with five green diamonds in a diagonal, horizontal, or vertical row.
Complete that line, and ka-ching! You're in for some cash rewards!

This reward platform is going viral! Cash out via PayPal, Visa, Gift Cards, and in-game currencies - Click here to find out how to generate an extra $10+ per day! 
Wheel
There's also the Wheel, which is triggered when you complete a line with the Wheel icon.

It grants you even more prizes, adding an extra layer of excitement to the game.
The ratio of winning each reward is specified as follows:
Grand win (0.03%)
Major (0.05%)
Minor Win (0.7%)
0.1 USD (80%)
The real reward gift box (3.7%).
Amazon Cards
Every time you spin and get diamonds, you also have a chance to collect Amazon card puzzles.
The probability of obtaining an Amazon card with diamonds is 8%. And when you trigger the Lucky Wheel, you can get an Amazon card too!
Win Real Rewards
Little Bat Slot offers the opportunity to win real rewards!
When diamonds carrying the real rewards gift box appear, you can collect puzzles that lead to prizes such as a MacBook Pro, Samsung Galaxy S20, Rolex, PS5, and more!
You can check the game rules to find the odds of winning all these prizes.
In the next section, I'll dive into the cash-out requirements and show how you can supposedly turn your winnings into tangible rewards.
Withdrawing Funds
Little Bat Slot is that it allows you to cash out any amount you've accumulated.
So, no need to worry about meeting any minimum withdrawal thresholds like with other reward apps.
Simply collect the desired amount you wish to cash out and press the "withdraw all" button.
Next, you'll be prompted to choose your preferred withdrawal method and enter your Full name and email address.
To cash out an Amazon gift card from Little Bat Slot, you'll need to collect 300 cards.
Once you've reached this milestone, you'll be eligible to redeem them for £240.
Is Little Bat Slot Legit? Does it Pay? 
Nope! The sad reality is that this game doesn't pay a single dime.
It's another fake cash game where the odds of winning are zero!
Little Bat Slot cleverly creates an illusion that you're collecting real cash rewards that will eventually be transferred to your account.
They use this strategy to keep players hooked, constantly playing and viewing adverts within the game.
I must admit, I'm quite surprised that Little Bat Slot doesn't bombard players with an excessive number of videos like other deceptive cash games do.
However, they are still generating income from your spins!

Every very video you watch contributes to their revenue while you chase the illusion of cash rewards.
So, what happens after you submit your payout request?
Little Bat Slot comes up with additional requirements to postpone your withdrawal.
Suddenly, you're informed that you must spin 30 more times before your payout can be processed.
It's a manipulative tactic aimed at keeping you engaged, giving them more opportunities to profit from your activity.
And that's not all, my friend. Next, they pull the rug out from under your feet and present you with yet another demand: watching five commercials.
Finally, they claim the money will be transferred to your account within 1 – 3 working days. 
But unfortunately, they won't pay you a single dime. It's all a façadeto profit from your participation, your hopes and dreams.
Conclusion 
It's clear as day that Little Bat Slot is nothing more than a mirage of "easy money".
Despite having a withdrawal section in the app, it won't put a single penny in your pocket.
Honestly, the only ones making money here are the developers, profiting from your time spent watching adverts.
Instead of wasting valuable time and energy on games like Little Bat Slot, why not invest it into building something real and rewarding, like your own online business?
I'm speaking from experience. Back in 2015, I was just like you, navigating the turbulent internet waters and joining deceitful sites.
Mobile applications were still in their infacy.
That's when I stumbled upon this incredible step-by-step program that changed my life.
This program equipped me with the tools and knowledge to build my own affiliate site.
Fast forward to now, I quit my day job in 2019, and I've been working remotely ever since, enjoying the perks of being my own boss.
It's a remarkable journey, and you can read all about my story in this post.
I won't lie – it requires effort, but the reward is worth it. So why not give it a shot? Click here to learn more! 
Final Words
Thank you so much for reading!
I hope you found my Little Bat Slot review helpful. If you have any questions or comments regarding this game, please leave them in the comment section. 
Peace!