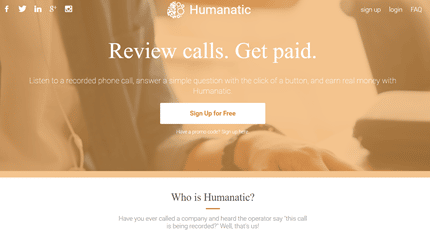 Would you like to work remotely and create your own schedule? In today's review, we will take a look at a website called Humanatic, which promises to pay you for reviewing calls. Is Humanatic a scam or a legit site to make money online?
Let's find out!
Highly recommended:  Learn step by step how to build an affiliate business that allows you to be your own boss and work anytime, anywhere!
Humanatic Review
---
Name: Humanatic
Website: humanatic.com
Price: Free
Type: Call reviewing
Overall Rating: 1.7/5
What is Humanatic?
---
Humanatic is a platform that allows you to make money by reviewing phone calls between customers and businesses.
You won't need to make a call or transcribe the full conversation.
Your only job here is to listen to conversations and answer questions that will help clients improve their customer service and sales.
Pros & Cons
---
Pros
You have the flexibility to make your own hours.
Work anywhere you want.
You don't need to be fluent in English.
No CV or any previous experience required.
Easy job.
Quick application process.
Cons
Low pay rate – Maybe less than $1 per hour.
Some users seem to had their accounts terminated for no reason.
You have to be available for long hours, but you will only get paid during the period you are actively working.
No "about us" page, no Terms and Condition and No Privacy Policy.
Paypal is the only payment processor.
Too many complaints.
Who is It For?
---
Considering the low pay rate, Humanatic is best suited for people located in countries where the dollar is strong. Asia, Eastern Europe, Africa…
Also, it's suited to those who want to have the flexibility to work whenever and wherever they want and do a very easy job.
However, the drawback is that you will be working as an independent contractor with no specific amount of work guaranteed.
How Does it Work? 
---
Signing Up
The first step is to sign up using your Paypal account. Paypal the only payment method utilized, and you won't be able to register without it.
Then, you have to complete a short application form where you should include, among other things, your most recent employment history.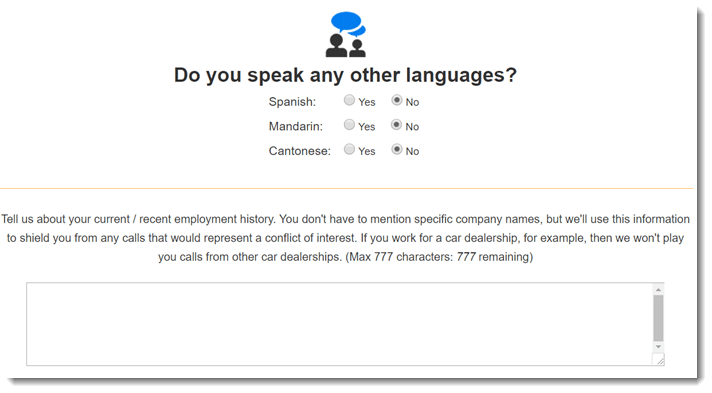 Your job history is just required to prevent you from getting calls related to the same industry you work in, which might cause a conflict of interest.
The good thing about Humanatic is that the job is so simple that they don't even ask for your CV or do any background checks.
Reviewing Calls
Your job is to listen to the conversation and answer a few questions related to what you heard. For example, in many cases, you should tell the reason for the call and confirm whether it was handled effectively by the call center.
Most calls have less than 5 minutes in duration and you can complete them anytime you want. Just bear in mind most calls are available between 7:00 and 19:00 (US time).
How Much Money Can You Make? 
---
Humanatic's website states that you should earn anywhere from $1 to $4.50 per hour depending on the level of skill required and accuracy.
After reading a few complaints about this company on the internet, though, I discovered your wage can actually be much lower than $1 per hour.

Someone claimed that you can earn $0.02 per call, which is an insult.
Lots Of Complaints
---
I searched for real user reviews on both Sitejabber.com and Glassdoor.co.uk and found too many complaints.
Here are some of the negative things people are saying about this platform:
If you can make $1 per hour you would be doing great.

…the payment is very small and the site has a lots of cheaters, so you will always get twice penalties instead of earning.

It took me a month to earn 60$. And when I requested a payout they deactivated my account. When I asked for the reason, they never replied to my emails.

Accuracy ratings take huge deductions while the user tries to figure it out in a guessing game of trial and error. Penalties are not revealed or summarized at sign-up of course.
Conclusion – Is Humanatic a Scam? 
---
First of all, my reviews are always based on facts. Some people who had a bad experience call Humanatic a scam, but without solid proof, I cannot make any claims here.
The fact that the website doesn't have an "about us" page, a Privacy Policy and a TOS (Terms and Conditions) is a red flag. But at the same time, it doesn't prove the site is a scam.
So, I encourage you to check out what people are saying in those 2 sites that I mentioned and decide if it's worth joining. Personally, I will not recommend Humanatic as I think there are betters platforms and ways to make money online.
Verdict: Not Recommended
How I Prefer to Make Money Online
---
Personally, I don't like to work for other people, so I decided to build an online business that gives me all the flexibility to work from home combined with the potential to earn $1,000's and even $10,000's per month.
The more I work on it, the more I get out of it. Plus, I am totally responsible for my online revenue!
There are many ways you can go about building an online business, but I recommend affiliate marketing for most people.

I simply write blog articles/reviews and earn revenue by promoting products as an affiliate. There is no need to deal with shipping, customer service, suppliers, or any client.
I was a complete newbie two years ago but very motivated to earn a full-time income and live life on my own terms. 
Thanks to an excellent step by step program, I learned the ropes quickly, took massive action and built an audience of 1,000+ website visitors a day.
The business generates enough money to cover all my living expenses in London, which is remarkable!
You can learn more about my No.1 recommended program by clicking the link below.
>> Click Here and Check Out My No. 1 Recommendation Review

This reward platform is going viral! Cash out via PayPal, Visa, Gift Cards, and in-game currencies - Click here to find out how to generate an extra $10+ per day! 
Thanks for checking out my Humanatic review. If you have any questions, feel free to ask in the comment section below. I'd love to help!

Stay safe and peace out!