Welcome to my Hey! Billionaire review!
In today's post, we dive into "Hey! Billionaire," an Android app that has attracted over 100,000 players.
This game allows people to play for free and withdraw real money.
Hey! Billionaire is a simplified version of the classic Monopoly, where you roll dice and accumulate cash rewards.
But the crazy thing is that you can supposedly transfer at least $20 to your PayPal account.
With so many fake cash games on the Play Store, it's crucial to research any app thoroughly.
Can the virtual dollars be converted into tangible, real-world currency?
This review will explore "Hey! Billionaire" to determine whether it lives up to its claims.
Before leaving this post, don't forget to check the step-by-step program that helped me generate over $2,000 per month and quit my job in 2019. Free membership is available here! 
Hey! Billionaire Review
Full Name: Hey! Billionaire
Developer: Kivflar Ludum
Eligibility: Worldwide
Payout threshold: $20
Price: Free
Overall Rating: 0
What is Hey! Billionaire? 
Hey! Billionaire is a mobile game where you can play a board game on your phone to win real money.
By rolling the dice, your game piece moves around the board.
When you land on specific spots, you earn cash prizes.
There are also mini-games like turntables and slots that you can play to earn even more rewards.
As you level up, you will unlock new game boards with different settings and challenges.
Your cash balance in the game keeps growing, but you can only cash out once you reach $20.
It's important to note that the game is still in early access, which means it's not fully finished yet.
Most importantly, there are no reviews on the Play Store.
This is a bummer since players can't see if other people have had a good experience or if the developer actually pays out.
How Does it Work? 
Hey! Billionaire is a worldwide, free-to-play mobile game that allows players to engage in a virtual board game experience.

There is no risk of losing real money as players are not required to deposit real money.
Besides, there is no need to register and create an account.
Privacy Risk
It's crucial to be aware of a significant issue with Hey! Billionaire: it does not encrypt data, which poses a substantial risk to players' data privacy.
Without encryption, anyone can intercept and access any data exchanged between your device and the game's servers.
This could lead to profound implications, such as cybercriminals gaining access to personal information or identity theft.
To learn more about how to safeguard your data on such apps here! 
How to Play
In Hey! Billionaire, the gameplay is centered around a virtual board.
You simply tap the button to roll the dice, determining how many steps your piece moves forward on the board.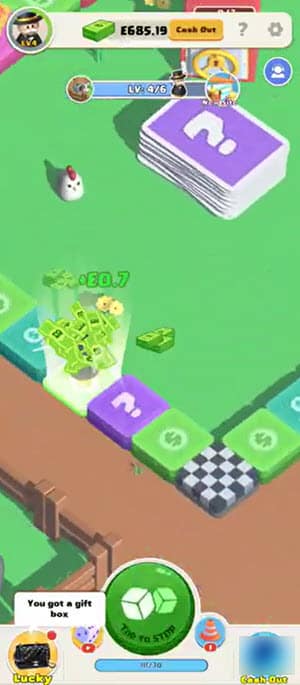 Different locations on the board trigger specific events.
These events include "Turntables," "Lucky Slots," "Scratch Cards," and "Bank Heist.
Each event offers a chance to earn rewards or lose money based on luck.

The goal is accumulating virtual dollars, which you can supposedly withdraw via PayPal.
You earn cash immediately if you land on a green location with a dollar sign.
Additionally, playing the mini-games provides opportunities to earn more cash.
However, keeping expectations in check is important, as most earnings are often small.
Progress in the game is tracked through levels.
As you guide your character to complete a full circle, you advance to the next level.

This reward platform is going viral! Cash out via PayPal, Visa, Gift Cards, and in-game currencies - Click here to find out how to generate an extra $10+ per day! 
Reaching level milestones unlocks new boards, each brimming with unique events and enticing rewards.

How Does Hey! Billionaire Earn Revenue? 
The application generates revenue for the developer via in-app advertisements.
Video ads will appear randomly during your gameplay, promoting other cash games.
These ads act as a significant revenue stream for the developer. The more you watch them, the more money they make!
Cash-Out Process
Hey! Billionaire offers a cash-out option via PayPal, but only if you meet certain conditions.
In the UK, you can only withdraw your funds after reaching a minimum balance of £120.
That means players need to invest a significant amount of time playing the game before they can request payment.
This requirement increases ad views, thereby generating more revenue for the developer.
Is Hey! Billionaire Legit? Does it Pay?
Nope, it doesn't!
So, what happens when you try to meet Hey! Billionaire's requirements?
They claim you'll see money in your account within 24 hours, but they make an irresistible offer: hit £800, and you can supposedly withdraw immediately.
Sounds tempting, doesn't it?
Consequently, players eagerly dive in, eyes fixed on that £800 prize, hooked by hope and anticipation.
But once you reach that magical £800 mark, they pull another excuse out of their hat.
They want you to roll the dice 60 times to 'confirm' your order.
Smells fishy? You bet it does!
I have reviewed hundreds of fake cash games using the same script for years.
Great! So, after rolling the dice 60 times, they want you to watch 10 adverts to "approve" the order.
There are no more requirements after that.
Then, they promise to send the money in 7 days, but it's just another lie.
Many people will keep playing for all these days only to realize later that prizes are fake.
Conclusion

Hey! Billionaire"? More like "Hey! Waste of Time".
It entices you with easy cash only to bombard you with advertisements.
Ultimately, you are only watching videos and lining the developer's pockets.
But hey, don't let that get you down. There's real money to be made online if you focus on effective strategies.
In my opinion, the best way is to build an online business. Sounds daunting? But it's not!
I found this killer program that takes you by the hand, showing you step-by-step how to set up and grow your online audience.
Think about it. You create content, your site gets ranked on Google and boom – people start flowing in.
I jumped in, followed the plan, and now I'm my own boss, working whenever and wherever I want!
It's not rocket science; it's just smart, consistent work.
You don't need to be Neil Patel, but you can learn to draw people in with what you say and offer.
And the best part? It's real money for real work, no fake promises.
Final Words
Thanks for taking the time to read my Hey! Billionaire review.
If you want to share your experiences, insights, or frustrations, please drop them in the comment box below.
Peace!