Welcome to my Block Puzzle Wood Winner review!
Block Puzzle Wood Winner claims to turn your free playtime into a cash bonanza!
The developer cleverly entices the masses with the opportunity to win $200 via PayPal and Cash App.
Boasting over 5 million installs on the Play Store, it's no wonder this game has captivated people from all corners of the globe.
Before you leap into this game like a cat on a laser pointer, take a deep breath and listen carefully.
A few minutes of reading reviews like this one can save you from big disappointment!
So, is Block Puzzle Wood Winner legit or fake? Will they transfer the money to your account or just show you pixelated numbers on your screen?
Let's find out!
Before you leave, don't forget to check out the step-by-step program that helped me build my online business and generate $2,000+ per month. No special skills are required! 
Block Puzzle: Wood Winner Review
Name:

 Block Puzzle: Wood Winner

Developer: 

Game BOY

Availability:

 Worldwide

Price:

 Free (no financial risk)

Payout Threshold:

 $200

Overall Rating: 0 stars
What is Block Puzzle Wood Winner?
Block Puzzlewood Winner is an addictive puzzle game reminiscent of the classic Tetris with a twist.
Players select, drag, and drop blocks to complete entire rows or columns on the board.
Clear a row or column, and it vanishes, making room for more wooden pieces.
But here's the kicker: some blocks boast PayPal or Cash App logos, and you're awarded virtual dollars when you clear them.
Stack up $200, and you're supposedly set to claim your prize – or so they say!
Block Puzzlewood Winner seems like the perfect solution to all your financial problems!
However, many disappointed players are flooding the Play Store with 1-star reviews, revealing something disturbing. 
Stay tuned to uncover what's going on behind the scenes.
Spot fake money games with this simple guide! 
How Does It Work? 
This wood-style block game is available for Android devices worldwide and is 100% free.

According to the Play Store page, your data is encrypted, and you can request deletion.
That indicates the company respects your privacy rights to some extent.
Block Puzzlewood Winner features a grid and three blocks of different sizes and shapes, each consisting of 1 to 9 square pieces.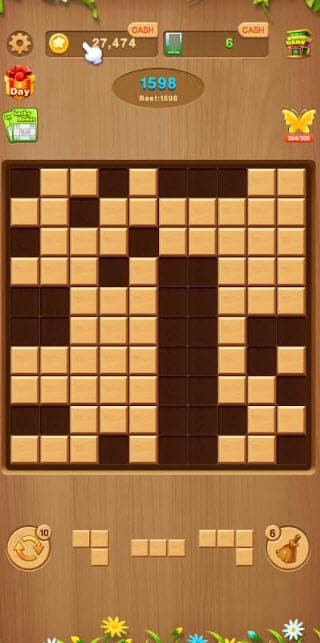 Your mission is to drag these blocks onto the board, strategically filling rows or columns to eliminate wood blocks.
But beware! One wrong move, and you could run out of space.
Now, here's where things get interesting. Block Puzzlewood Winner rewards players with virtual dollars, claiming you can cash out once you reach $200.
So, how do you rank in cash rewards? Simple! You will immediately get $1 or $2 just by eliminating a row or column.
Blasting the reward bubbles will trigger a lucky bonus to spin the wheel and win virtual dollars, gift cards, or other excellent items.
But as always, you must watch a commercial before you can spin.
My friends, the developers make money every time you watch those sponsored videos.
Additionally, you can collect coins and exchange them for gift cards from Amazon, PlayStation, Xbox, iTunes, and Steam.
And let's not forget the Lucky Scratch feature, where you can win big cash prizes if you match three items.
It's all about keeping you engaged, watching videos, and generating revenue through adverts. 

Withdrawing Funds
There are several ways to redeem your winnings from Block Puzzlewood Winner.
Firstly, you can cash out via PayPal or Cash App once you reach the $200 threshold.
In addition, you can also earn Amazon and Sephora dollars as you progress, which can later be converted into gift cards when you accumulate $1000.
Moreover, collecting 1 million coins will make you eligible for even greater rewards.
You can trade these coins for gift cards worth $5000 from popular retailers such as Amazon, PlayStation, Xbox, iTunes, and Steam.

This reward platform is going viral! Cash out via PayPal, Visa, Gift Cards, and in-game currencies - Click here to find out how to generate an extra $10+ per day! 
Is Block Puzzlewood Winner Legit? Does it Pay? 

No, it doesn't! Puzzle Wood Winner doesn't pay out a single cent. It's a fake, and the rewards are nothing but a mirage.
So, what happens when you reach $200 and try to cash out? First, they request your PayPal email address or Cash App number, and then the goalposts shift.
Then, you're faced with a 168-hour countdown and asked to spin the wheel 40 more times.
It's a classic bait-and-switch tactic to keep you playing longer because, as I said, the more you play, the more money the developers make.
As a result, they expect you to watch another 40 videos! 
But it doesn't end there. After that, you're then tasked with collecting 30 gold bars.
This makes the process even more time-consuming as you may spin numerous times without obtaining a single gold bar. 
A quick glance at the Play Store reviews reveals countless complaints, with no one claiming to have received their payout.
The truth is that the odds of receiving the final gold bar drop to zero or nearly zero.
For instance, one person reported playing the game for an entire month without any luck in obtaining a single gold bar. 
So, many users are angry at wasting so much time chasing the mirage of easy money! 
Conclusion 
Block Puzzle Wood Winner is yet another fake money game that fails to deliver!
The developer leads players on a wild goose chase, making them jump through countless hoops, only to leave them empty-handed.
Even if you manage to collect that last elusive gold bar, the sad reality is that no money will be transferred to your account.
It's best to steer clear of this application and avoid wasting precious time and energy on this game. 
This can only be used as entertainment and nothing else! 
Instead of searching for a real money-making game, consider creating a content-based business as I did.
I generate a consistent income online by ranking on Google and attracting visitors.
This type of business is one of the few in the world that provides the flexibility to choose when and where to work.
If you want to grow an online audience and take advantage of the digital economy, check out my top recommendation and start with simple steps today! 
Final Words
Thank you for reading my Block Puzzle Wood Winner review!
If you want to join the conversation and share your own experience with this game, don't hesitate to leave a comment below.

Peace!