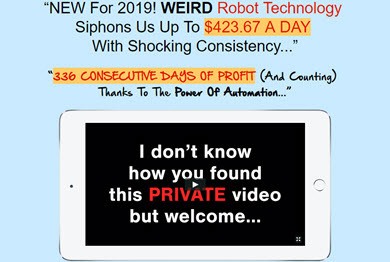 The spokesperson for Auto Chat Profits is trying to convince you that you can make consistent profits with their secret robot technology.
According to her, it's so simple you can start using it today in under 6 minutes and 14 clicks.
Is Auto Chat Profits a scam? Can you really make $1,000s per day with this software?
Let's find out!
By the way, if you to learn how I work from home and bring in $1,000+/mo from my laptop, check out my #1 recommendation! It's Newbie-friendly and free to get started! 
Auto Chat Profits Review
---
Product: Auto Chat Profits
Website: https://autochatprofits.co/invite?hop=0
Founder: Unknown
Price: $37 + Upsells
Overall rating:

2/5
The Hype
---
Right off the bat, I noticed Auto Chat Profit wants to sell us the idea easy and huge daily profits.
The spokesperson starts by showing you weekly commissions that amount to tens of thousands of dollars.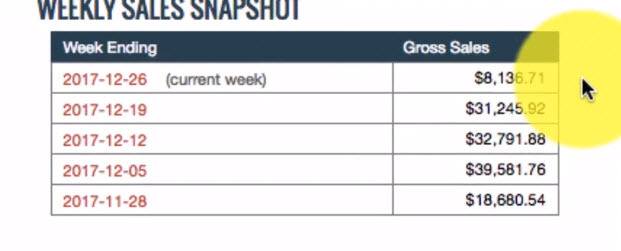 However, that is not enough proof that these commissions are real or generated exclusively by using Auto Cash Profits.
She goes on to say that you will have the chance to partner with them and use the software for free.
They will build you a website with this revolutionary software in "under 6 minutes and 14 clicks".
Heck, If you watched the entire video, you probably heard that last sentence over 10 times!
Another important thing she said was that you can make commissions by working a minimum of 23 minutes per day.
I have reviewed hundreds of money-making programs and tested many strategies, so I can tell you from experience that this is pure hype.
If you are just a beginner, you should not expect to make any profit within your first week or even in your first month. Not to mention you can waste money if you use paid ads.
It's not easy and you should work much more than 23 minutes per day to reach meaningful results.
Let me explain what exactly Auto Chat Profits is and how it works.
What are Auto Chat Profits?
---
Auto Chat Profits is a done-for-you website with automated intelligence chat robots.
Do you remember those live automated messages you get when you visit certain websites, usually offering support?
Yup! You will be leveraging the same technology to generate affiliate commissions through your website.
Auto Chat Profits also comes with step by step training that shows you how to set up the website as well as attract visitors.

Pros and Cons
---
Pros
You will learn different traffic strategies.
60-day money back guarantee.
Easy to set up.
Cons
Unrealistic income claims.
It's not free like it was advertised.
How Does it Work?
---
After you click on the green button to check if there are free licenses available, you will see this: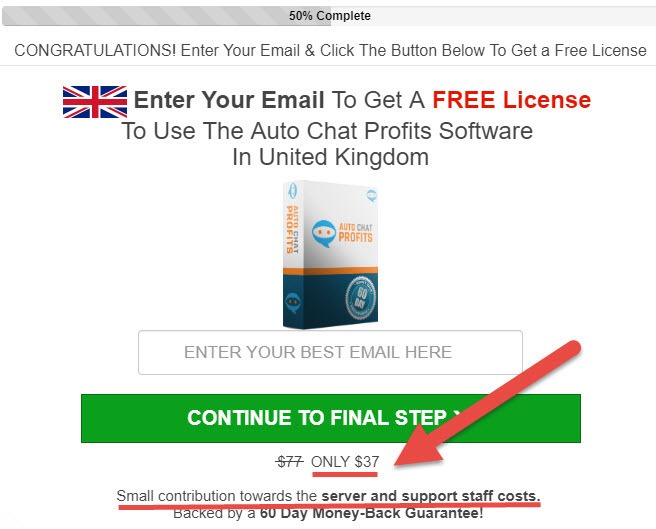 First, they ask you to enter your email to get a free copy, but then you discover you must pay $37 as a small contribution towards server and support costs.
I knew since the beginning it wouldn't be free!
There are 3 steps to set up your website:
Step 1 – Clickbank Setup
The first step is to sign up with a popular affiliate network called Clickbank, where you can find many digital products in different niches.
As a Clickbank member, you will earn commissions when someone clicks on your affiliate links and buys a product that you are promoting.
Some digital courses pay 75% commission on the price of the product.
Step 2 – Domain service setup
Choose a domain name (URL) for your website from a pre-defined list.
Step 3 – Email Service Setup
Sign up with an autoresponder, which is a service that allows you to collect email and build a list.

So, how does your website make money?
When people visit your Auto Chat Profits site, the chatbot will engage with your visitors and recommend the most suitable Clickbank product according to their answers.
Here is a screenshot of the website interacting with a visitor: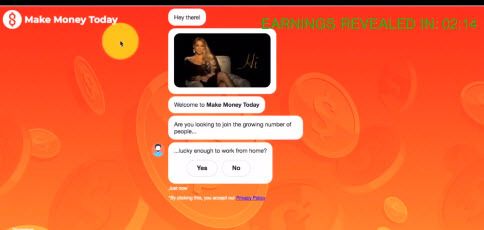 More specifically, the program will ask their email in exchange for a free money-making system valued at $97.

This reward platform is going viral! Cash out via PayPal, Visa, Gift Cards, and in-game currencies - Click here to find out how to generate an extra $10+ per day! 
Then, if someone buys the product, you will earn a 75% commission for every sale.
Bear in mind you are only marketing the product via your website, so you don't need to develop the product nor provide customer service.

At the same time, you will be growing an email list, which you can use to promote other Clickbank products over and over through email marketing.
Can You Really Make Money With Auto Chat Profits?
---
The website is very easy to set up and has an interesting chatbot feature that can help you make affiliate commissions.
However, it's far from revolutionary and it won't do all the hard work for you.
The challenge is to attract visitors (website traffic) to your site, which can't be automated.
I am not sure whether the chatbot would make more sales compared to a typical blog. As I haven't tested it, I can't say either positive or negative things about this method.
Auto Chat Profits will teach you different traffic strategies, but it's important to understand that you must work hard to promote your site.
It's not like you will sit back, relax, and wait for the $1,000s to flow to your account.
Commissioners are unlikely to appear in your first week as you will have to put in a lot of time and effort into your business.
If you scroll down the page, you will see the following disclaimer, which proves there are no guarantees:
EVERY EFFORT HAS BEEN MADE TO ACCURATELY REPRESENT THIS PRODUCT AND IT'S POTENTIAL. THERE IS NO GUARANTEE THAT YOU WILL EARN ANY MONEY USING THE TECHNIQUES AND IDEAS IN THESE MATERIALS.
Conclusion – Is Auto Chat Profits a Scam?
---
I don't consider Auto Chat Profits a scam, but in my opinion, it gives people unrealistic expectations.
You can make money with it, just don't expect to achieve the same results as advertised on the sales page.
It's not a shortcut to making easy commissions online because getting traffic is the hardest part.
How I Make Money Online
---
In 2015, I discovered an excellent training program that showed me step by step how to build a website, attract an audience, and earn affiliate commissions.
It's a great place to build passive income sites! But of course, you must put in the work if you want to succeed.
Thanks to my digital marketing business, I am now very close to quitting my job and living life on my own terms.
I hope my Auto Chat Profits review was helpful to you. If you have any questions, feel free to leave me a comment below.
Stay safe and peace out!