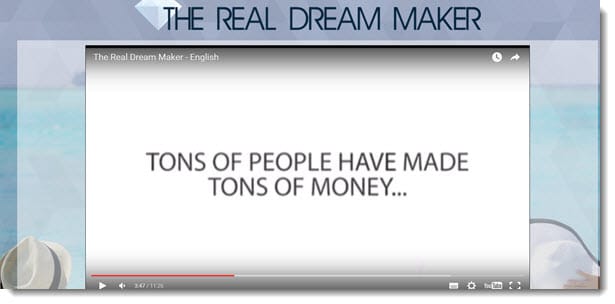 What is The Real Dream Maker? Is it a nice dream or a nightmare? They say you will earn lots and lots of money by acting like an expert, not by being an expert. You just need to follow the expert's signals and copy what they do!
They also state that the signals eliminate your risks! WOW! is it true? In this review, you will understand clearly why this platform is far from a real dream!
The Real Dream Maker Review
---
Product Name: The Real Dream Maker
Website: http://ww3.therealdreammaker.com
Business Type: Binary Options
Price: Free for the first 90 days. But you need to make a deposit of at least $325.
Score: 0.0 out of 10
What is The Real Dream Maker?
---
It is just another website selling an automated binary options trading software, called Golden Goose. The software is supposedly designed to follow the recommendation (signals) of experts, making you believe you are in good hands.
What are Binary Options Then? 
Binary option is a kind of trade where you have to decide between a yes or no proposition. You will profit in case you guess correctly if the value of an asset (commodity, stocks, indices, currency pair) will increase or decrease to a certain point over a certain period.
The Call/Put options are the most common type of binary options.
Decide if the value of the asset will be higher (Call) or lower (Put) than a given value. You also have to decide on a time frame (expire time), which normally ranges from 60 seconds to 24 hours.
 If you guess correctly, you make a predetermined profit (no more and no less).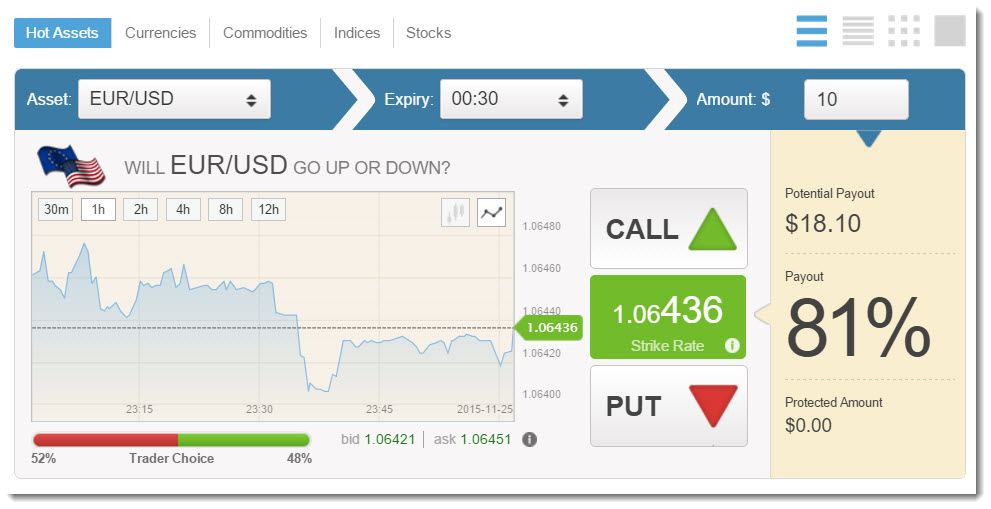 The Risks
---
Trading in binary options carries a good deal of risks like any other market investment. It is just impossible to be 100% sure if the value of an asset will increase or decrease. So, anyone saying it is possible to eliminate the risks is lying!
By studying your chosen assets and performing chart analysis based on past trends, you can make an educated guess. For example, you could trade when the price is rising for a long time and nothing shows a change.
There are many traders who make good and consistent money with binary options, but these people have years and years of experience in financial markets. Even though, they frequently have hard times because the results are so unpredictable!
Most of the traders in binary options are just gamblers because they trade on the spur of the moment with no sensible analysis.
However, the biggest risk with binary options is to get involved with scams! The internet is full of them! These are some of the risks when dealing with online binary trading platforms:
Refusal to credit trader's account
Identity theft –

Never give provide photocopies of your credit card, driver's license or passport ( CFTC advise)

Manipulation of the software to make you lose
The laws regulating online investments are very sparse. In Europe, only the United Kingdom, Malta, and Cyprus regulate these trading firms. In The US, they are regulated by the CFTC (Commodity Futures Trading Commission).
Inside the CFTC's website, they state 3 categories of frauds involving binary options trading platforms:
Refusal to credit customers: When the customers try to withdraw their money, the trading platform refuse to pay and ignore their phone calls.
Identity theft: There are allegations involving binary options platform that steal customer's data from photocopies of their credit cards and driver licenses.
Manipulation of the trading software: The software is manipulated to generate losing trades.
In order to avoid fraud, you want to make sure the broker is registered in any of those countries, even if you don't live there.  Here is a list of links where you can make your search:
For My#1 Recommendation to earn money online with no speculative investment >>Click Here<<
What is the Problem With The Real Dream Maker? 
---
Binary options is a legitimate way to invest your money. The problem with The Real Dream Maker is that it claims you can have a much better chance of winning by trusting their automated software.
They are trying to make you believe in high profit without risk, which is complete nonsense!
Just look at the following statement taken from the sales page:
Around 90% of trades are winners! Profit from this Live Account after only a few days.
There are tons of similar platforms on the internet promising the same thing with this miraculous software.
Just think about what if it were true? Why would anybody risk their money with the volatile stock market if there was a software reducing our risks while increasing our profits? By the way, why would anybody work hard at all?
I am afraid to say that if these automated systems really worked, there would be no websites like mine. All internet marketers would enjoy life in the Caribbean instead of dedicating hours and hours to campaigns.
The truth is, binary options are very speculative and there is no software that can guarantee a profit or even minimize the risks! That's actually the first thing The Real Dream Maker tells you when you get to the registration form. Just have a look: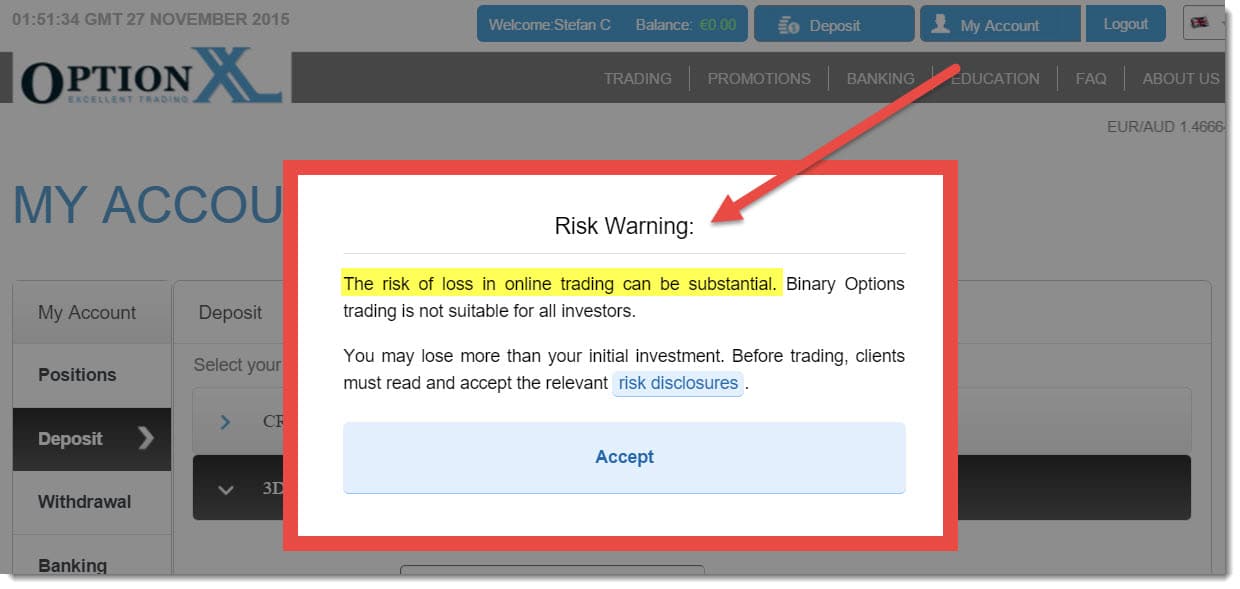 And this is an extract from the Terms and Conditions:

How is it possible to trust a website that says one thing on the sales page and the complete opposite on its T&C?
There are many similar software products on the internet, why?
Because they are extremely profitable for their creators. Every website like The Real Dream Maker will earn a massive commission from their recommended brokers every time you make a deposit.
That's why these guys will do everything to make you sign up, including proving an APP that promises to make you rich with no effort.
Registration
---
The Real Dream Maker software (Golden Goose) is free to try for 90 days, but you need to deposit a minimum of €250 or $325 in order to trade.
Before you get started, complete a registration form with your personal details and provide your credit card.
But wait a second…
In the introduction of video, they are saying the credit card is not needed. However, you need to pay a deposit to get started.
When you reach step 3 of the registration, you see the following: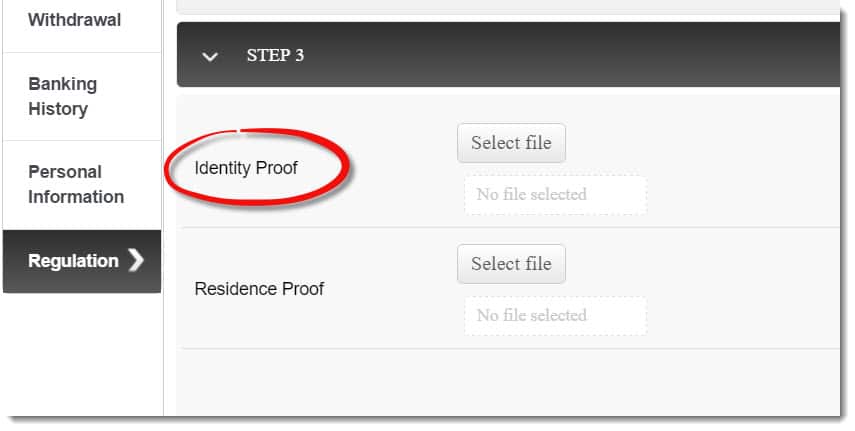 This is where you have to upload a photocopy of your ID. OPS! WARNING! According to CFTC, you should never provide the photocopy of your documents. That was when I investigated the investment firm behind this platform, OptionsXL.
The broker behind The Real Dream Maker is OptionsXL, which is owned by Lead Capital Markets Ltd. Searching the web, I found out it is actually registered with the Cyprus Securities and Exchange Commission (CYSEC).
This made me a bit more confident in OptionXL, but not enough to trust the efficacy of an automated software offered by The Real Dream Maker.
Why Are There So Many Positive Reviews on The Internet Then?
---
I have seen many positive reviews on this website. But they all have something in common – They are all affiliates from The Real Dream Maker! This means that when you click their affiliate link ("click here", "get access here" and so on) and make a deposit, these website owners are earning a generous commission!
You see, it is a chain of affiliate commissions! The reviewers will earn commissions from The Real Dream Maker, which in turn will earn a much higher commission from their recommended brokers.
Conclusion
---
If you are familiar with binary options, you know that the risk will always be there, no matter what!
The Real Dream Maker is promising easy and quick money through a software that supposedly makes money on autopilot. They say around 90% of the trades are winners, which makes you believe your risk is very low!
If you want to invest in binary options, invest only what you can afford to lose, look for legitimate brokers and avoid miraculous Apps and Software. They just work to give commissions to the owners, who profit every time you give away your money to their recommended broker.
A Reliable Online Income Without High-Risk Investments
---
If you want a reliable online income, then you need to build an online business! It requires a hell lot of dedication and the process takes time!
I won't say that it is risk free because owning a proper business will never be! However, the price of owning a website is only around $10 per year (hosting).
You will earn the same kind of commissions as these people promoting The Real Dream Maker are. No, I am not talking about scamming other people. I am talking about being an affiliate marketer… The difference is that you can promote legitimate product and services that you truly believe in!  It can be cosmetics, video games, mountain bikes, travel packages, coffee machines, hovers, cars… anything! You will definitely follow your passion because there is money to be made in any niche!
But I need to tell you straight away. Getting quality training and support is really important! You want to set up a firm foundation for your business and make the most of your time. That is why I cannot recommend Wealthy Affiliate highly enough.  It is a renowned training platform in affiliate marketing with over 10 years of existence.
But as I said, you don't need to trust me! Just visit their website and see for yourself. There are no hidden fees and they will not ask for your credit card details, let alone a photocopy of your ID!
As a free member, you will have access to the first 10 lessons, 2 websites and 7 days of support from a community of 1000s of internet marketers (including the owners and myself).
>>Click here<< to read my full Wealthy Affiliate review
Have you traded in binary options? Have you ever tried a similar automated software? Please, fell free to leave your comments if you have any questions or remarks.
Thanks for visiting my website and taking your time to read my article
Your friend,
Stefan