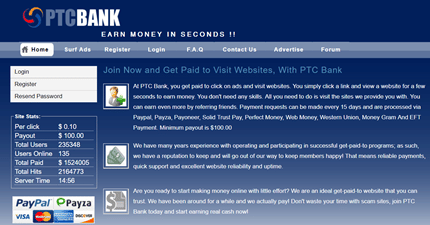 How can PTC Bank afford to pay $0.10 $0.20 per ad view? In this review, I am going to cover all you need to know about this paid-to-click platform and give you my honest opinion about it. Is it a scam or legit?
Let's find out!
By the way, if you want to discover the same strategy that earns me over $900 per month from my laptop, check out my No.1  recommendation (Free training available).
PTC Bank Review
---
Name: PTC Bank
Website: www.ptcbank.net
Price: Free to join
Business type: PTC (paid-to-click) 
Recommended?

No

[yasr_overall_rating size="medium"] 0/5
What is PTC Bank?
---
PTC Bank is an advertising website that claims to reward members for surfing ads and referring other people.
Before I signed up, I thought PTC Bank was just like another PTC with low pay ads and expensive upgrades. However, when I saw ads worth $0.30, $0.20 and $0.10 each, I became very skeptical.
If you take a look around, you won't find any information about the owner. There is no "about us" page and I couldn't find the company called PTC Bank Corporation on the internet.
Pros and Cons
---
Pros
Cons
Apparently, they close people's account for no reason.
Unrealistic rewards.
You will be fortunate to receive your $100. I haven't seen anyone who got paid.
Viewing ads – It didn't work for me
Viewing ads is the easiest but certainly, the most ineffective way to make money on the internet. 
The thing is, PTC Bank is promising to pay you over $0.10 per click, which is much higher than what most PTC sites have to offer. For example, sites like FamilyClix, GoldenClix, and GPTPlanet pay a measly $0.001 – $0.0005.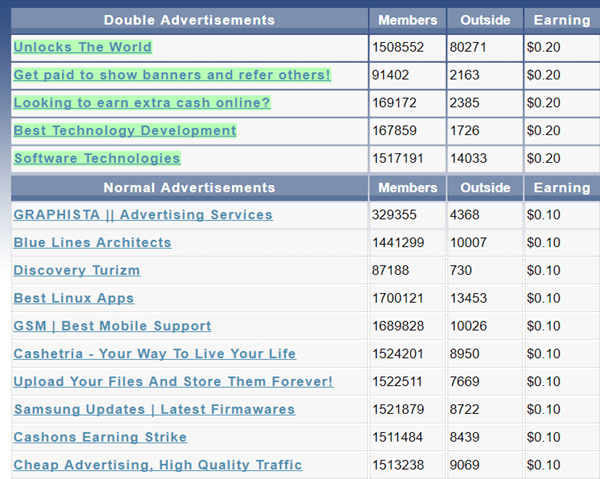 It doesn't make any sense because if you check the advertisers' price list, you will see that the most expensive package costs $20 for 500-1000 clicks. Therefore, advertisers are paying, on average, $0.02-$0.04 per click!
So, the question is, how can PTC Bank afford to pay you $0.10 per click and still make a profit?
I still don't have the answer…
I clicked the ads but the pages wouldn't load, and I was not earning any money.
Will BTC Bank Pay You?
---
After a quick research on the internet, I found HORDES of people claiming BTC Bank closed their accounts when they tried to cash out $100.
Now, if you take a look at the TOS, you will see the following clause:
6) We have the right to suspend or terminate your account at any time, for any reason and without warning or notice.. If we decide to give a notice, we will notify you by e-mail. If you are caught cheating in any way, your account will be deleted without notice and your e-mail will be kept to be posted on a future "Wall Of Shame".
Unfortunately, the sentence in Yellow gives the owner the freedom to do whatever he wants with your account.
Most people don't read the terms and conditions and end up wasting a considerable amount of time to reach the minimum cashout requirement of $100.
The problem is, when you sign up, it's your responsibility to read the TOS and know what you are agreeing with. I know, it doesn't look fair, but that's how things currently work on the internet.
No Referral Rentals
---
Surprisingly, PTC Bank doesn't take advantage of selling referrals like most PTC sites do. That is actually positive aspect because it saves users money. They also don't offer the possibility to upgrade, unless you have already cashed out your first $100.
Conclusion – Is PTC Bank a Scam?
---
Well, I don't have any proof to make such a claim.
I haven't seen anyone on the internet who got paid. Now, it's up to you take the risk or move on and focus on other activities and platforms.
Now, if you are interested to know how I make money online, keep reading as I am going to show you how you can do the same with hard work and perseverance.
Verdict: Not Recommended
How I Prefer to Make Money Online
---
I am not a fan of PTC sites as the payoff is not worth it. Not to mention most PTCs are unstable and can shut down overnight without any notice.
When that happens, the owners never pay back what members have saved and invested in the platform. They simply pocket all the profits and disappear.
In my opinion, one of the best ways to make money online is to build a website and promote products as an affiliate marketer.
You will have to work for months without any revenue, but at least you have the power to grow a reliable source of full-time income online. 
Well, it took me 8 months to start making some profits, but after 1.5 years I reached $900/mo on average in affiliate commissions.
I learned affiliate marketing with an excellent step by step program that also provided all the tools to run my business.
So, if you are interested, click the link below and discover more about my No. 1 recommended program. They have a free starter account that will help you get started with no strings attached.
 [thrive_megabutton mt="Check Out My No.1 Recommendation Here" st="" color="green" link="https://myroomismyoffice.com/wealthy-affiliate-score-9-7/" target="_self" align="aligncenter"]
Thanks for checking out my PTC Bank review, and I hope this helps you make an informed decision. If you have any questions, please feel free to ask in the comment section below.